Many ITOps teams have asked me recently why end-user experience monitoring (EUEM) has become so critical. In the past few years especially, as more people connect, work, and shop online, organizations are seeking to differentiate themselves through the digital experience. As a result, one study projects that the digital experience monitoring (DEM) market will be worth $6.53 billion by 2031.
To understand why and what it means for businesses, I'll take a deeper look at EUEM and explain the challenges and benefits associated with it. I'll also summarize the top reasons why IT operations (ITOps) professionals need to look beyond typical IT sources — logs, metrics, and traces, also known as observability data — to fully understand the user experience.
What is end-user experience monitoring?
End-user experience monitoring is an IT process that evaluates a digital experience—such as a website, mobile application, or IoT device—from the end user's perspective. EUEM gives IT teams valuable insight into how users are actually using these digital touchpoints, the obstacles they encounter as they're using them, and how to eliminate those points of friction.
IT teams can also use EUEM to proactively identify and resolve user experience issues before the users themselves become aware of them. Although EUEM is closely associated with the IT practice of application performance monitoring (APM), it focuses on the quality of the user experience and, ultimately, the quality of the customer experience.
Challenges of end-user experience monitoring
Traditionally, IT monitoring only focused on individual aspects of business operations, such as network performance or application performance. Many ITOps teams still use a collection of point monitoring solutions, gathering as much useful data from them as possible to find the root causes of performance issues. In recent years, some IT teams have added tools to help monitor application performance while users are interacting with a site or app.
The rabbit hole
Because these disparate approaches only capture data related to a specific aspect of the user experience, they can only give IT partial visibility into it. For example, these tools might flag performance issues that aren't actually the root cause of the user experience problem at hand. This would send already overextended IT teams down the wrong path and delay the resolution.
The false positive
Another way partial user behavior visibility can cause issues is false positives. For example. the dashboards for individual monitoring systems might be lit up in green, indicating that its layer of the application infrastructure is operating within normal parameters even though users still report that the app is crashing or becoming unusable in some way.
As organizations have transitioned to complex, multicloud application environments, these monitoring challenges have become more frequent and more complex to solve. As IT teams struggle to figure out what is causing user experience issues, users become frustrated and abandon the site or app altogether. This trend soon shows up in key performance indicators (KPIs), such as an uptick in the bounce rate or even a decline in revenue, prompting uncomfortable conversations with business stakeholders.
Methods of end-user experience monitoring
Fortunately, ITOps teams now have more effective ways to monitor the end-user experience. Here are some examples.
Synthetic monitoring involves running automated scripts to simulate application performance and availability from a hypothetical user's perspective.
Real user monitoring (RUM), by contrast, collects detailed data about an actual user's experience with an application. RUM allows you to view the user's entire click path or user journey so you can spot patterns and identify opportunities for improvement.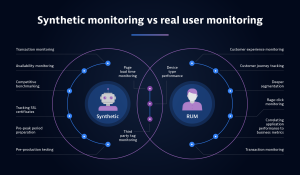 JavaScript injection is another popular EUEM method. In this scenario, you insert JavaScript code into a real user's web browser in order to track and analyze how that user is using a website or application.
Device performance monitoring (DPM) deploys an agent onto the user's device for the purpose of collecting operating system metrics that shed light on how well the device itself is performing, which can impact the user experience.
Benefits of end-user experience monitoring: Why EUEM is critical
EUEM gives IT teams insight into the end-user experience far beyond what they could achieve with traditional point monitoring solutions. There are many reasons ITOps and the organization as a whole can benefit from this capability. By measuring what matters from the user's point of view, IT can solve user experience problems faster. Pinpointing and accurately communicating root causes streamlines internal collaboration, making IT meetings with business stakeholders more productive.
Achieving EUEM with a digital experience monitoring (DEM) solution through an AI-powered platform provides end-to-end observability for organizations. When these capabilities are underpinned by AI, they can connect the user experience (UX) dots across point solutions to uncover shadow IT.
With this insight, IT teams are able to assess the impact of third-party solutions on user experience. IT can even answer key questions about the employee experience of working from home. As if those benefits weren't significant enough on their own, end-user experience monitoring also empowers organizations to deliver on business KPIs and innovation goals.
Here are five reasons EUEM benefits both IT and the business.
Reason #1: Measure what matters from the user's point of view
You're crafting digital experiences for your customers using the digital touchpoints you offer them. Whether it's a mobile app, a web application, an Amazon Alexa skill, a check-in kiosk at the airport, or a combination of these touchpoints, your customers expect consistently great experiences with them. To satisfy their expectations, you need the capacity for immediate incident response.
Simply looking at observability data to understand the user's digital experience won't help you respond fast enough. To explore how this problem plays out, let's consider a hypothetical situation from one of our airline customers. What if it was the CEO's family that couldn't check in for their flight? How would you resolve that immediately?
As the following image shows, the different digital touchpoints are connected to different services. On top, you have potentially fragmented monitoring data because each of the teams has picked its own siloed solution. If you take a customer-focused monitoring approach, you can figure out this customer's journey, the digital touchpoints, and how to solve their issues on the fly.
Reason #2: Pinpoint and communicate business-impacting root causes
Have you, as an ITOps person, ever had meetings with executives or peers from other departments who have no technical background? Have you brought up a huge business-impacting issue you uncovered, and all you had to show your colleagues was a screen capture like the one that follows?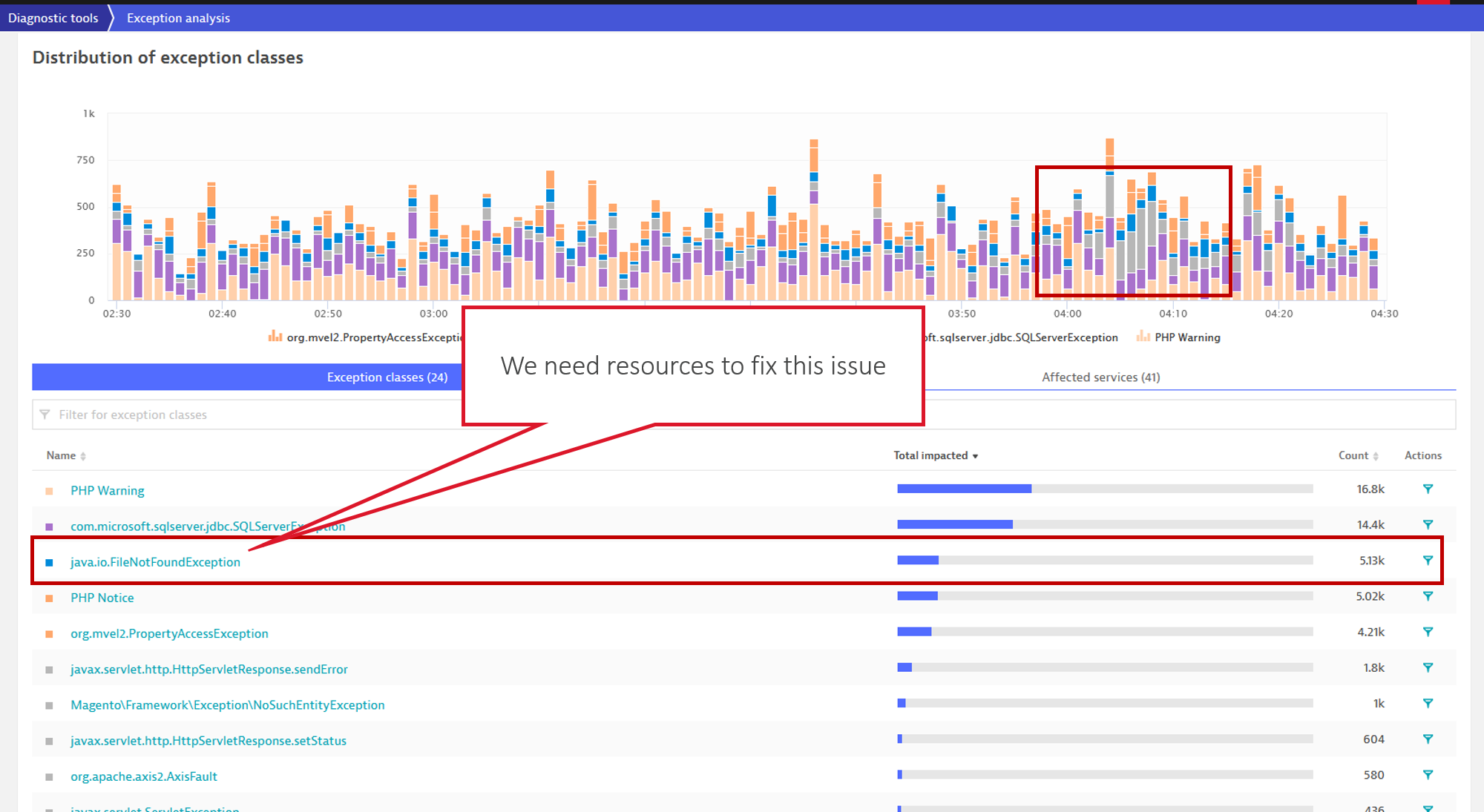 When presented with an IT-centric dashboard like this, business stakeholders have a hard time understanding how customers are affected. They may respond with "I don't know what this means" or "Why aren't we fixing the other two on top of the list first?" And you probably won't get approval for the resources you need to fix the issue.
How can a digital experience monitoring (DEM) solution help to bridge the gap in this situation? Non-technical people tend to talk about problems from the customer perspective, so use DEM to connect the errors you've found to real user journeys. You can then go to the meeting with information like we see in the following screenshot. This view enables you to eliminate any guesswork or siloed solutions.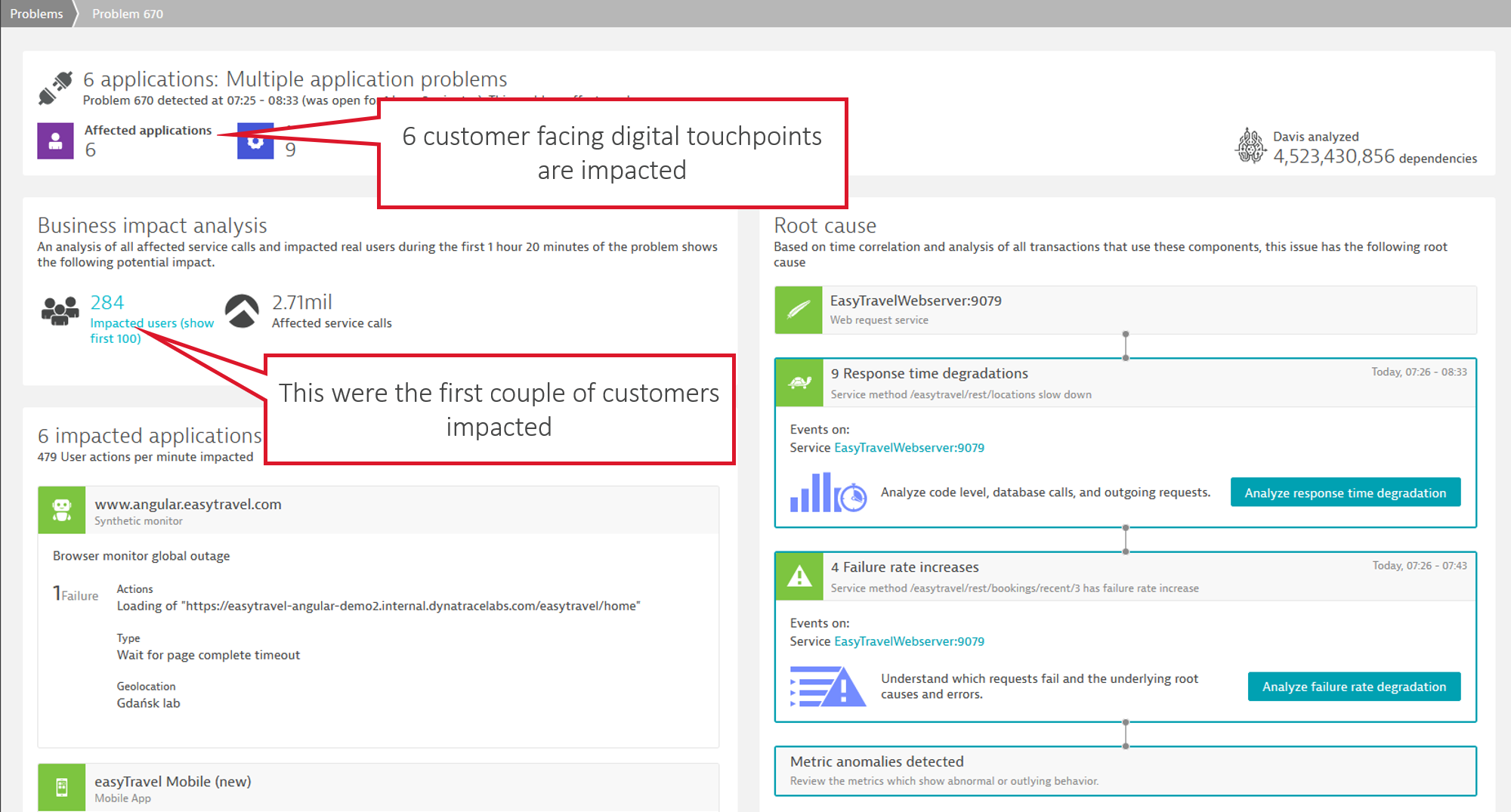 This summary shows that six customer-facing digital channels/applications are impacted. The following is what the experience looks like from a customer's point of view: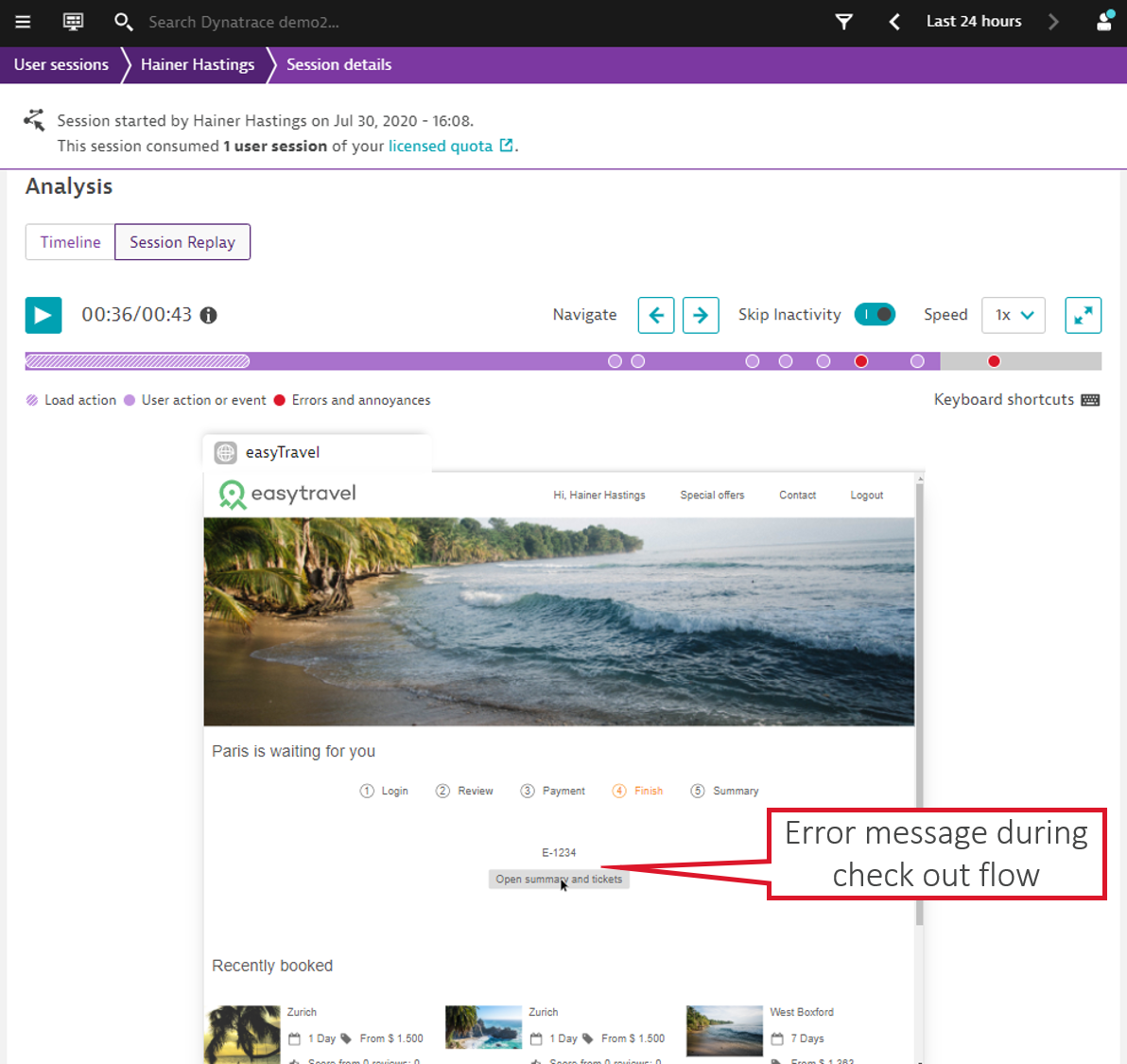 When everyone steps into the user's shoes and sees what they see, the meeting will probably be shorter and get you to what you need much faster. Here are some other ways to effectively collaborate with business stakeholders:
Reason #3: Assess third-party impact on the end user
Organizations often integrate third-party solutions like chatbots, ad providers, content delivery networks (CDNs), and web analytics tools into their end-point applications. All these measures can improve the end-user experience, but these third-party services can also fail. When that happens, it can be difficult to assess the third-party impact on the end user.
How do you get end-to-end observability in this situation? Looking at data center-based monitoring data will not give you the answer, and it will lead to visibility gaps. Those visibility gaps can turn into unpleasant meetings with digital experience stakeholders, where you potentially can't deliver an answer or, in the worst-case scenario, you hear about the issue there for the first time.
With a good end-user experience monitoring strategy, you can close this gap, get your third-party providers under control, and clearly show the impact as illustrated in the following screenshot.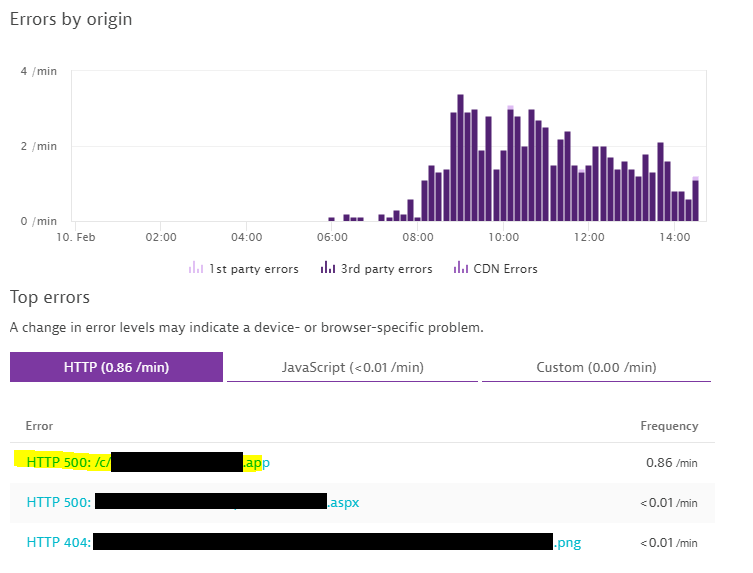 If you want to know more about third-party API-, third-party integration- or CDN monitoring here are some examples you must take a look at:
Reason #4: Discover shadow IT and infrastructure resources and track their usage
As many organizations now allow their employees to work remotely in response to the COVID-19 pandemic, IT teams have had a hard time discovering shadow IT and infrastructure, let alone monitoring them. Questions that come up include:
"Are people working from home as effectively as in the office?"
"Are work patterns changing?"
"How reliably do IT systems work via users' home internet connections?"
With digital experience monitoring, not only can you identify shadow IT and infrastructure resources, but you can also see their dependencies and usage patterns. With these insights, you can find the answers to these questions and more.
Read on "Is working from home affecting productivity" to answer all these questions.
Reason #5: Deliver on KPIs and innovation goals
In addition to improving customer experiences, end-user experience monitoring can also help you deliver on business KPIs and innovation goals. By integrating the KPIs of mission-critical applications into a centralized IT dashboard, you can achieve end-to-end observability of your application infrastructure, move the needle on those important KPIs, and innovate the customer experience even further.
One example of a company that successfully centralized its digital experience monitoring is Mitchells & Butlers, the UK's largest pub and restaurant chain. The company leveraged real user monitoring (RUM) with session replay to monitor user experience across its multi-vendor landscape, including Docker, RedHat, and Adobe Experience Manager. This resulted in improved collaboration among the teams responsible for real user experiences, which has increased the average order size in their pubs by twenty percent. Listen to the webinar Delivering remarkable customer experiences on tap with Mark Forrester from Mitchells & Butlers.
How a software intelligence platform can deliver great EUEM
A centralized approach to DEM can make a major difference in your ability to realize all the benefits of end-user experience monitoring. Dynatrace's AI-driven platform method of DEM uses artificial intelligence and automatic context discovery to deliver high-fidelity synthetic monitoring, RUM, and session replay, which helps organizations quickly understand their users' experiences as well as their impact on the bottom line.
Dynatrace uses observability and advanced AIOps on a unified platform to give your teams the precise, automated insights and context they need to proactively deliver better customer experiences and drive better business outcomes. Instead of guessing, you can hear what your users are telling you and deliver on their expectations for a great experience every time.
To see more real-world stories and use cases about how digital experience monitoring works on the Dynatrace software intelligence platform, check out the Dynatrace Digital Experience hub.