The SAP application landscape today is larger than ever, helping around 263,000 companies in 190 countries to achieve digital transformation and accelerate innovation. If your business runs on SAP, it's crucial that you have insights into its performance across your corporate IT environment.
When you ask performance management vendors, "Does your solution work with SAP?," the typical short answer is "yes." The question, however, should be asked with the entire SAP technology portfolio in mind. This means that you should ask the following:
Does your monitoring solution work with SAP both on-premise and within cloud infrastructure?
How about SAP hosted on private and public clouds?
Do you cover all delivery models from IaaS through PaaS to SaaS?
Do you provide support for application technologies from ABAP through Java to HANA?
Here's how SAP itself depicts its Intelligent Enterprise underpinnings: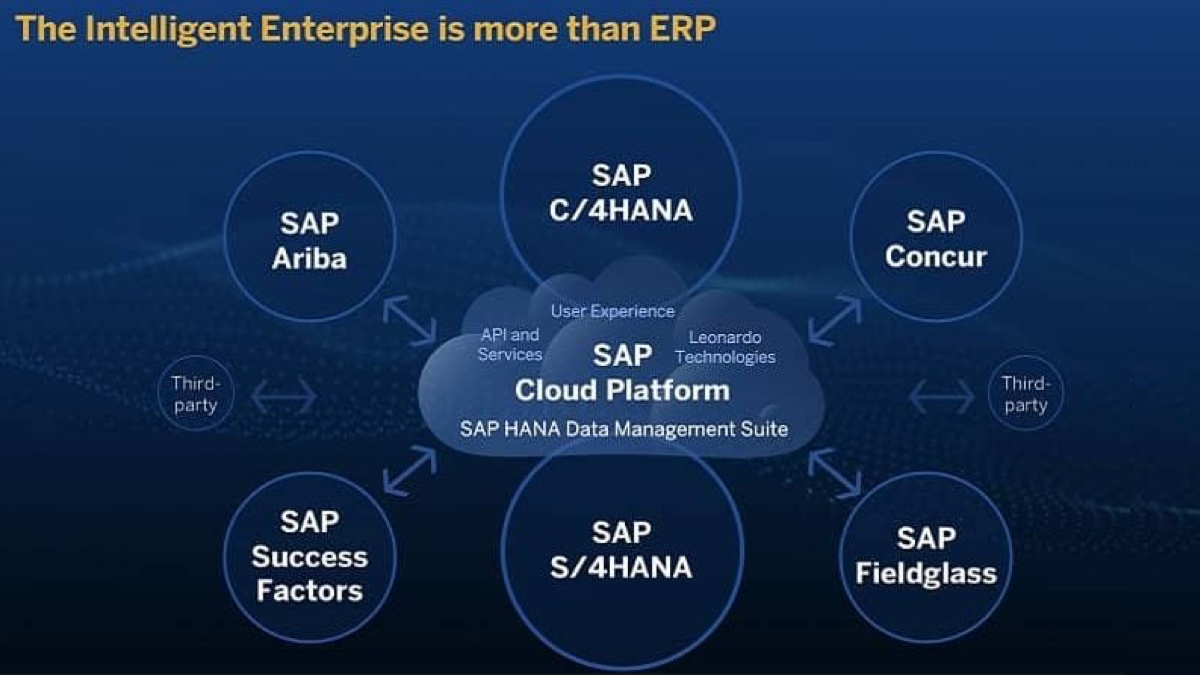 Cover all your monitoring needs across your entire SAP product portfolio with Dynatrace
The Dynatrace software intelligence platform is designed to address all enterprise application technologies and delivery models.
Monitor, analyze, and boost customer experience on SAP C/4HANA and SAP Cloud Platform
Dynatrace is available for SAP Commerce Cloud (C/4HANA) and for SAP Cloud Platform (SCP). Dynatrace is the only performance management product that has earned its position in the SAP App Center and has been chosen by the SAP Commerce Cloud for observability, monitoring, and performance management.
Get AI-powered answers about your SAP infrastructure across cloud-native and hybrid environments
Dynatrace infrastructure monitoring works for dozens of SAP customers in the monitoring of servers, networks, and cloud platforms.
Optimize user experiences across all your SAP applications and understand the business impact of every digital experience.
digital experience monitoring from Dynatrace delivers performance management to SAP Fiori UI users at many enterprises.
Monitor and optimize your SAP ABAP performance from both the infrastructure and ABAP application-platform perspectives
The Dynatrace extension for SAP ABAP monitors ABAP platform and user experience on ECC and S/4HANA.
Now we can summarize Dynatrace coverage for SAP using the SAP blueprint: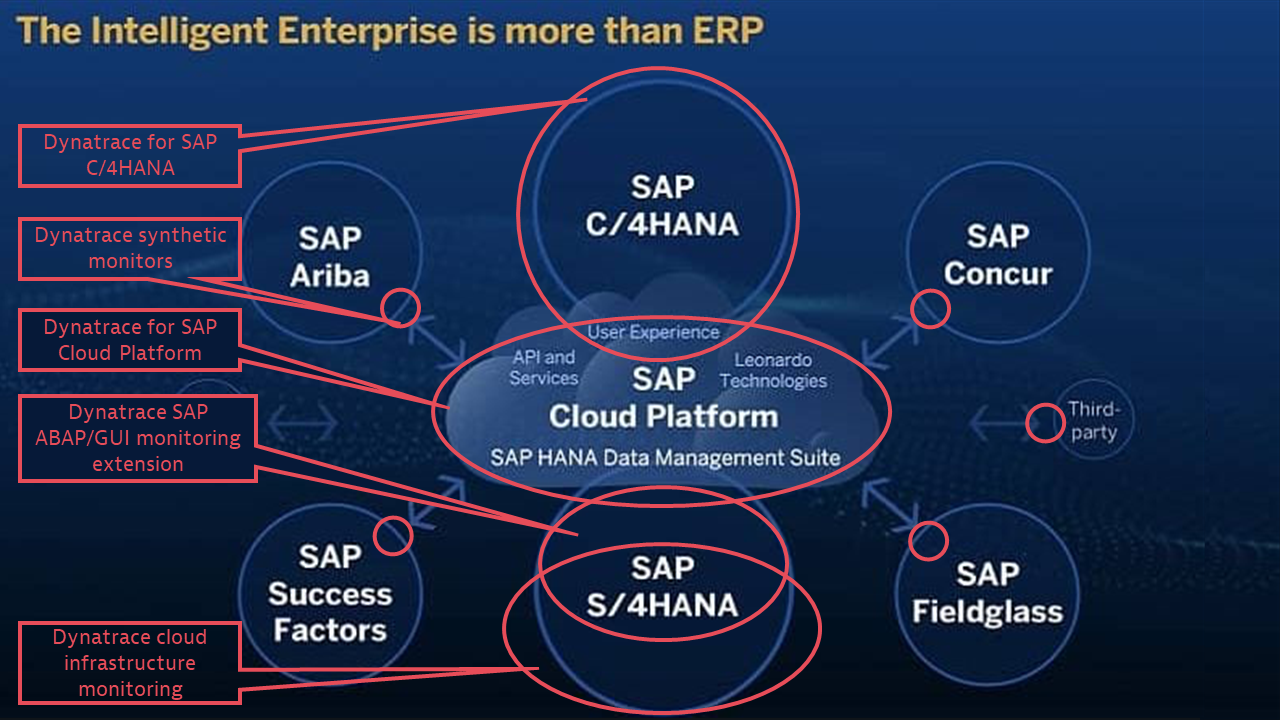 Dynatrace is the only software intelligence platform that addresses all aspects of the SAP performance management in the enterprise. Both future-looking solutions that leverage SAP clouds and the more traditional ABAP-based workhorses that are used for daily enterprise resource planning.
Monitoring SAP ABAP user experience at the T-Code level
The ABAP platform and SAP GUI user experience monitoring have drawn a lot of attention from our customers. Now, following a successful Preview, we're happy to announce the General Availability of the SAP ABAP monitoring extension for Dynatrace.
Many of our existing customers are already using the SAP ABAP extension with integrations and dashboards, such as the one below, that are built for them by Dynatrace Services.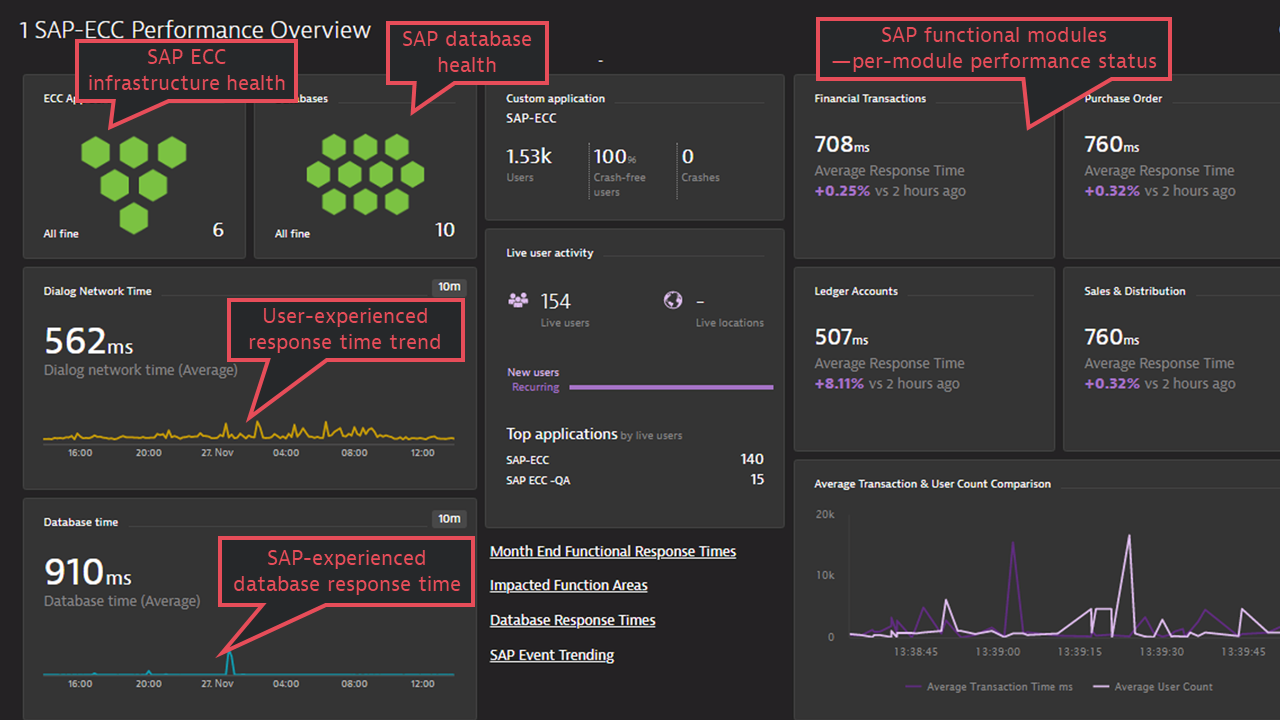 Interested in extending Dynatrace to monitor SAP?
The quickest way to get started is by contacting a Dynatrace ONE product specialist. Just select the chat button in the upper-right corner of the Dynatrace menu bar. Also, make sure you watch this Performance Clinic webinar to learn more and start your SAP monitoring journey with Dynatrace today!