For many federal agencies, their primary applications and IT systems have delivered reliably for years, if not decades. This, along with the fact that there's often no budget or stomach for change, has left many sticking to the mantra "if it ain't broke, don't fix it!!" But this has led many agencies to fall behind from a technology standpoint.
Recent congressional and administration efforts have jumpstarted the US Federal Government's digital transformation through executive orders (for example, Cloud First, Cloud Smart) and Congressional acts (for example, the Modernizing Government Technology Act, and the Connected Government Act). Even the uniformed services are jumping on board with initiatives like Platform One, Cloud One, and JEDI.
Upon this backdrop, Dynatrace has just received its FedRAMP moderate impact level authorization, which is available for our federal customers through our new Dynatrace for Government offering.
About Dynatrace for Government
Dynatrace for Government brings agencies all the powerful benefits found in the Dynatrace commercial platform, with the confidence and assurance that comes with a FedRAMP moderate authorization. With the Dynatrace for Government platform, you get advanced observability and AI–assistance allowing your agency to automate operations, release new digital services faster, and deliver even better outcomes for your constituents.
With Dynatrace for Government, you simply configure a local gateway server, set up your single sign-on (this setup will require support from our FedRAMP DevOps team), and deploy the automated OneAgent to your physical or virtual hosts.
Benefits of Dynatrace for Government include:
Data is securely stored in a FedRAMP authorized environment
Your systems are managed by US-based and vetted engineers
System updates are automated and require no customer intervention
Works out–of–the–box
Minimal infrastructure cost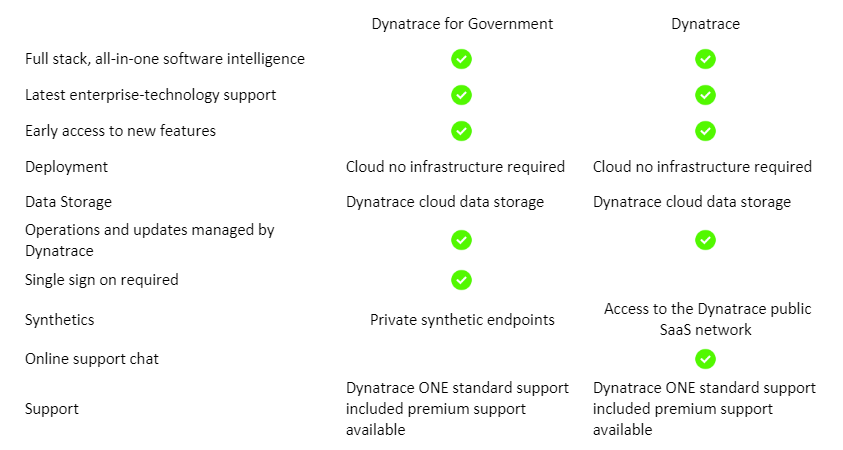 FedRAMP moderate impact level authorization means that Dynatrace's AI-driven security intelligence platform is now available to agencies who need to protect the confidentiality, integrity, and availability of operations, assets, and individuals in a secure, FedRAMP-specified SaaS environment, including: So, what does Dynatrace FedRAMP authorization mean for your agency and your constituents?
Dynatrace advanced observability – Dynatrace goes beyond metrics, logs and traces are important to provide distributed tracing, code-level detail on entity relationships and topology, as well as user experience and behavior data that agencies need to take command of their dynamic hybrid and multi–cloud environments, at scale. This single source of truth for all your data means less time troubleshooting and more time innovating.
Continuous automation – To keep pace with dynamic hybrid and multicloud environments, Dynatrace provides agencies with continuous automation to manage application and microservice configuration, and script and source data.
AI–assistance – AI is about helping people to dramatically reduce manual or redundant work and multiplying teams' productivity. At the core of Dynatrace is our AI engine, called Davis®. Davis, dynamically discovers and maps dependencies among entities through the complete software stack, including applications, containers, services, processes, logs, and supporting infrastructure, which helps agencies reduce wasted motions and accelerate outcomes for operations, user-experience optimization, and business objectives.
Enhanced cross-team collaboration – Dynatrace combines a unified data platform with advanced analytics to provide a single source of truth across IT, DevOps and digital experience teams and use cases, enabling agencies to achieve faster time to value with optimized CI/CD pipelines, increase operational efficiencies with auto-remediation (do more with less), improve production code quality, and increase developer's productivity.
User experience and business analytics – Dynatrace extends the Software Intelligence Platform to the edge device and API to drive experience and outcomes that matter. Dynatrace takes the full stack monitoring data to business metrics to gain real-time, precise answers and visibility into business KPIs to enable more efficient IT and business collaboration and consistently deliver better digital business outcomes across all your channels.
A testament to our agile development practices
I'd like to take a moment to shout out to the Dynatrace labs and hundreds of engineers and developers who make the Dynatrace Software Intelligence Platform the leader in multicloud observability. It's because of their skills, discipline, and rapid sprint cycles that we were able to go from FedRAMP–in process to FedRAMP authorized at the moderate impact level in under four months. When you become a Dynatrace customer, you don't just purchase our platform, you acquire the expertise of the best–in–class development and engineer team.
Conclusion
With the release of Dynatrace for Government, Dynatrace continues our commitment to delivering our Software Intelligence Platform to agencies, departments, and bureaus. Federal customers can be confident that their data resides in a highly secure FedRAMP-specified environment. Dynatrace for Government adheres to the Federal Information Processing Standard FIPS 140-2, NIST 800-53, and GDPR.
For more details see the following: