Optimise digital user experience for all Australians
Software intelligence for simple, clear and fast public services in line with the Federal Government's 2025 Vision
Overview
---
Governments across Australia are actively working to improve citizen experiences with simple, clear and fast digital services.
For the Federal Government, this means developing touchpoints which are responsive to policy changes, personalised around life events, and offer citizens the choice of when and how they want to engage with government.
The 2025 vision, presented in the Whole of Government Digital Transformation Strategy (the Strategy), is to be a "world- leader" in the delivery of digital services for the benefit of all Australians.
Achieving this vision will be a challenge. Old legacy systems and duplicated software contribute to complicated IT environments within many agencies
But with the growing deployment of cloud-based services, agencies are beginning to streamline their environments and become more agile and responsive to citizen needs, and less reliant on legacy systems besieged by high maintenance costs.
Cloud also creates an environment which allows agencies to better monitor the health and usage of software in real-time. Software intelligence solutions, which observe the cloud, are crucial to deliver great and consistent citizen experiences.
This paper demonstrates how end-to-end observability of cloud deployments can give agencies the intelligence needed to achieve the Federal Government's three strategic priorities:
To be easy to deal with
Be informed by the citizen
Be fit for the digital age

Medicare Payment System: responsible for $50B in payments a year; 200 applications and 90 databases.
Government that's easy to deal with
---
Vision
Citizens will have the option to access all services online, optimised around touchpoints via life journey mapping.
Government structures can be inherently complex. Australia's three levels of government (Federal, State / Territory and Local), and the devolved responsibilities for service provision, have resulted in various touchpoints with inconsistent levels of citizen experience.
The Federal Government is leading cross-jurisdictional work to streamline services around life events. The Australian Data and Digital Council has three life journey projects: Queensland is leading the Looking for work project; NSW and Federal are collaborating on mapping an End of life journey; and the ACT and Federal are looking at Birth of a child, with assistance from NSW and Queensland investigating Digital Birth certificates.
With life journey mapping, governments aim to identify then streamline the various touchpoints and improve citizen experience by creating a clear and consistent offering for services available on the device of their choice. For agencies with multiple business systems on public, private and hybrid clouds, end-to-end user journey observability is needed so that citizen experience improvements can be made, and citizens receive the best service possible.
Government that's informed by the citizen
---
Vision
Leverage citizen data to personalise services and inform policy, retaining auditability and citizen trust.
The ability to adapt in real-time to personalise services has historically been a sticking point of bureaucratic systems. Adjusting for the micro-factors that add to the complexity of real people's lives is necessary to create a personalised, seamless experience for citizens. Positive micro-interactions with government, such as digital service delivery experience, can be a driver of citizen trust. Personalised services not only offer convenience, but guide and assist those in society needing more help.
Artificial intelligence (AI) makes it possible
AI enables the processing of growing volumes of data easier and enables personalised decisions for a citizen to be made, which would otherwise be beyond human capabilities.
AI also makes it possible to find anomalies, and adjust and make improvements in real-time. This is sometimes known as Artificial Intelligence for IT Operations, or AIOps, in which back-end systems management happens on its own, ensuring the user is given the best possible experience when interacting with digital services on any device.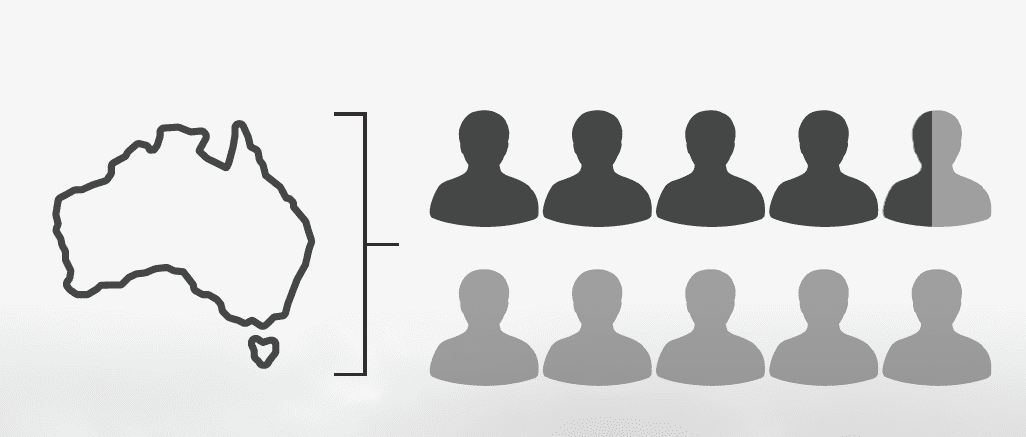 In 2020, 44% of Australians distrust government, up 2% from 2019.
Government that's fit for the Digital Age
---
Vision
Greater adoption of common platforms and maturity of Australian Public Service digital skills, along with more sophisticated collaboration with organisations outside government.
The development of common platforms is central to the Federal Government's approach to improve service delivery. The Whole of Government platforms implemented by the Digital Transformation Agency include Digital Identity, Tell Us Once, Notifications and Payments. Software intelligence is needed to observe the performance of these platforms to ensure that citizen experience can be optimised.
The Strategy emphasises developing greater collaboration between agencies and external parties, including community organisations, universities and the private sector using technology-enabled platforms. This will add to the complexity and scope for governments to manage their secure business systems.
Additionally, Digital Experience Monitoring (DEM) of these services gives actionable insights to retain user satisfaction and measurable outcomes of these government services. With a greater number and diversity of users, the government will be under added pressure to ensure optimal system performance to deliver those outcomes.
The trend towards self-healing systems is increasing amongst organisations. This way of operating reduces the number of personnel associated with managing an application, and can resolve issues well before they would have been identified previously. With IT skills shortages and the maintenance of the Average Staffing Level cap for Federal Government agencies, automation of application management will allow agencies to focus resources on the ambitious 2025 Vision of providing "world-leading" digital services.
Find out more and read our blog post "What is digital experience"
Customer stories
---

"Services Australia uses Dynatrace to understand the end-user experience and behavior of citizens using the government portal for a range of key online services. Dynatrace has greatly reduced the time it takes to identify (and resolve) the root cause of performance issues in a complex multi-vendor environment — in one critical incident, Dynatrace analysed over two trillion dependencies."

"The Australian Defence Force (ADF) is a 90,000 strong workforce defending Australian's national interests and security within the Asia-Pacific and its neighbours. The ADF uses and sustains multiple domestic and globally distributed ICT systems deployed on land, sea and air. Dynatrace provides the ADF with real time visibility and availability metrics of their ICT systems and key communication channels for deployed personnel. Additionally, Dynatrace provides end-to-end application visibility for key ERP, Human Resource and Logistical ICT system that support the ADF operations abroad and domestic emergency response capabilities."

"The Department of Education, Skills and Employment leverages the power of Dynatrace's AI engine, Davis, to provide critical insights to ensure a stable and functional hosting environment to government clients. Dynatrace automatically maps the dependencies for all hosted services and processes, allowing them to instantly understand which applications are impacted in the event of performance degradation."

"CSC is a superannuation fund for public servants and Defence personnel whose vision is to build, support and protect better retirement outcomes for all their members and their families. CSC relies on Dynatrace to monitor core business applications across multi-cloud environments and provide immediate root cause identification as issues occur, speeding up time to resolution."

"Dynatrace's problem detection and identification capabilities have been implemented by CASA across the agency, enabling them to move from a reactive to proactive approach.. This allows the agency to identify and resolve issues before users are impacted."
"The Queensland Department of Education utilises Dynatrace to monitor its business critical applications including OneSchool, which is used by all students, teachers and parents within Queensland for attendance, reports and curriculum. Dynatrace has been instrumental in enabling the Department of Education to eliminate war-room scenarios and finger pointing, by quickly and reliably identifying the root cause of problems when they occur through the use of Davis. This has provided an improved experience to students, teachers and parents and an increased perception of the department."
Check out other e-books
---
We offer several premium e-books on aspects of modern observability.
Learn more