The Dynatrace team is proud to announce the beta availability of user behavior analytics for all Dynatrace customers! Whether you want to see how many people are using your web application, how active your users are, the bounce rate, or the difference in performance between entry and exit actions, the new user behavior views can help you with integrated performance- and web-analytics data.
Dynatrace now serves as the bridge between the business and usage-relevant data that's consumed in tools like Google Analytics and the performance and functional-health data provided by application performance management tools like Dynatrace.
To access the new user behavior views:
Click the Applications tile on your Dynatrace homepage.
Select the application you want to analyze.
The infographic on the right-hand side of the page provides three key metrics: Active sessions per minute, Actions per session (loads, clicks, etc), and Bounce rate.
Click the infographic to view more detailed user-behavior insights on the new User behavior page.
Dynatrace identifies each user by storing a cookie in their browser that tracks their usage of your application. Each user may have multiple sessions (i.e., a connected stream of user actions). The first action is called the Entry action. This is typically a load action where a user enters a specific URL into their browser. The last user action of any session is the Exit action (otherwise, if a user is inactive for more than 30 minutes, their session is ended automatically).
On the User behavior page you see the details of your users and their sessions, including number of Active sessions and average number of Actions per session.
Additionally you'll find key metrics for Entry actions (including Action duration and Bounce rate), average Action duration of Exit actions, and average Action duration of all Other actions. 
Active sessions and user engagement
Click the middle portion of the infographic (Active sessions | Actions per session) to view Active sessions trends (see image below). Depending on the time frame you select, you can identify when your customers use your application most. The 24-hour clock helps you identify periods of time when you should not restart your applications because so many users are active–this is particularly important for applications that require authentication. If you're running an internal application that requires login, you may find that nearly all users start their sessions in the same morning hour and restart new sessions following lunch.
The Engagement chart at the bottom of the page shows you how long a typical user session lasts and how many actions your customers perform per session. If you're running an e-commerce application and a customer needs to perform a minimum of 5 clicks/actions to complete a transaction [for example, opening a landing page (entry action), searching for a product, reviewing product details, adding a product to the shopping cart, and finally checking out (exit action)], then ideally each user will have at least 5 actions per session. So keep an eye out for sudden changes in the trends displayed on the Engagement chart. The same applies to Session duration, which should remain stable over time.
User segmentation
Use the three dimensions on the left side of the infographic (New users, User types, and Locations) to view breakdowns of new users vs. returning users; real users vs. synthetic users vs. robots; and geography. Click the Set as filter button to filter against a specific dimension. The active filter is displayed to the right of the time frame selector (New users in the example below).
With this information you can now answer questions like the following: Are new users experiencing longer session times or performing more actions than returning users? How many real users are using my application? Should I use a second data center just for robots and synthetic monitoring? Are there differences in engagement between North America and Europe?
New users vs. returning users: Analysis use cases
Click the All tab to view analytics for All users.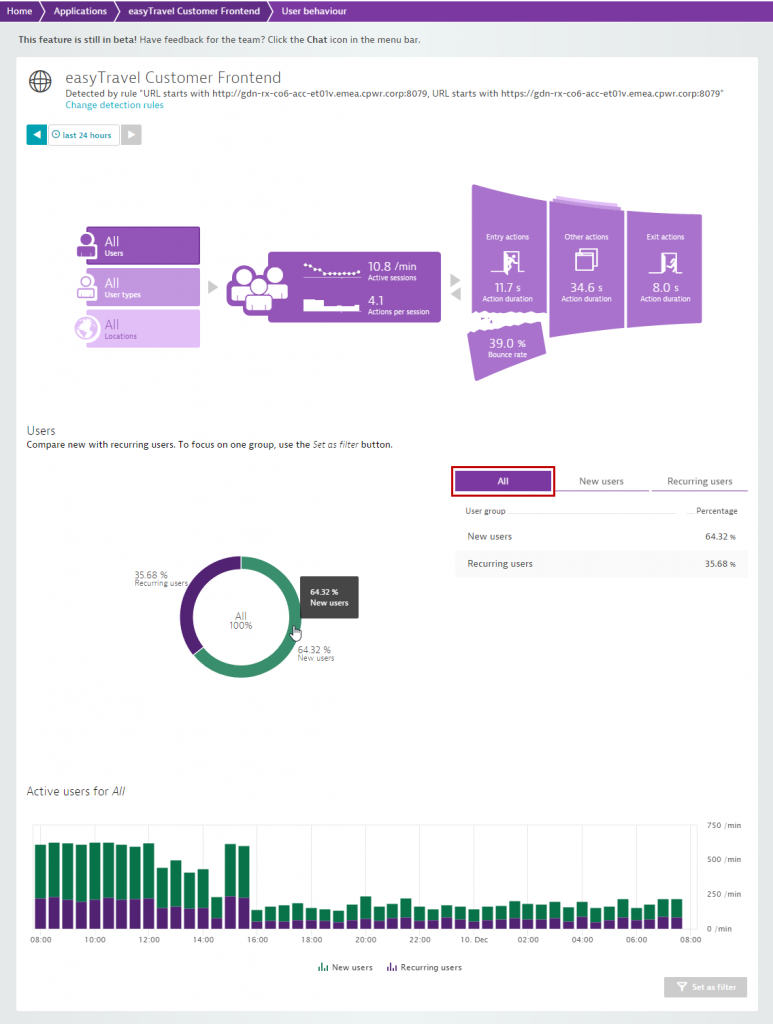 Click the New users tab to compare new users to returning users.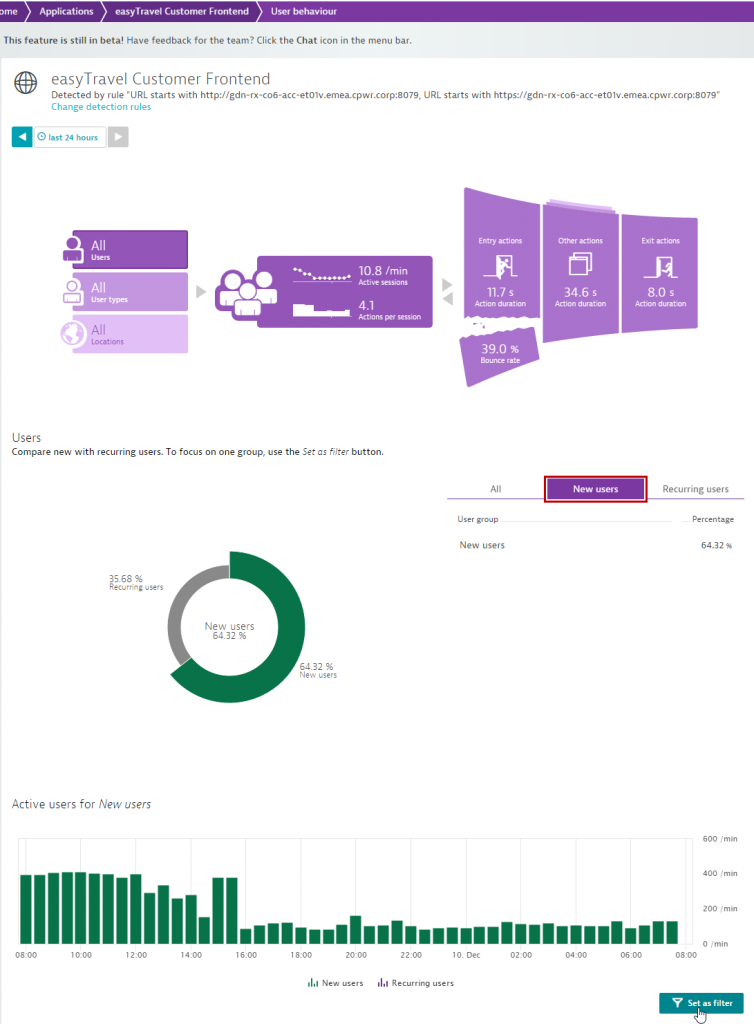 Click the Set as filter button to save filter settings.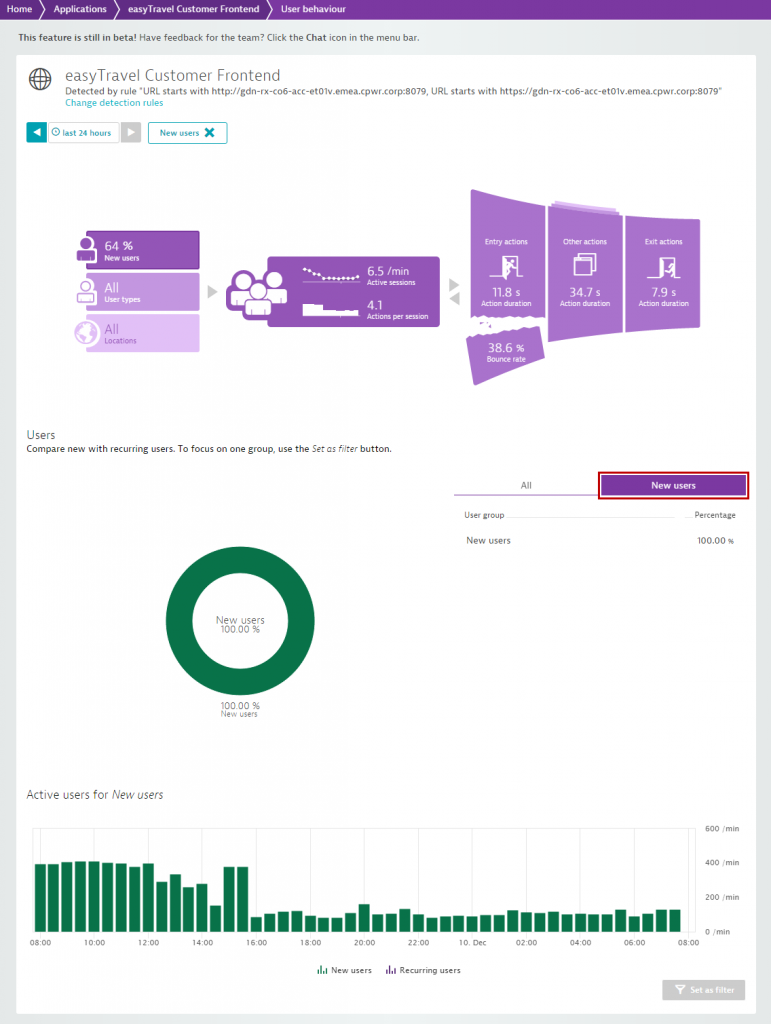 User types
Dynatrace categories your users into three user types: Real users, Web checks (synthetic), and Robots. Look at these numbers to understand how much of your application traffic comes from your customers and how much comes from robots and synthetic browsers (i.e., web checks). Once again, use the Set as filter button to analyze individual user types.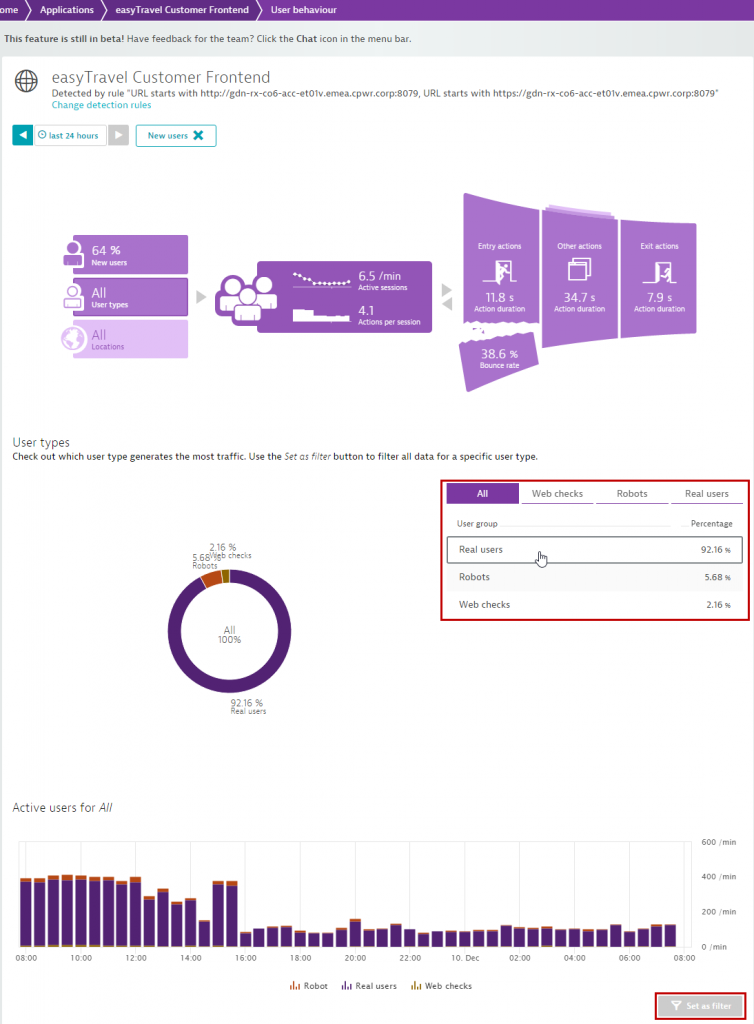 Geolocation
Analyzing your application from a regional standpoint is not only important for identifying regional performance bottlenecks, it also helps you get to know your user profiles better. Are users from Europe spending more time with your application and having longer sessions? What is the bounce rate difference between the US and Canada? How many active users do I have from Australia? You can use the location breakdown to get answers to these types of questions.
Select All locations to view user behavior on the global level.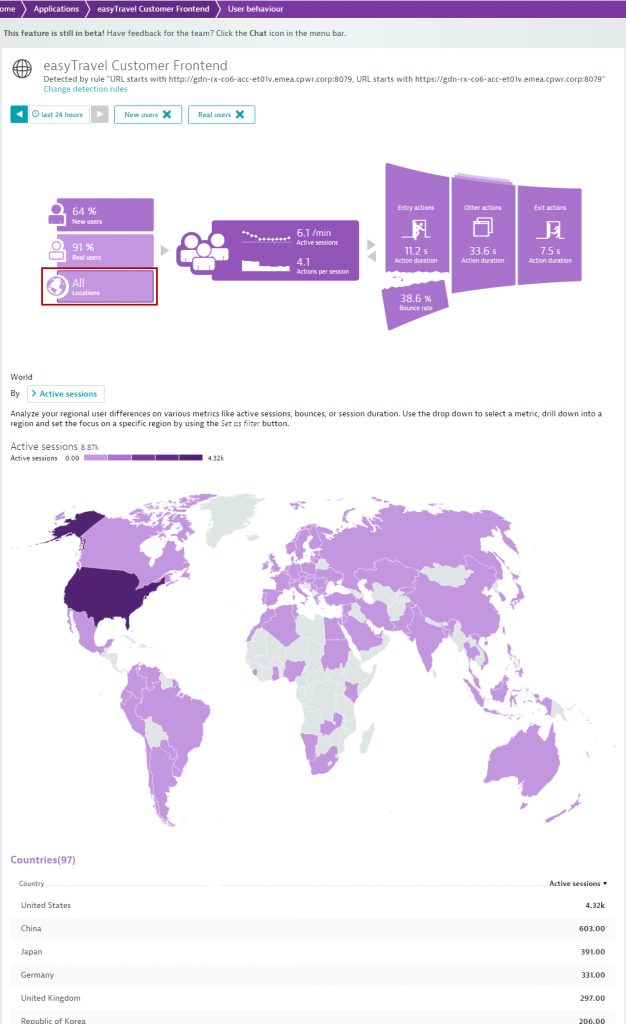 You can mouse-over the world map to view region-specific analytics.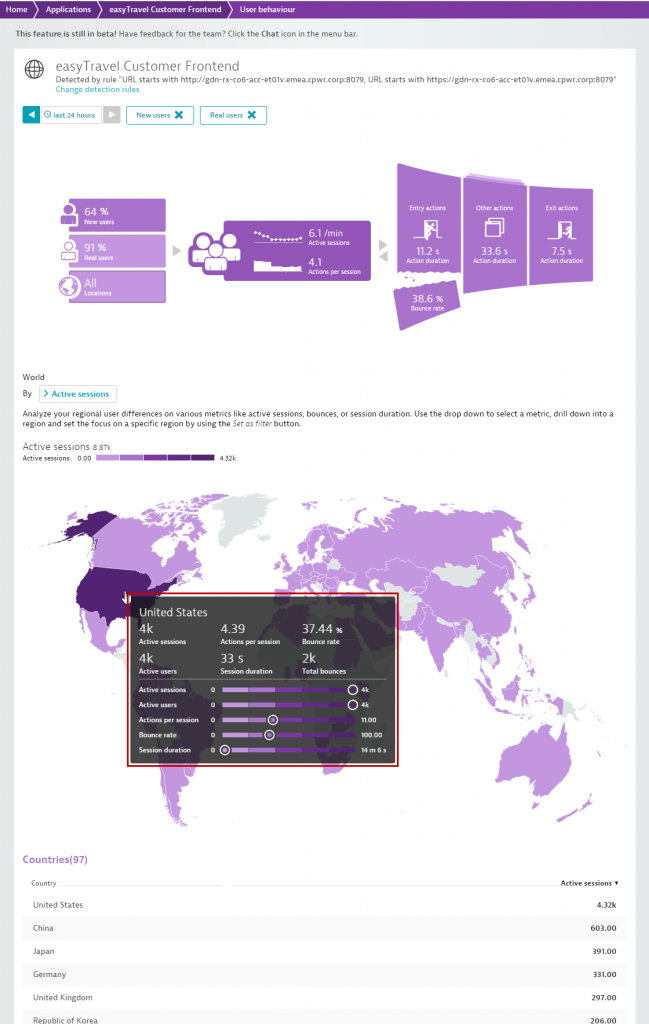 Or select a different metric to analyze.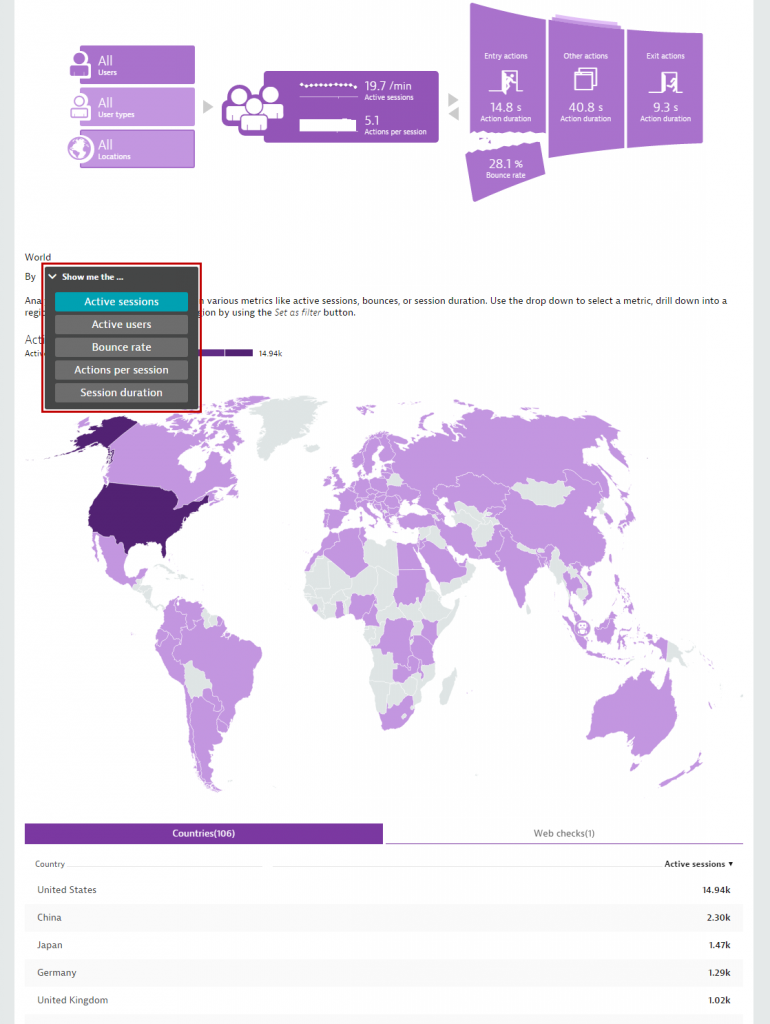 Entry actions
Although all pages and actions offered by your application are important, likely the most high-profile aspects of your application are your landing pages. These pages serve as your application's "front doors." If landing pages are visually unappealing, perform poorly, or have errors, customers won't proceed in using your application. Analyzing the Action duration of your Entry actions (see image below) enables you to understand the quality of your applications landing pages. A poor action duration for an entry action may result in negative customer expectations for your application and can lead to higher Bounce rate. So it's really important that you watch the Action duration trends and the Apdex ratings of the entry actions for your landing pages.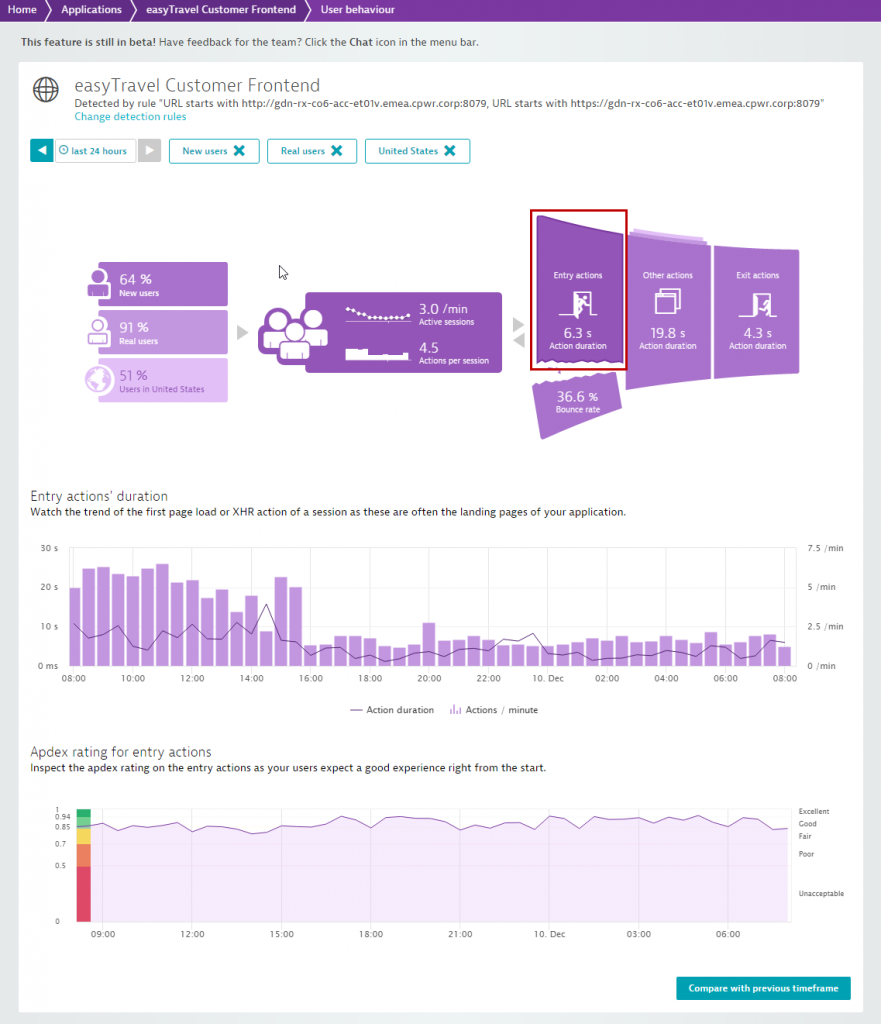 Select Bounce rate view (see image below) to see when users leave your site because of bad performance, or to see if higher JavaScript error numbers correlate with higher bounce rates. The dimension filters can be used to focus on specific users. You can also compare Action duration of Entry actions with Bounce rate in past time frames to confirm that your optimization efforts have resulted in better performance.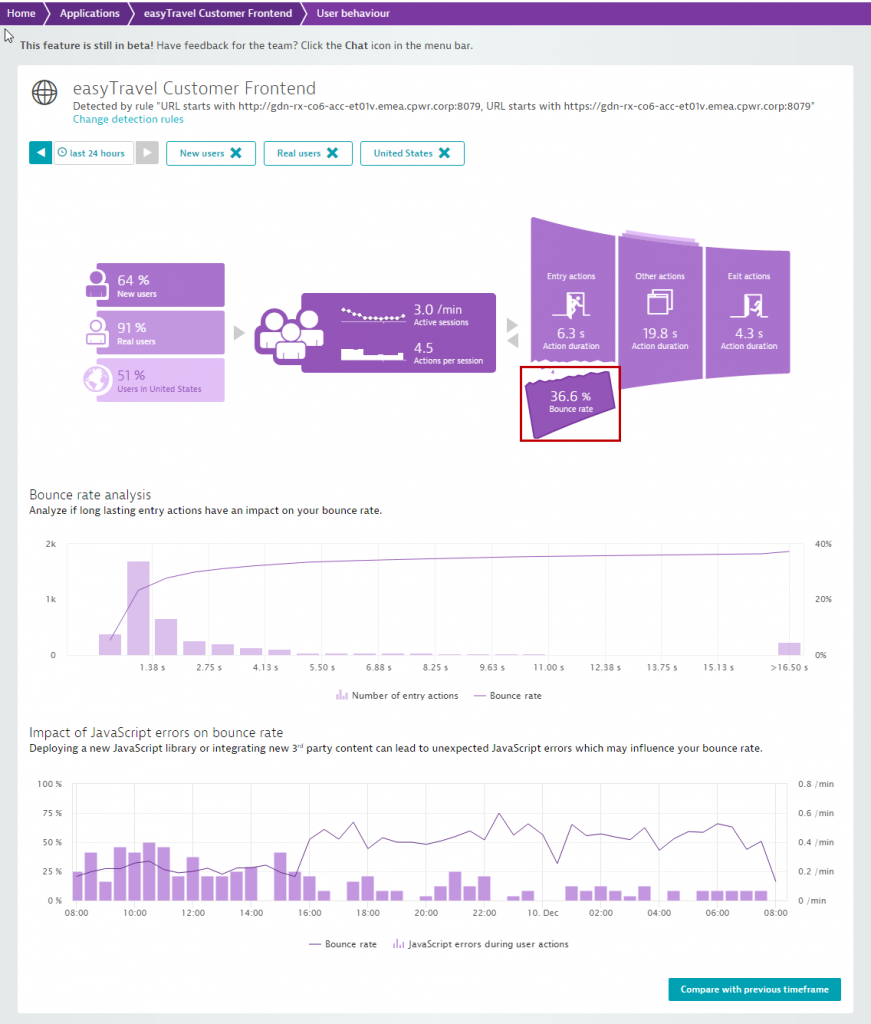 Exit actions
Are users leaving your application because of performance problems? Have a look at the Action duration of the Exit actions in your user sessions to find out. 
Click Exit actions to view average exit-action duration.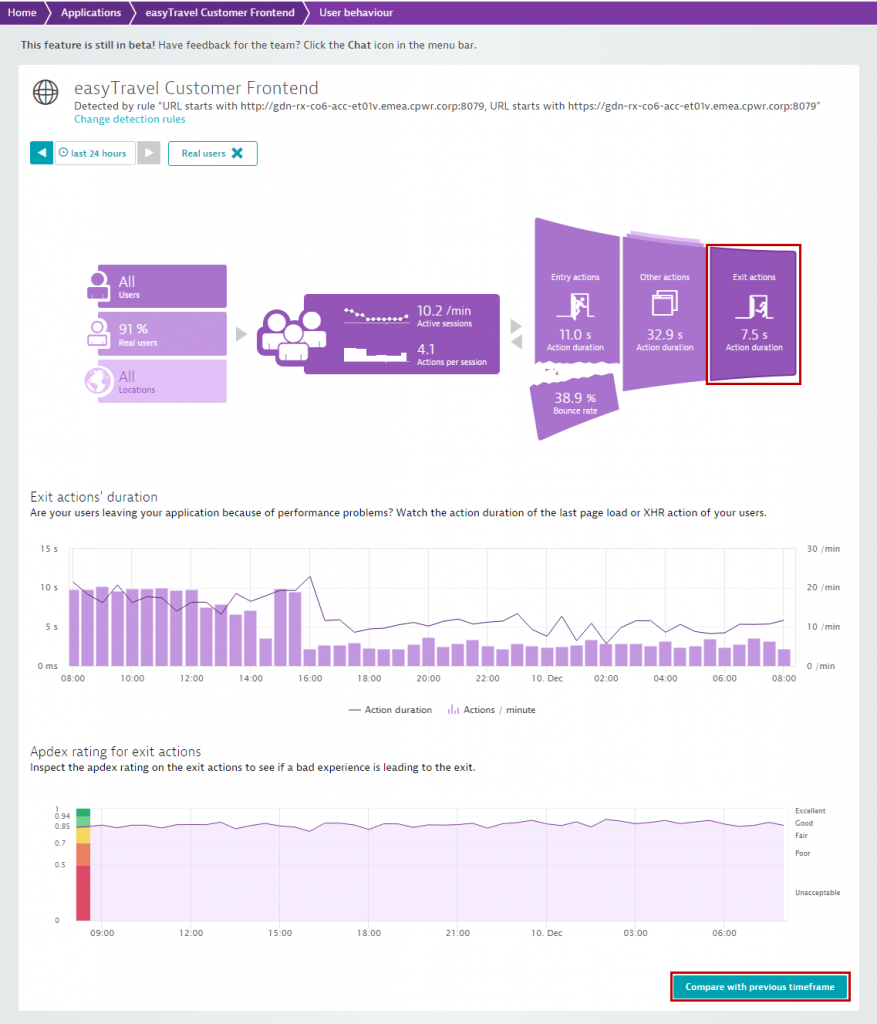 Click the Compare with previous timeframe button to compare exit-action duration over time.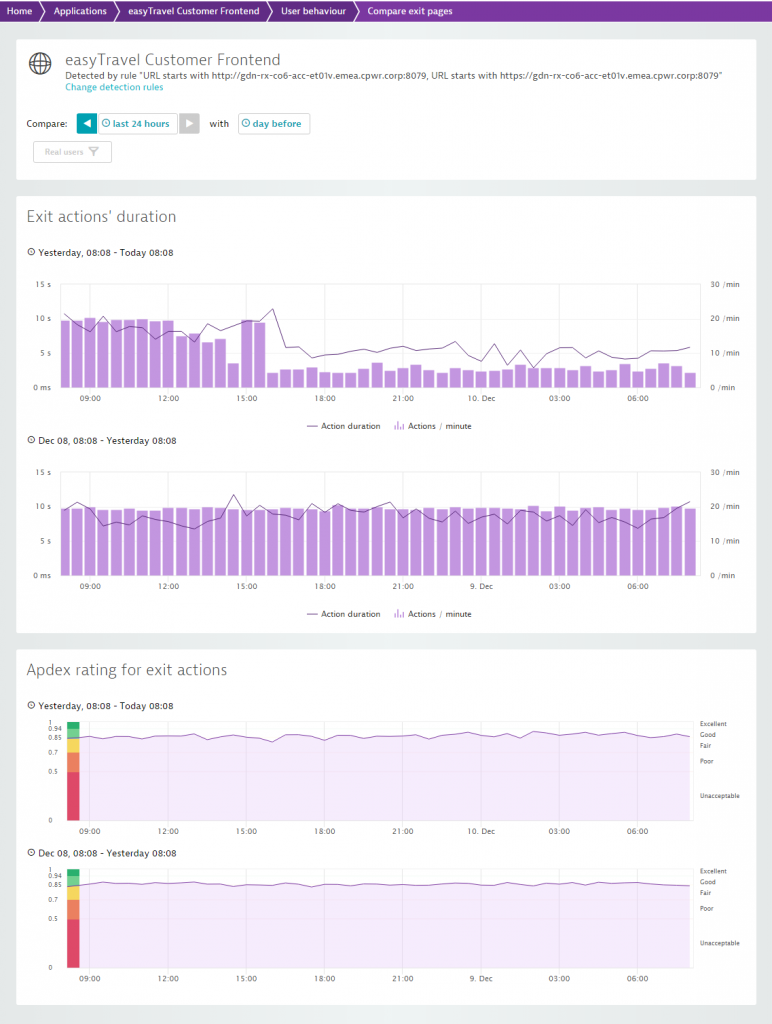 Want more user-behavior analytics? Hoping to see list of all exit and entry actions performed with your application? Stay tuned! We're working on this feature now and will release it soon.