Software Intelligence and Craft Cocktails? At Dynatrace, we're always encouraged to elevate, innovate and push boundaries. Our North American Solutions Director, Jason Suss, does exactly that, with a juicy twist of creativity.
Jason got into bartending about 5 years ago when the craft cocktail scene really started booming in his hometown of Minneapolis. He researched and studied classic cocktails and later was hired as a bartender at one of the best cocktail bars in the city. Jason has been working at Dynatrace for 12 years and he bartends at a local restaurant once a week, as well as at private weekend events.
Jason recently decided to combine his mixology skills and his knowledge of Dynatrace Software Intelligence products, to create educational presentations for prospects and clients.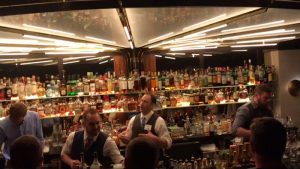 "Sporting events, PowerPoints, and lunch & learns are overdone. Once that PowerPoint screen comes up, people lose interest. Put drinks in front of them and they stay engaged," Jason explains. "I pick a cool bar in popular cities with Dynatrace prospects. I teach an hour-long class with three different cocktails. No screen, no slides, no sleepy attendees."
You're probably wondering, what cocktail does Jason like to create to explain Dynatrace? The answer is a classic gin cocktail, called an "Aviation." Jason says, "It's a cocktail with fresh lemon juice, so it has to be shaken." Since it's called an Aviation, he tells the audience that, "Shaking is kind of like adding "turbulence". And when do you typically encounter turbulence in aviation?…it's when you enter the cloud." That's when he explains how Dynatrace AI can help companies avoid turbulence when they enter the cloud.
Jason and his team are planning on hosting these events three times a month in cities all over the US. The next experience will be held in Minneapolis on November 5th!
Are you ready to elevate, innovate and push boundaries like Jason? Click here to learn more about our various job openings.