The new Dynatrace Support Center delivers omnichannel self-service support and search to make it as quick and easy as possible for our customers to find the information they're looking for.
Frictionless customer experience has become increasingly important as our company, customers, and platform have grown. This is why it's essential that we make it as quick and easy as possible for our customers to find the information they're looking for. At Dynatrace, we understand the necessity of self-service and omnichannel support, and we always focus on automation, scale, and ease of use in everything we deliver. This is why we're happy to announce that we've launched our new Dynatrace Support Center!
Introducing a single destination to streamline your resource and support experience
Dynatrace offers a superior, fast-growing software intelligence platform that stretches across your teams and organization, powering collaboration and automation across business, development, security, and operations. Along with this comes our extensive Documentation, our recently revamped Community, and our state-of-the-art University. With so many excellent resources available, it's also critical that we deliver the best, holistic self-service support and search experience. We know that there's nothing more frustrating than getting stuck on a technical issue while working on a task and not knowing where to find the answers you need!
To maximize the value you get out of each of our resources, we've given each resource a new home in the new Dynatrace Support Center. Our Support Center aims to ensure that you get the most out of Dynatrace, without requesting or requiring assistance. It serves as your one-stop shop for all your support resources and questions. Not only is everything available at one location, we're also aiming to deliver a single, streamlined support experience, no matter what it is you're looking for. With the new Dynatrace Support Center, you'll never have a fragmented support experience or waste time looking for the information you need. With all our support resources, content, and tools available in one place, not only is it easier to find answers to all your support questions, it also helps you scale and improve education and adoption of Dynatrace within your organization.
New home page and navigation accelerate access to resources and support
The new Support Center introduces a new home page, as well as a new support-centric navigation which provides direct access to our support resources and makes it much quicker and easier to navigate between them. From our home page, you also have quick access to our Documentation, Community, University, product news, and support ticket portal. And if none of those hold the answers you're looking for, you can try out our search, or start a conversation with our Dynatrace ONE team.
Head over to support.dynatrace.com to view our new Support Center, and be sure to update all your bookmarks! In the coming weeks, we'll also ensure that it's easier to navigate to the new Support Center from both our corporate website and within the product (user menu changes coming with Dynatrace version 1.218 will be released soon).
Better and faster information with smart new search experience
We're also revealing our new search experience as an Early Adopter release. With our new search, we have a single guiding principle: provide better information, faster.
Not only does our new search look different, it also feels different. And that's because it is different. Our new search is both faster and smarter—the more you search, the better and more personalized your search results will be. You'll also start seeing "Recommended" and "Featured" results, that are driven by our new, intelligent search engine. You can now use our quick filters to limit your search to either web or support content, and you can adjust the granularity of your results with our entirely redesigned filters. We're also improving the way we display results, so that you get the most relevant information, depending on what resource you're searching for. We've also introduced a brand-new advanced search, which gives you even more control over your results.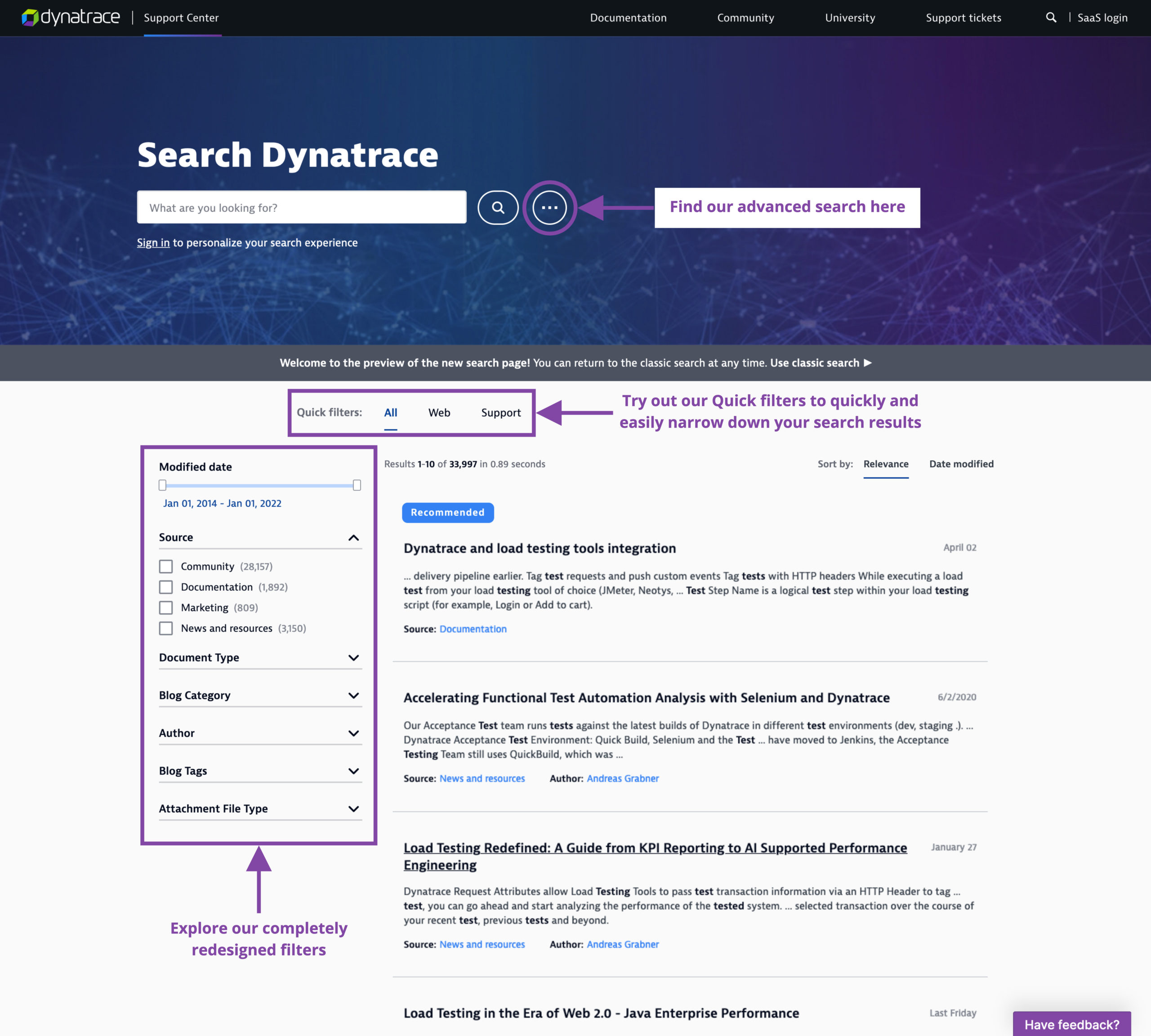 Until our new search reaches General Availability, the magnifying glass icon on our web and Support Center navigations as well as the search box on our Support Center home page will still redirect you to our former search page. From there, select the teaser banner to navigate to our new search experience. You can also access our new search directly at support.dynatrace.com/search.
Why not use our new search experience the next time you're looking for an answer? Remember to sign in for a personalized experience, and let us know what you think of our "Have feedback?" widget!
What's next?
We're committed to streamlining and unifying our self-service support experience to facilitate better content discoverability, and this launch is just the first step. In the coming months, you'll see our commitment to improving our customer experience as we introduce:
AI-assisted self-service case assistance where we'll proactively suggest resources that could help you solve a problem before you even submit a support ticket.
An in-product support search with quick-view functionality, which means you don't have to switch contexts in order to find whatever information you're looking for.
Topic overviews that provide you with a snapshot of all the content we have available on a specific topic.
Even more search enhancements, such as dynamic filtering, search result quick views, and the ability to save custom searches.
Your feedback is welcome
Let us know what you think about the new Support Center in the Dynatrace Community or reach out to us using our in-product assistance. We'd love to hear from you!