Keep cloud native weird – that was the slogan of KubeCon + CloudNativeCon, which took place from December 6-8 in Austin, Texas. KubeCon + CloudNativeCon gathers all CNCF projects (shown in the landscape below) under one roof and aims at the advancement of cloud native computing.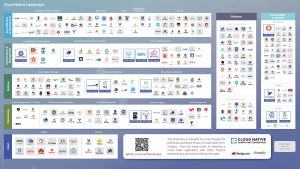 One of the most interesting CNCF projects is Kubernetes (or k8s – if you want to keep it short). Kubernetes, also called the Linux of the cloud, is the leading choice when it comes to cloud native container orchestration and management. This is also reflected when exploring k8s on Google Trends: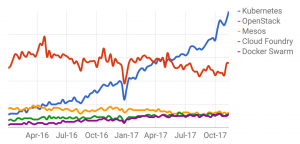 A lot of the 4100 conference attendees stopped by at our sponsor booth for an amazing Dynatrace demo or for a chat around the current benefits of monitoring Kubernetes environments with Dynatrace, which include
automatic detection of pod memory limit for Kubernetes/OpenShift
application of Kubernetes tags onto monitored entities
and creating Kubernetes-specific custom dashboards
Also, I got a chance to finally meet contacts of our technology alliance partner Red Hat in person and to engage in discussions with them.
And if you're interested in working with Kubernetes or similar cloud native technologies then let us know – we're hiring!