A customer and IT Systems Engineer at a top US-based insurance company shares how he manages multiple roles with ease. The secret is: Integrating Dynatrace ONE as an additional team member through Mobile and Web Chat!
How can you be a full-time IT Systems Engineer taking care of enterprise infrastructure while also being responsible for enterprise monitoring from an administrative and monitoring as a service perspective? This customer has shared his secret on how he manages multiple roles with ease. The secret is: Integrating Dynatrace ONE as an additional team member through Mobile and Web Chat!
Now – what does this exactly do for this customer and how can you do the same? Let's find out.
"Support as a Chat Service"
The following quote comes straight from the initial paragraph this customer sent to me in a recent email: "As Dynatrace One customers will know, the chat feature is amazing! The ability to reach out to someone 24/5 for technical support has paid for itself time and time again. As a Dynatrace administrator, my day can get very busy. But now, thanks to the Dynatrace Mobile App with integrated Chat Support, it gives me the freedom and flexibility to work with Dynatrace Support and still support our infrastructure."
Before I explain how you can become as efficient as this customer, let me first say thank you to the globally distributed Dynatrace One & Support teams that provide 24/5 help to our customers. Either through the in-product chat or the many other ways, our customers can get in touch with them! So, THANK YOU for making our customers successful, which makes them want to share their excitement with me so I can relay it to the broader Dynatrace community via this blog!
Step 1: Activate your Dynatrace Mobile App
While Dynatrace provides several integrations with incident response and incident management tools, the Dynatrace Mobile App also provides core capabilities in that area. Dynatrace detected problems get pushed and users can immediately start working on resolving these issues. At a large US-based insurance provider, the mobile app has been used for quite a while but – based on this customer's words – the chat capability brought it to the next level!
The process is fully documented here – but – let me give you a quick step-by-step guide. If you run Dynatrace Managed, the only thing you need is a Dynatrace ActiveGate in your DMZ which is accessible from outside your network. This allows your mobile app to communicate with your managed Dynatrace environment! For Dynatrace SaaS there is nothing extra to do!
Alright – we start in the problems view of your Dynatrace Tenant:

Clicking on that link gets you to the following page which holds simple instructions: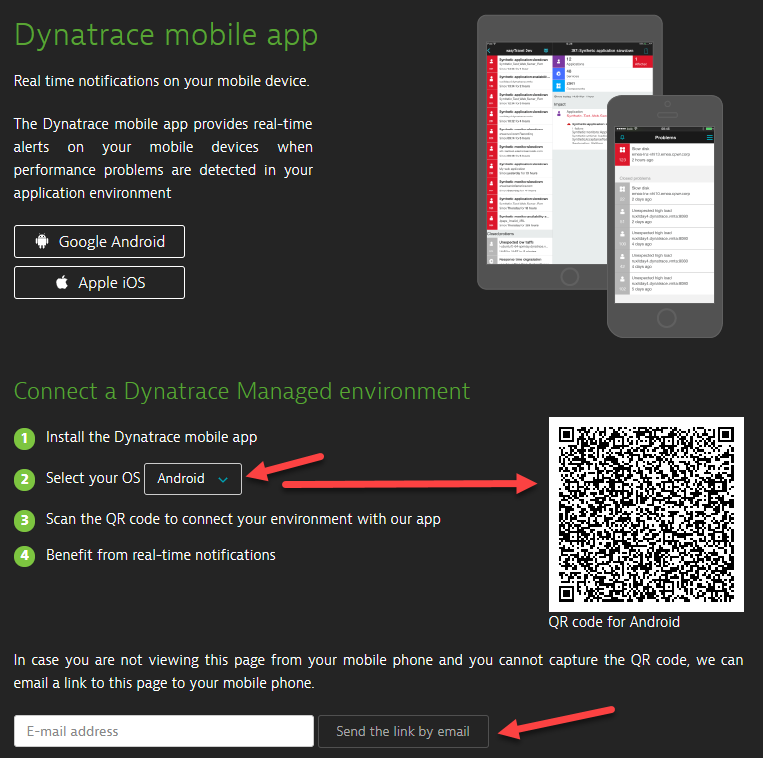 Reminder for Dynatrace Managed Users: Keep in mind that you have to be on the Company VPN in order to make the first initial connection from the Dynatrace UI to the Mobile App. Once that is done, you are all set as any additional communication is done through the AcitveGate we talked about earlier!
Step 2: Chat away!
Starting a chat with the Dynatrace team is really straight forward, as you can see from this customer's mobile app screenshot: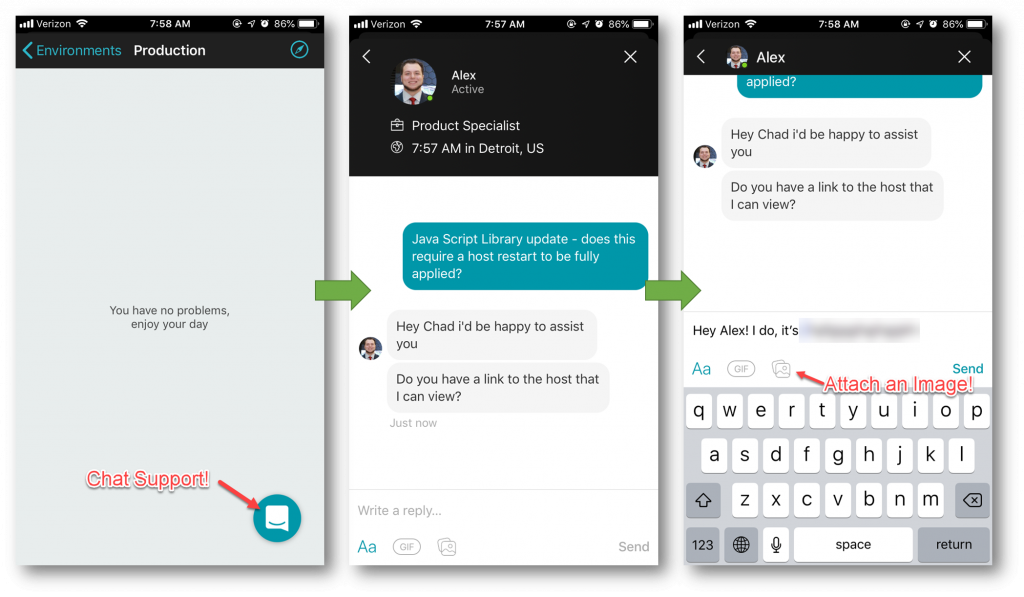 Besides the chat features shown above in the screenshots, the Dynatrace mobile app also supports push notifications in case a new message or reply is available:

Pro Tip 1: Switch between Mobile and Desktop
The chat feature is not only available in the mobile app, but also through the web interface. And – as one would expect – you can switch between interfaces to continue a conversation on your desktop that you started on mobile or the other way around. This allows you to be always-on-top of every active thread: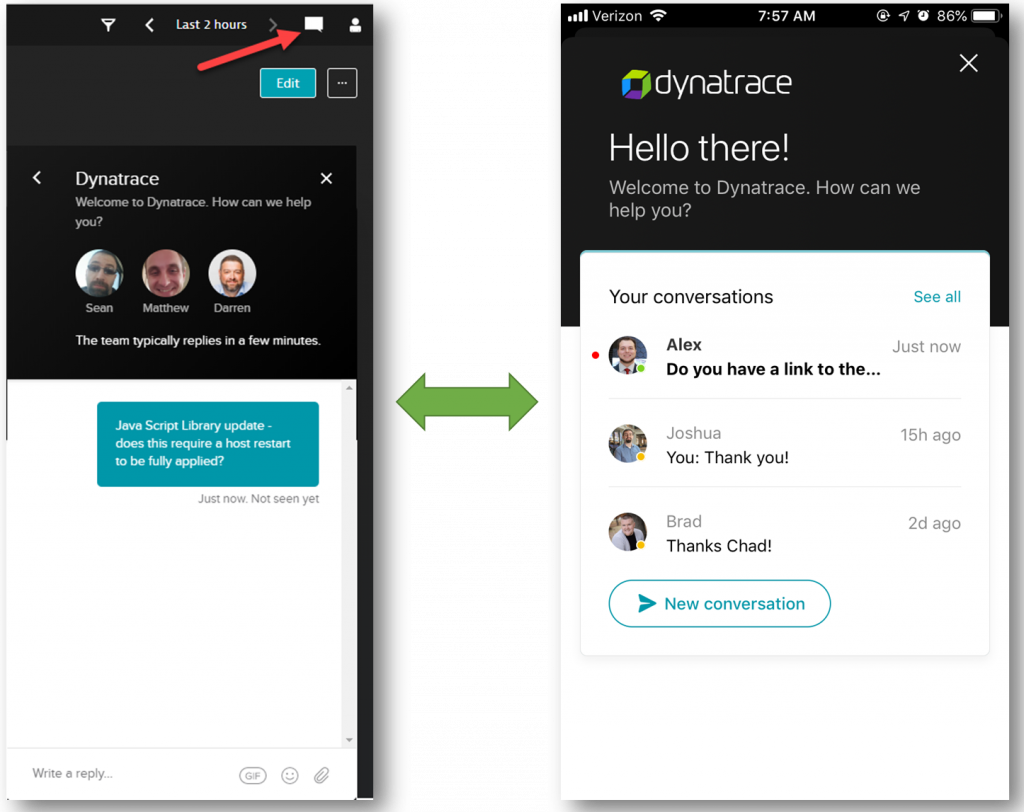 Pro Tip 2: Use Emojis & Images
As you have seen above, it is possible to post images and even GIFs and emojis. In the end, we are all humans and a picture is sometimes saying more than a thousand words and a smiley or thumbs up typically has a positive impact on the receiving end 😊 -> see: it works! 😉
Final Remarks
I'll end this blog post with another quote from this customer copied from his email: "This feature is available to everyone with the mobile app and has been very useful, not only for Dynatrace veterans but also for new Dynatrace users!"