Your customers don't speak with your IT department – but they should. Use your Voice of the Customer (VoC) solution to let your customers alert you to problems your monitoring solution can't see.
First of all, what is a Voice of the Customer solution? VoC solutions—from vendors like Medallia, Qualtrics, and Verint—capture subjective user experience through multiple approaches, including in-the-moment feedback, surveys, and contact center interactions. They help you close the loop on customer feedback and to prioritize your investments to improve customer satisfaction.
If you're listening to your users, they'll let you know when there's a problem—even those your monitoring solution can't see. That's why customers choose to connect their VoC solutions to Dynatrace.
Two perspectives of user experience
Almost every organization today strives to differentiate through customer experience. Accelerated by the global pandemic, digital channels have become even more dominant. Rapidly changing preferences have changed how organizations interact with their customers and how they deliver goods and services. Across every industry, competitors are one click away, affecting how we view and protect customer loyalty. As a result, the emphasis on user experience—that subset of customer experience specific to user interaction with your websites and apps—has similarly increased.
Both IT operations and digital experience teams have a keen interest in user experience, with important differences in perspective:
IT operations teams: User experience describes the interactive usability of a digital touchpoint; a mobile app, website, ATM, kiosk, etc. From Largest Contentful Paint (LCP) and JavaScript errors to rage clicks and mobile crashes, IT's understanding of user experience relies on objective measurements, with an emphasis on performance. Taken together, these metrics provide an effective representation of what the user likely experienced.
Digital experience teams: User experience includes subjective, often inferred, feedback. How did the user feel at each step of their journey? Were they satisfied or frustrated? Would they be likely to recommend your site/service/product? These subjective insights emphasize usability over performance.
Most enterprises keep these two perspectives separate; performance and technical quality belong to IT, usability and design belong to digital experience. The goals overlap, but the teams may rarely collaborate—until there's a usability problem IT needs to fix. And when there is, it may take days for the digital team to notice, analyze, and escalate the problem to IT. That's an eternity when damage to business outcomes and brand reputation is measured in hours or minutes.
How can subjective usability feedback benefit IT—and the business?
Admittedly, subjective user experience includes many factors that are well outside of IT's responsibilities: pricing, product selection, and UI design are good examples. But there are many subjective signals IT should care about. Consider these examples of technical issues that may be difficult or impossible to measure objectively, yet may have an outsized influence on user experience:
An action button is hidden or broken, but only on certain mobile devices
A registration form sometimes doesn't display properly, rendering it practically unusable
A newly introduced filtering feature is overly complex, preventing some users from finding what they need
To address these subjective signals, we can integrate with widely deployed Voice of the Customer (VoC) solutions.
Dynatrace and VoC data: Use cases in action
Investigating user complaints
Problem: Your customers may complain about slowness, errors, or other technical challenges—but your customers are not QA engineers, and it's often difficult to identify what went wrong from their description.
Solution: By capturing your customer's feedback session ID as a user session property, you can track your customer's journey—including performance and error details at each step. Session Replay provides the visual evidence needed to optimize user experience.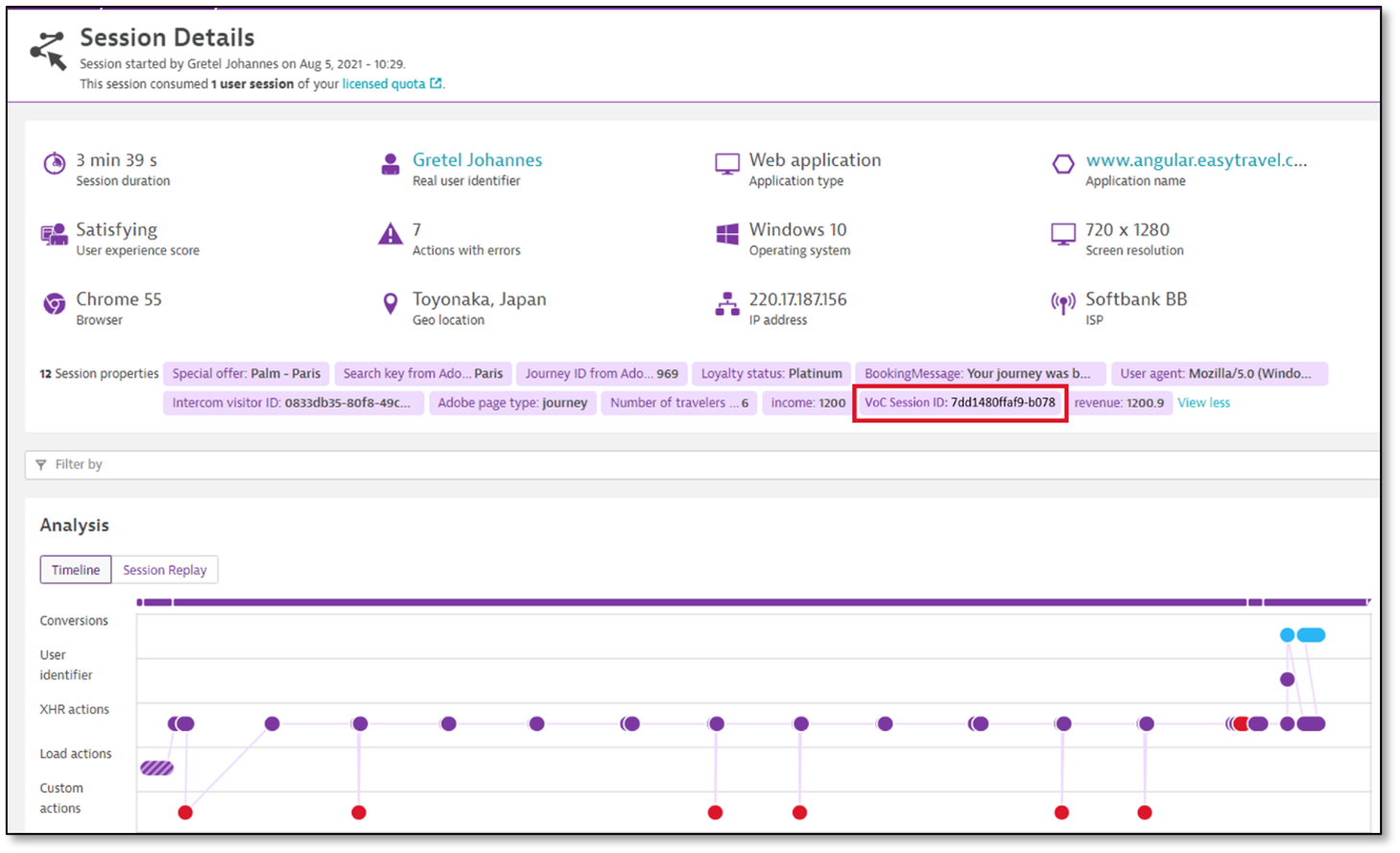 Real-time sentiment observability for IT teams
Problem: Negative experiences are most likely to trigger feedback, and technical problems are often the cause. Shouldn't your IT teams get relevant feedback in real-time?
Solution: Deliver your VoC star rating feedback to your Dynatrace user journey dashboards for real-time visibility into negative customer experiences. This feedback complements Dynatrace Real User Monitoring (RUM), offering a subjective perspective to RUM's objective user experience metrics.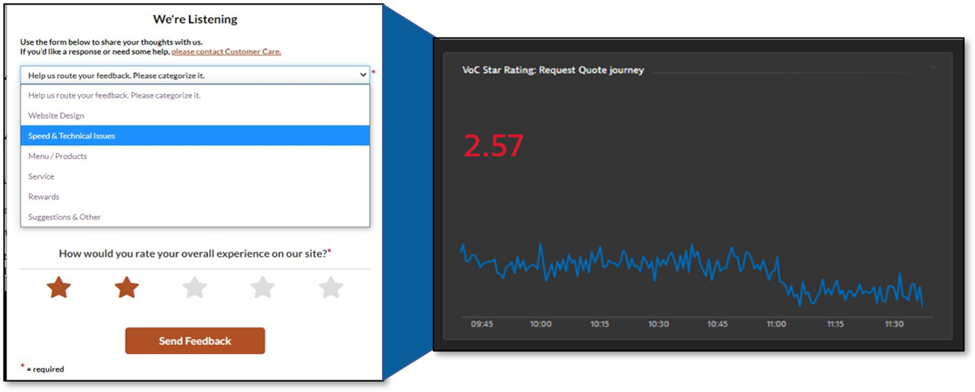 Conversion rate analytics
Problem: VoC solutions analyze large volumes of data to understand friction and prioritize site or app improvements that will improve business outcomes. But with so many variables, how do you translate these into actionable technical improvements?
Solution: Tie these VoC-identified "hot spots" to their aggregated user action performance metrics to understand the impact performance and errors have on usability.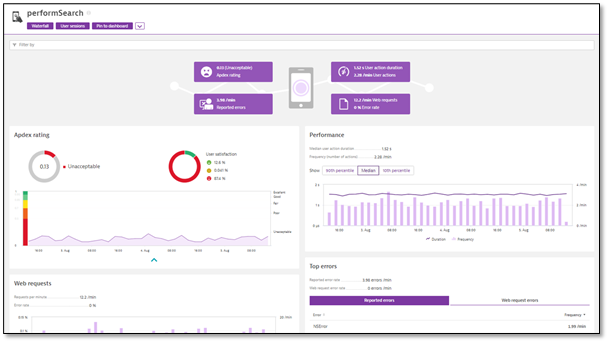 Reach out to your voiceless customers
Problem: Most frustrated users don't bother to complain, limiting your opportunity to close the loop with unhappy customers.
Solution: Use Dynatrace user experience scores or Apdex to identify frustrated, at-risk customers. You can then segment these users—for example, by loyalty status, revenue, or abandoned cart value—to personalize your outreach through retention offers, targeted surveys, or other follow-up actions.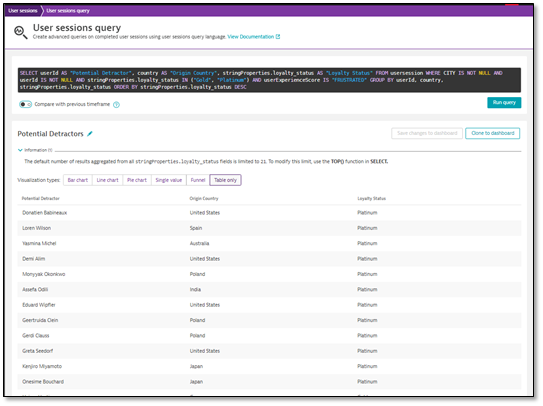 Ready to listen?
Most companies have investments in VoC solutions; they're an important facet of customer experience differentiation. Many of our customers connect these solutions—in various ways—to their Dynatrace Software Intelligence Platform, improving their BizOps collaboration to speed problem resolution and optimize the customer experience.
For more information, contact your Dynatrace account team.