The topic of User Adoption on SharePoint is a hot-button issue within many companies. Since its introduction by Microsoft in 2001, SharePoint has evolved over the years to be the ubiquitous, go-to collaboration tool used throughout enterprises. SharePoint has played a significant role in the evolution of collaboration within companies, moving departments from using file folders on shared drives to being able to access shared sites, document management and search tools. Some third party applications and webparts from vendors like K2, AvePoint and Nintex even allow for critical functions such as compliance, workflow, and project management to be handled on the backbone of SharePoint. Organizations are also taking advantage of SharePoint's flexibility as an application platform by implementing custom code to meet the unique needs of their internal operations.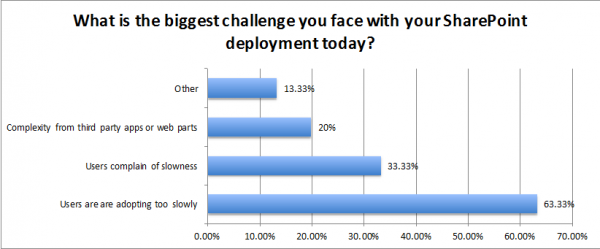 Companies turn to these programs to solve business problems and unlock capabilities and efficiencies that come from collaboration, but what happens when users are not adopting the new tools being provided by the SharePoint team? Sure, aggregating resources and automating processes onto SharePoint is a better and more efficient way to work, but employees are in their email all day; so how does one encourage their peers to use the new tool when it is seemingly redundant? And how successful will those efforts be when employees give the new tool a try, only to be greeted with confusing site design and slow loading pages?
We recently invited Wendy Neal to come talk with our own SharePoint Performance Expert, Andreas Grabner, about how to improve user adoption on SharePoint. Wendy is a SharePoint consultant at McGladrey and is a prolific thought leader on the topic of SharePoint usability. During the webinar Wendy shared with us the common barriers to user adoption and how to overcome those barriers:
"Face it, when users are faced with change, it's really hard for them to embrace it. If you say…'We're going to start doing everything in SharePoint,' people are not going to be very receptive because they don't understand why. They don't know how it's going to affect them and they feel like they don't have any say or that their opinions don't matter. It's really important to involve them early on."

-Wendy Neal
Wendy presented a variety of best practices to overcome these challenges, such as:
Keeping content up to date and consistent so users trust SharePoint as a resource
Paying attention to best practices in information architecture and navigation
Ensuring your SharePoint sites don't frustrate users with slow performance
The main idea Wendy drove home was to spend time observing and getting feedback from your users. "If they're complaining to you about something not working to their satisfaction, go and watch them and figure out what they're doing. Observe how they expect the software to behave, because the way [the site] was designed is not always what they expect to see. And you can take steps to fix that."
You can view the recording of the Driving SharePoint User Adoption Webinar now.
Andreas Grabner drove this point home from a technical perspective by providing steps so that Admins can ensure the user experience of their SharePoint deployment is positive. Among the best practices Andreas shared were to:
Check the health of your end user experience such as analytics on which devices and browsers users are actually using.
Check site health to figure out how much load is actually on these sites
Check system host health to ensure you have enough resources to handle load
Check IIS health so that people accessing your sites don't have to wait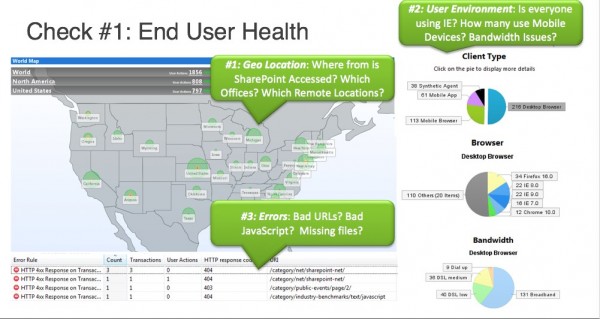 Check out more of Andreas' SharePoint performance best practices on our blog.
Even though SharePoint is an internal tool, it is still competing with work-arounds like email and shared drives, as well as newer collaboration tools like Dropbox and Google Drive.  Paying attention to best practices on usability and performance is the best way to ensure the investment and effort your organization has put into SharePoint doesn't come up short.
For more information: