In the International Services Group (ISG) 2022 Provider Lens for Cloud-native Services and Solutions report, Dynatrace has attained the top overall position for the cloud-native observability quadrant. Additionally, Dynatrace is recognized as a leader in cloud-native security for both the U.S. and Europe. ISG is a leading global technology research and advisory firm that supports clients across more than 20 industries and partners with 75 of the world's top 100 enterprises.
This Provider Lens research analyzes trends and challenges associated with cloud-native observability and assesses capabilities surrounding observability for technologies such as Kubernetes and serverless. The firm also examines cloud native security platforms and how they address new challenges, as the convergence between observability and security continues to accelerate. The research also reviews vendor strengths and competitive differentiators.
The report's findings are consistent with Dynatrace's recent CIO survey data. Both concluded that unified observability and AIOps are key to organizational success. Additionally, the report and survey agreed cloud technologies introduce new complexities that traditional monitoring solutions struggle to overcome. Therefore, a new approach that leverages AI and automation is required to tame cloud complexity.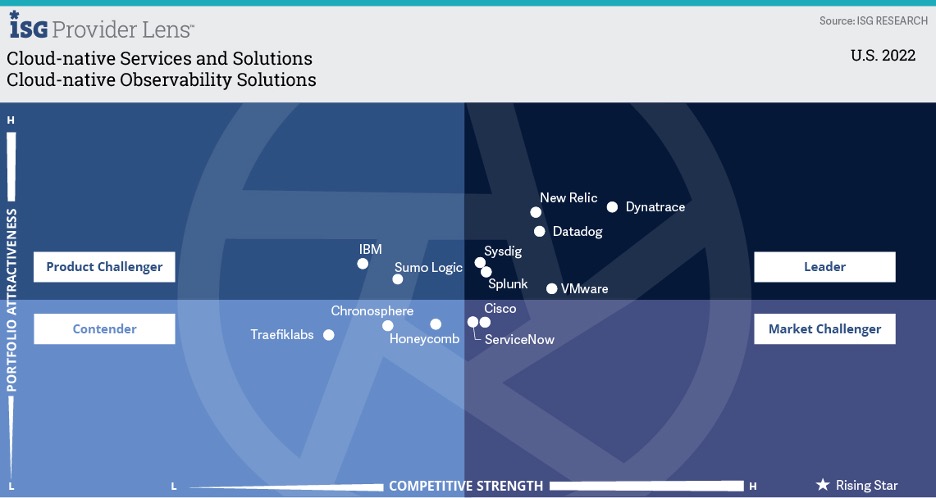 ISG recognizes Dynatrace's advanced cloud-native observability capabilities
Designed for modern and dynamic environments, Dynatrace is a leader in both competitive strength and portfolio attractiveness. Some of the report's highlights include the following:
1. Most complete cloud-native observability platform
Observability is often thought of as analyzing a system's current state using a combination of logs, metrics, and traces. However, Dynatrace extends beyond that to include topology mapping, user behavior, and application security. The platform also supports the latest open source standards, including OpenTelemetry, to provide enterprises with the flexibility to use the technology that best aligns with their business requirements. These capabilities enable complete end-to-end visibility across modern cloud and hybrid cloud environments, which. We call this combination of capabilities "Cloud done right."
2. Dynatrace stands out with Davis AI
ISG identifies AI as a key trend for cloud-native observability solutions. AI, automation, and machine learning are vital with the rising complexity of distributed systems and growing amounts of observability data. Unassisted, it's impossible to sift through all this information and find the right answers in real time at scale. Davis AI eliminates alert noise, automatically analyzes trends, and provides automatic root-cause analysis down to the code level.
"AI-powered capabilities make Dynatrace a clear leader in cloud-native observability." – Mark Purdy, ISG Principal Analyst
3. Cloud-native at the core
Cloud-native environments come with their own unique sets of challenges, including cloud migration, refactoring microservices, and serverless observability. Given their distributed and ephemeral nature, containers can also be difficult to secure. These new use cases require a fresh approach, and the cloud-native Dynatrace platform powered by AI and automation is uniquely positioned to deliver complete end-to-end cloud-native observability.
Purpose-built for cloud obstacles-native environments, Dynatrace helps secure applications by prioritizing threats and detecting application security vulnerabilities in real time and at runtime. Whether it' is Kubernetes containers or serverless technologies, Dynatrace can automatically discover, instrument, and ingest data from all environments in context.
Most recently, Dynatrace launched Grail, a cloud-native data lakehouse that enables the ingest and analysis of massive volumes of data and provides boundless observability, security, and business analytics.
To learn more about cloud-native observability services and solutions, view the full details of the ISG Provider Lens report.