Enhancing security insights and threat intelligence data in our platform, Dynatrace integrates with Microsoft Sentinel.
Secure your hybrid cloud environments at runtime with Dynatrace using runtime vulnerability analysis, AI-assisted prioritization, runtime application protection, and log audit and forensics. Integrating with Microsoft Sentinel adds security events to our Runtime Application Protection and provides additional data for investigation with our security analytics features using Dynatrace Query Language on Grail.
Integrating existing point tools empowers DevSecOps teams to identify and mitigate emerging threats by using Dynatrace's platform approach to security featuring advanced real-time attack and vulnerability detections powered by Davis AI. At all times, in Dynatrace, we provide a unified view of relevant security events fully integrated with our SmartScape technology.
Dynatrace Application Security provides automated runtime vulnerability detection and risk assessment for cloud-native applications across the entire software development lifecycle. It is optimized for cloud-native applications running in containers and Kubernetes. Using proven Dynatrace technologies, Dynatrace Application Security helps your DevSecOps teams resolve security issues faster, allowing them to accelerate software delivery. Its core capabilities are the following:
Runtime vulnerability analytics. Reduce the time and cost to find and fix application vulnerabilities. Use runtime context to precisely implement countermeasures and remediation.
Runtime application protection. Reduce exposure to missed and zero-day vulnerabilities. Continuously detect and block common application attacks, such as SQL injection and command injection.
Microsoft Sentinel is a security information and event management (SIEM) solution that enables customers to ingest data, monitor, alert, hunt, investigate, respond, and connect with different products, platforms, and services.
Natively integrating Dynatrace with Sentinel enables DevSecOps teams to rapidly detect, prioritize, triage, and remediate attacks. DevSecOps teams benefit from the high-accuracy threat signals Dynatrace surfaces. It helps them avoid time-consuming investigation activities, freeing them up for more important tasks.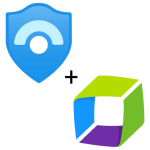 Sentinel data connectors poll Dynatrace for new attacks, vulnerabilities, audit logs and problem events, allowing Sentinel users to benefit from the solution's comprehensive set of out-of-the-box Analytics Rule Templates and Playbook templates for building sophisticated detection and response capabilities.
In the following, we outline the Sentinel Playbooks: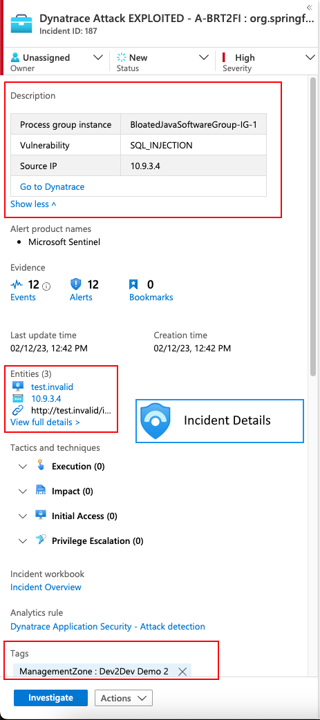 Get started today with the Dynatrace Microsoft Sentinel solution now available from the Microsoft Sentinel Content Hub.