Dynatrace and the Dynatrace Intelligent Observability Platform have added support for the newly introduced Amazon VPC Flow Logs to Amazon Kinesis Data Firehose. This support enables customers to define specific endpoint delivery of real-time streaming data to platforms such as Dynatrace.
What is VPC Flow Logs?
VPC Flow Logs is an Amazon service that enables IT pros to capture information about the IP traffic that traverses network interfaces in a virtual private cloud, or VPC. By default, each record captures a network internet protocol (IP), a destination, and the source of the traffic flow that occurs within your environment.
What is Amazon VPC Flow Logs to Kinesis Data Firehose, and why is it important?
The Dynatrace platform can ingest and evaluate a large amount of data from different sources. With Amazon Web Services, the main sources from which to ingest logs—Simple Storage Service, or S3, and CloudWatch —come with an additional cost. As of today's announcement, Amazon Web Services is adding the capability to stream these logs directly from Kinesis Data Firehose to Dynatrace, bypassing other sources from which to ingest VPC Flow Logs.
Today, delivering data to Kinesis Data Firehose — a real-time streaming mechanism that scales and delivers rich data to a Dynatrace instance — gives IT pros access to additional contextual data for your environments. In a hybrid cloud ecosystem, digital assets can reside anywhere in the cloud and on premises. The more relevant the data IT pros feed into the Dynatrace platform, the better the analysis and correlation of how VPN and other network traffic affect your environments.
As of today's announcement, AWS and Dynatrace strengthen their commitment to their customers to continue to deliver quality and value. Additional benefits from this new Amazon feature include the following:
Customers can reduce operational overhead and easily process VPC Flow Logs by achieving the following:

The offering eliminates dependencies on custom integrations. As a result, customers can send their flow logs to Dynatrace via Kinesis Data Firehose by implementing a customer-deployed forwarding Lambda function.
Processing logs is now streamlined, enabling customers to enrich log metadata with insightful context that is important for delivering pipelines to single Firehose delivery streams.

Reduced cost of ownership

For customers that want to send traffic to a Dynatrace destination using Kinesis Data Firehose delivery streams, this new feature adds Kinesis Data Firehose as a destination for VPC Flow Logs, which can reduce total costs.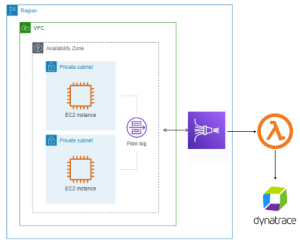 Why Dynatrace?
Today, Dynatrace is recognized as a Leader in the 2022 Gartner Magic Quadrant for Application Performance Monitoring and Observability.¹ When it comes to dynamic cloud environments, Dynatrace is also an innovator in "modern cloud done right." And when it comes to Amazon, Dynatrace continues to build integrations that keep pace with today's modernization requirements. This means customers can monitor and visualize with context how those new services affect their ecosystem and deliver the value they expect.
Dynatrace's ingestion of logs also enables organizations to automate cloud-related log tasks by doing the following:
automatically identifying the precise root cause of a problem in real time to simplify cloud complexity;
automating cloud operations and triggering remediation workflow to enhance efficiency; and
automating ingestion of logs, metrics, and traces and continuous dependency mapping with precise context across hybrid and multicloud environments.
The Dynatrace VPC Flow Log analysis capability
Log Viewer enables users to present log data in a filterable, easy-to-use table and to browse log data within a certain time frame using detected aspects of the log content.
Log Metrics create metrics from log data or log metadata that allow users to add to a dashboard or create custom alerting from each metric created.
PurePath® combines logs with distributed traces, enabling users to check log records in the full context of a transaction.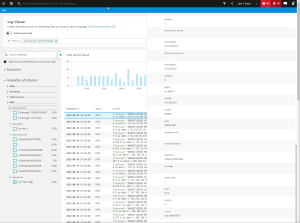 The Dynatrace problem detection and analysis advantage
Dynatrace uses your data and its sophisticated AI causation engine, Davis®, to automatically detect performance anomalies in your applications, services, and infrastructure. Dynatrace-detected problems are used to report and alert on abnormal situations, such as performance degradations, improper functionality, or lack of availability — that is, problems that represent anomalies in baseline system performance. Problems have defined lifespans and are updated in real time with all incoming events and findings. Once a problem is detected, it's listed on your problems feed.
Adding the context of VPC Flow Logs data to the correlation of the Dynatrace Davis AI engine generates a new dimension of network-specific information that can identify additional problem areas and improvement candidates. It can also understand the impact of network contribution to overall application and user health.
Resources
Learn more about VPC Flow Logs
Check out our Power Demo: Log Analytics with Dynatrace.
Learn more about how Dynatrace and AWS are "better together."
We invite you to experience the power of the Dynatrace Software Intelligence Platform and sign up for a free 15-day trial.
1) Gartner, Magic Quadrant for Application Performance Monitoring and Observability, By Padraig Byrne, Gregg Siegfried, Mrudula Bangera, 7 June 2022.
Gartner does not endorse any vendor, product, or service depicted in its research publications and does not advise technology users to select only those vendors with the highest ratings or other designation. Gartner research publications consist of the opinions of Gartner's Research & Advisory organization and should not be construed as statements of fact. Gartner disclaims all warranties, expressed or implied, with respect to this research, including any warranties of merchantability or fitness for a particular purpose.