Cloud observability enables organizations to deliver business value by reducing costs, minimizing IT incidents, and providing better user experiences, as CEO Rick McConnell outlined at the recent Innovate conference.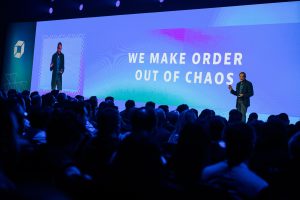 Organizations have clearly experienced growth, agility, and innovation as they move to cloud computing architecture. But without effective cloud observability, they continue to experience challenges in their cloud environments.
Organizations face cloud complexity, data explosion, and a pronounced lack of ability to manage their cloud environments effectively. They need solutions such as cloud observability—the ability to measure a system's current state based on the data it generates—to help tame cloud complexity and better manage applications, infrastructure, and data within their IT landscapes.
As a result, many IT teams have turned to cloud observability platforms to reduce blind spots in their cloud architecture, resolve problems rapidly, and deliver better customer experiences. Ultimately, cloud observability helps organizations to develop and run "software that works perfectly," said Dynatrace CEO Rick McConnell during a keynote at the company's Innovate conference in Săo Paulo in late August.
Increasingly discriminating users require software to work perfectly, McConnell noted, or these customers may defect to other brands. Indeed, some research indicates that 54% of customers will defect after just one poor experience with a company.
"As users, we expect this," McConnell said during the conference keynote. "Whether we're buying something online or scheduling travel or making a bank transfer…. [These applications] have to work perfectly."
Ultimately, McConnell noted, effective cloud observability needs to deliver business value to organizations by wrangling cloud complexity and enabling users.
"We [at Dynatrace] like to think we make order out of chaos," McConnell said, "to provide flawless and secure digital interactions. Then we can achieve this objective of delivering software that works perfectly."
Data explosion and cloud complexity brings cloud management challenges
McConnell noted that rising interest rates and soaring costs have created a backdrop in which organizations need to do more with less. At the same time, the scale of the cloud environments that need to be managed is exploding.
According to a recent Forbes article, Internet users are creating 2.5 quintillion bytes of data each day. How do we manage our environments when it creates more workloads and more complexity?" McConnell said.
"Workloads are exploding, more apps, more infrastructure, more to manage," McConnell said. "We can't do it the way we have always done it. … That's why we have to transform our businesses."
McConnell also noted that while cloud platforms have brought velocity to organizations' efforts to grow and innovate, cloud-native environments necessarily invite complexity that requires management and monitoring.
"[Cloud] services have enabled us to deliver more faster, but it has [also] resulted in fragmented tools and challenging customer experiences," he said. "It's harder to keep cloud workloads up and running than the olden days."
Cloud observability trends to watch
A modern cloud observability platform can address the growing need for organizations to do more with less as cloud complexity and data volumes increase.
McConnell carved out several cloud observability trends to watch that can help organizations manage complexity, reduce costs, innovate, and secure their environments.
Cloud modernization. Cloud platforms continue to deliver massive value. According to data cited by McConnell, Amazon Web Services, Microsoft Azure, and Google Cloud Platform grew in the last quarter, ending in June [2023], and jointly delivered almost $50 billion. "That's a growth by 2x over two years," McConnell noted. "We are all using and deploying and employing more cloud services every day."
Unified observability. McConnell noted that effective, unified observability delivers precise answers on activity in cloud environments, not just dashboards that display red, green, and yellow alerts with little analysis of what exactly has gone wrong. "You have to know precisely what is going on in your environment to be able to troubleshoot rapidly," he said. Further, cloud observability should help teams proactively address problems before they affect users. "You want to know how to predict and resolve issues before they occur."
Realizing business value through cloud observability. McConnell noted that organizations are awakening to the full potential of using cloud observability: realizing business value.
There have been several axes on which organizations can realize business value:
Cost savings
Improved software uptime
Reduced troubleshooting
Better predictive capabilities
Deeper integration into code
Why Dynatrace cloud observability is different
Dynatrace features several differentiators that set the observability apart in realizing business value.
1. Dynatrace Grail. As McConnell noted, Dynatrace Grail is a massively parallel processing data lakehouse that enables teams to ingest and store large volumes of data in context and without up-front manual work.
"You can do a better job of parsing [data], analyzing it, and using it to deliver answers. Grail brings all of this together," McConnell noted. "We maintain data in context."
2. Hypermodal AI. Hypermodal AI combines three forms of artificial intelligence: predictive AI, causal AI, and generative AI. Let's look at these three forms of AI:
Causal AI is an artificial intelligence technique that uses fault-tree analysis to determine the exact underlying causes and effects of events or behavior.
Predictive AI uses machine learning (ML) and statistical methods to recommend future actions based on data from the past.
Generative AI is artificial intelligence capable of generating code, text, and other types of output using trained, generative models.
McConnell noted that Dynatrace AI is qualitatively different from those of other companies because it brings these forms of artificial intelligence together. The combination is synergistic. Further, while generative AI is a productivity tool—and a key focus of the technology community today—its data outputs are only as good as the underlying inputs provided by causal AI.
This is why causal AI is so critical. With causal AI, an observability platform can identify the precise source of problems rather than simply ingest data that indicates correlations. With causal AI, teams can identify the precise root cause of an issue and all the entities that are affected, as well as display the relationships among these entities in Smartscape's topological map.
Further, predictive AI, combined with causal AI, enables teams to deploy machine learning on top of causal AI to predict what might happen in the future based on statistics, enabling teams to avoid issues before they occur or to auto-remediate these problems through software code.
3. Automation. McConnell noted that, ultimately, cloud observability helps organizations move from manual, time-consuming, costly effort to automated action. "Automation is the ultimate game changer," McConnell said. "You must enable business process automation to improve that environment I described earlier of that NOC (Network Operations Center) of manual engagement. We continue to invest in capabilities to achieve that."
Realizing business value with cloud observability
Dynatrace customers have reaped this kind of business value using the cloud observability platform.
Consider a financial planning company that needed to better manage its performance. It had the burden of a legacy environment. After it moved to a cloud-native environment, its teams were able to move faster and develop software more rapidly. But that velocity also resulted in an increase in incidents. McConnell noted that today, using Dynatrace observability, the company anticipates a cost savings of $1.5 million in the first three months of deploying the platform.
Second, a U.K.-based telecommunications company reduced incidents by 50%, reduced mean time to repair by 90%, and expects to save £28 million over three years. "This is what we're trying to deliver," McConnell noted about the telecom's results. "Not just better user experience, but true economic value."
Finally, organizations have been able to use the Dynatrace observability and application security platform to avoid the costly losses wrought by Log4Shell, a zero-day vulnerability that emerged in late 2021. For one software development and cloud services company, Dynatrace application security automatically identified and prioritized vulnerabilities that required remediation. As a result, this company experienced a significant improvement in its ability to immediately address vulnerabilities for itself and its clients.
Dynatrace cloud observability helps organizations move beyond break-fix. With true cloud observability, they can reduce costs, reduce incidents, and automate formerly manual tasks. That frees organizations to grow, innovate, and become strategic as they operate in dynamically changing and uncertain business environments.