Amplify PowerUP – our half-yearly global event to update our partner community – covered a lot of ground including key Partner Program announcements, Q2 earnings and partner contribution, market growth and momentum, Dynatrace platform capabilities, and the partner services offering the platform powers.
The theme for the event focused on 'APM to Observability', which we'll recap shortly within this blog. But before we do, below are some of the examples of recent analyst recognitions where Dynatrace has been named in a leadership position for our observability platform and capabilities.

The driver for APM to observability is the complexity cloud environments bring to organizations.
The cloud is where Enterprise organizations are transforming, and dynamic multiclouds are the platform of choice. But the cloud is forcing a rethink of tooling, platforms, technologies, and services to power new, agile, applications and application components, that break down silos, and use AI and automation to accelerate innovation. Traditional approaches and tooling simply don't work in the new cloud world.
Observability provides deeper technical insights into what's happening within cloud environments, in comparison to APM and/or traditional monitoring methods. Therefore, to keep up with dynamic cloud environments organizations are adopting observability to provide the required level of insights.
APM to Observability
Observability isn't simply a new name for application performance monitoring (APM). It's a different concept from monitoring. And for observability to be successful, it requires much more than just logs, metrics, and traces
To explain this paradigm shift in context to APM, we decomposed observability into digestible bite-sized chunks that show where observability is relevant and why. The traditional APM capability fits well into the upper-right quadrant 'Applications, Microservices, and Digital Experiences', but as you can see observability is much more comprehensive than APM.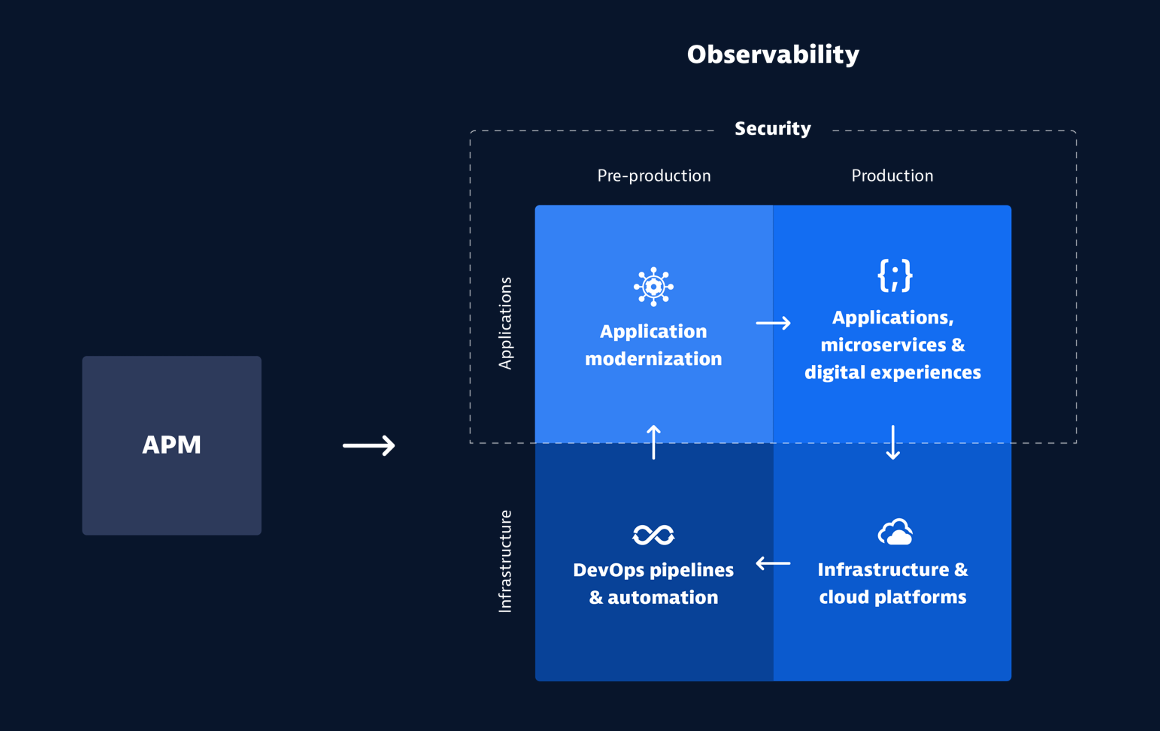 And there's also how Dynatrace approaches observability. The general agreed-upon definition of. And while this is a different approach to monitoring, they share the same old challenges.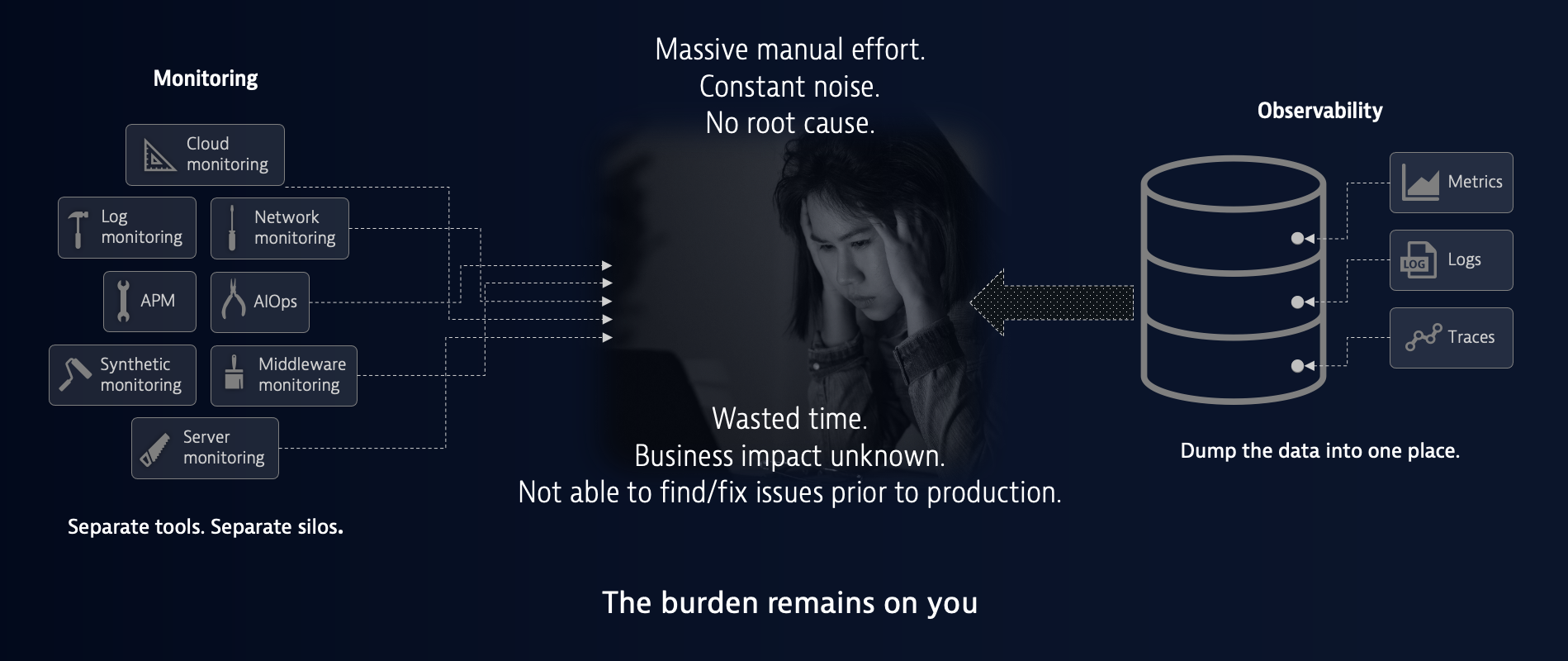 Dynatrace approaches observability to address these challenges head-on. We start with metrics, traces, and logs (that's table stakes) but also provide context and enrichment through topology, behavior, code, metadata, and network combined with data from application programming interfaces (APIs) and OpenTelemetry.
Data from all these sources is collected and analyzed by the Dynatrace AI engine, Davis, that's built into the core of the platform to drive intelligent and definitive problem identification and root-cause analysis.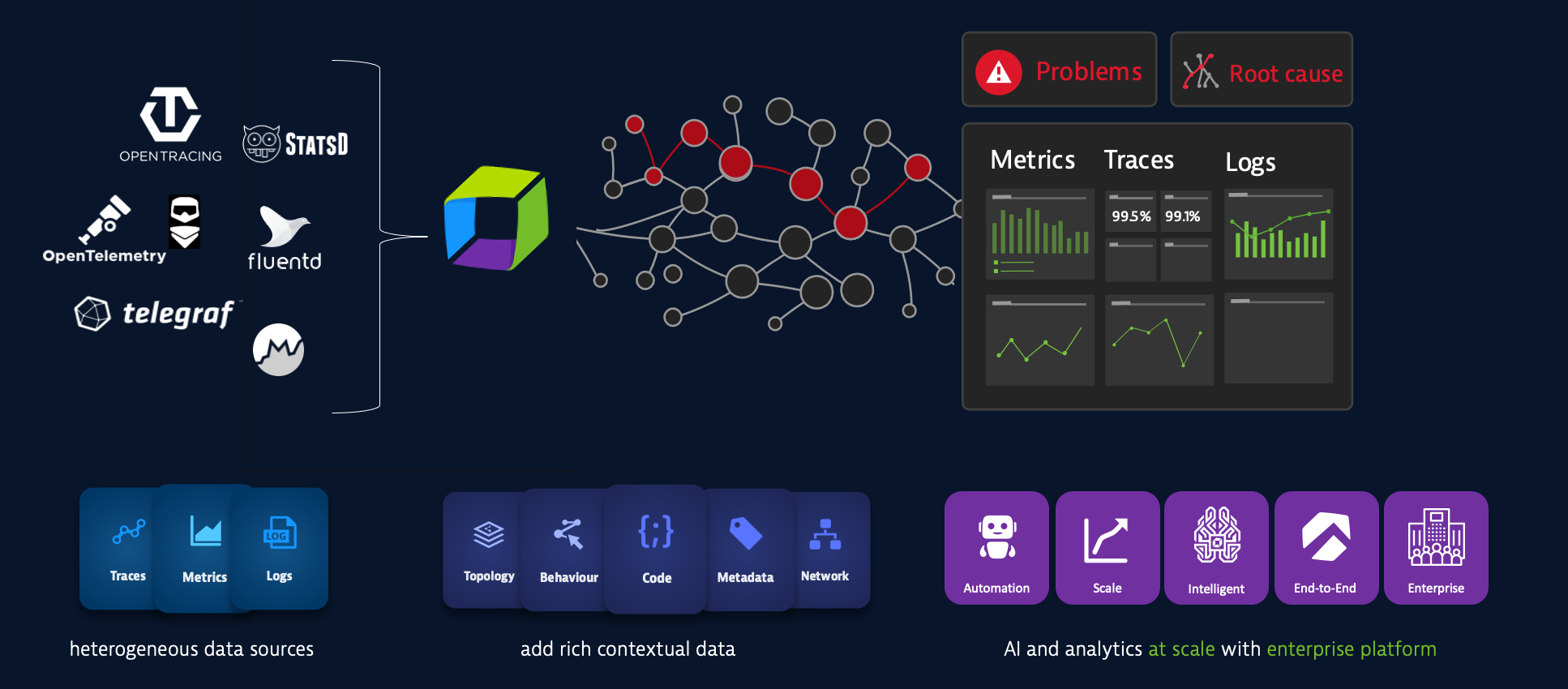 For our customers, this is where the magic happens. And, for our partners, this is where the real opportunity begins.
Dynatrace Partner Services Opportunity
"The need for automation capability has created a rocket ship for services. Enterprises simply can't recruit the talent quality and quantity they need to automate at scale" – Andrew Hittle, Chief Customer Officer and SVP Services, Dynatrace
For our partners, while the sale of the Dynatrace platform itself is important, the platform is the enabler for the sale and delivery of their service offerings that result in meaningful end-client transformations. To be clear, when we talk about partner services offerings, we're not referring to 'installing and managing' Dynatrace-type services, for two reasons:
Automation throughout the Dynatrace platform, automatic updates, and utilizing a software as a service (SaaS) delivery model significantly reduces services scope for platform deployment and management offerings.
The large multi-million-dollar, multi-year transformation projects are driven by the outputs of Dynatrace; intelligent, precise problem identification and root-cause analysis with the confidence to build automation at enterprise scale. Typically, these projects span but are not limited to, DevOps Automation, Cloud Ops Automation, and Application Modernization.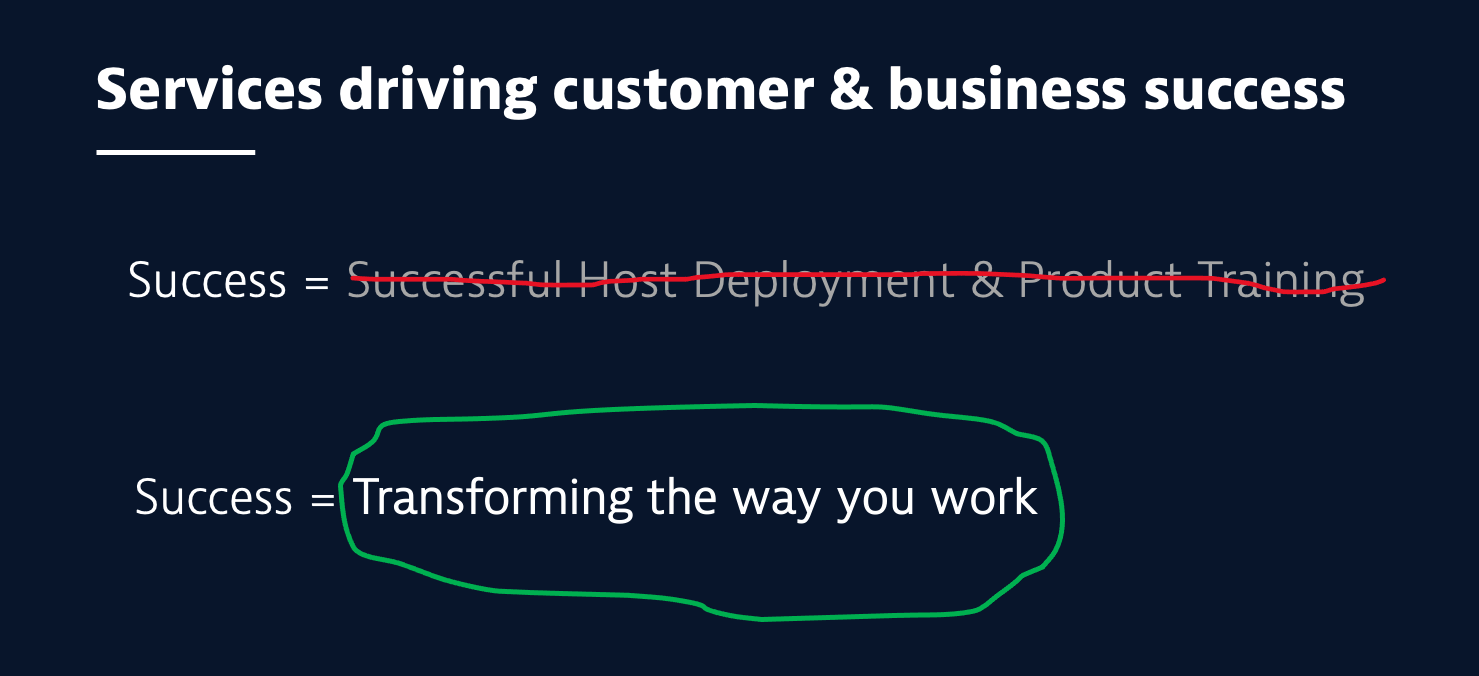 DevOps and Cloud Ops Automation
We covered DevOps automation and Cloud Ops automation during Amplify in May 2021 so we won't go into detail here other than to recap the high-level automation use cases below, and link to the Quick Reference Guides for DevOps and Cloud Ops automation (note: you will require partner portal access to view).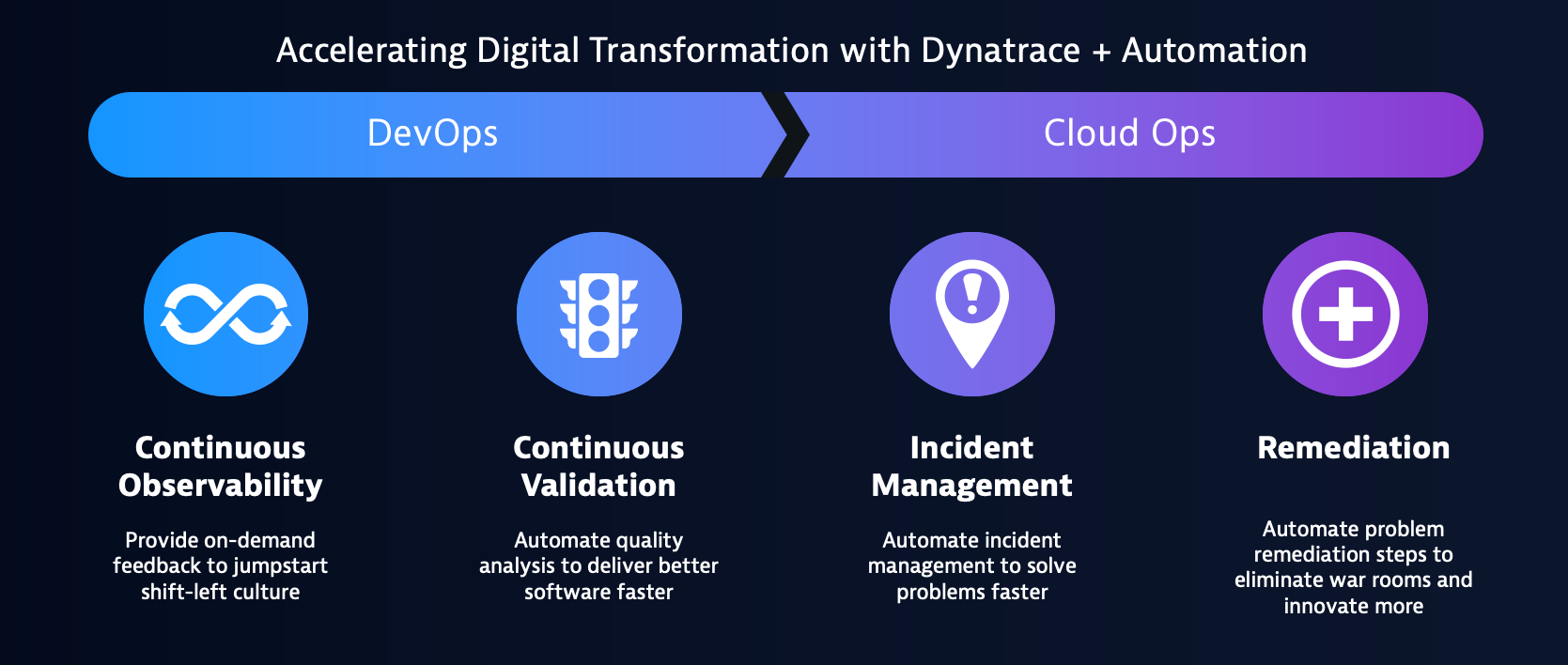 Application Modernization
We did, however, introduce the topic of Application Modernization, its role, capacity, and value of Dynatrace, and the market opportunity for partner services during Amplify. This is a big topic to cover in a summary blog, so we'll narrow the topic to center on market drivers and challenges.
When thinking of application modernization, it's important to understand that application modernization isn't a one-time project. The objective is for business agility, the ability to adapt applications, and supporting infrastructure at speed to meet changing and evolving needs. To achieve this, the underlying application delivery process also needs to be modernized to provide agility, but also to reduce costs and eliminate technical debt.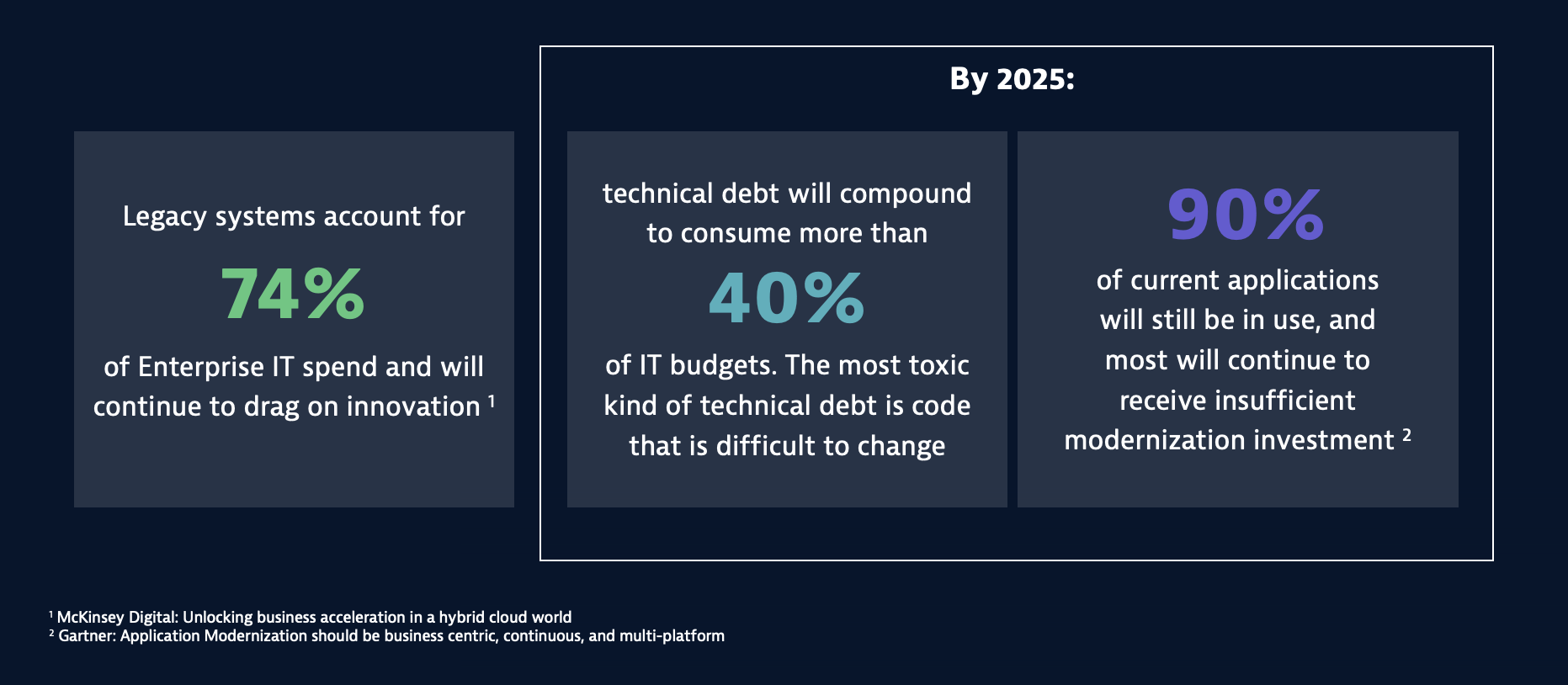 Even before the current pandemic, IT organizations experienced pressure to be more agile and innovative, as business requirements evolve, user expectations grow, and competition emerges faster and from unexpected sources. As a result, business models are being reinvented.
Digital technology was at the heart of many of these challenges, and its adoption was key to every company's response. Similarly, some of the old challenges to change are still around. Legacy IT systems inhibit change while consuming budgets. A recent McKinsey Digital study of enterprises found that legacy systems account for 74% of their IT spend while continuing to be a drag on innovation.
This is reinforced by Gartner, in their report entitled Application Modernization should be business-centric, continuous, and multi-platform – Gartner highlights the technical debt incurred from legacy applications, especially those applications where code is difficult to change.
According to Gartner, the drivers of Application Modernization can be categorized through the Business and IT lens:
Business Drivers: If the legacy application is not meeting the new requirements imposed by digital business, it needs to be modernized to fit properly and should be upgraded to provide greater business value. Applications that lack the continuous agility to keep pace with the demands of digital business may be a cost or risk liability.
IT Drivers: If the total cost of ownership is too high, the technology too complex, or security, compliance, support, or scalability are being compromised, it's time to modernize.
In the early days of cloud migration, many organizations took a "lift and shift" approach and, as a result, failed to realize the flexibility and innovation promised by cloud computing.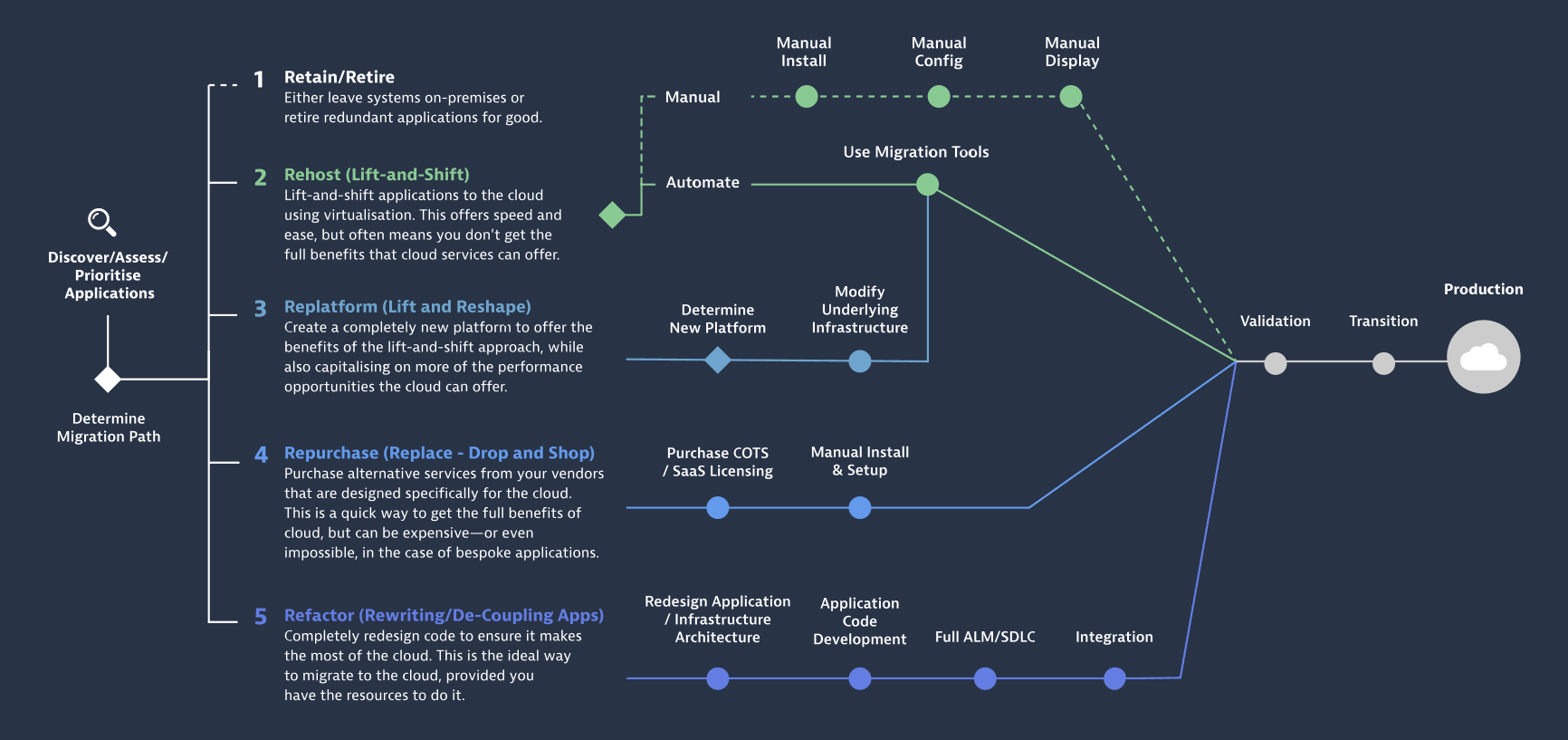 Realizing the full capabilities, benefits, and value of the cloud requires modernization of the application architecture. Serverless computing, for example, is an event-driven architecture that is challenging to attach to a monolithic piece of software.
And that's where our Partner's Services offerings come into play. Using the intelligence from Dynatrace to architect, implement, and manage new technologies, platforms, and services that enable applications to be modernized to leverage the agility, scale, resilience, quality, speed, and automation the cloud offers.

That's a wrap from Amplify PowerUP!
After three global sessions covering EMEA, Americas, and APAC, some late nights and early starts I'd like to finish by recognizing all members of our Dynatrace Partner Program for their participation in this event, and for all their contribution engagements throughout the year.