Service Level Agreements (SLAs) offered by cloud providers are too often about Specification and not Service. It should come as no surprise that vanity metrics, like Availability, are used instead of business metrics because they are simple to measure and easy to misconstrue. Metrics that truly matter, like "will I be able to delight my customer", are about as far removed as one can imagine. It should come as no surprise, then, that in a recent survey of 740 CIOs and IT Leaders 97% wanted more than a simple Availability guarantee.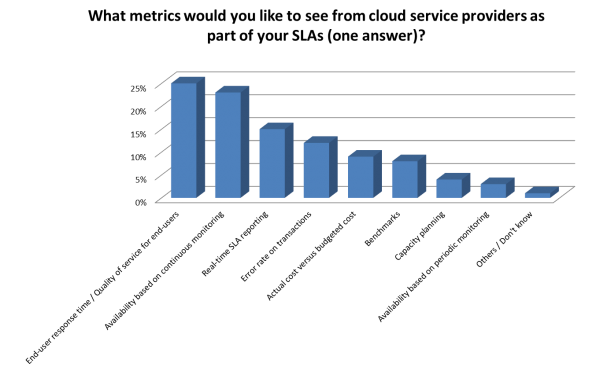 Imagine a company selling a premium new car whose warranty includes 2M piston revolutions, 10k door latch cycles, and 20k window open and closes. And even then, with 99.5% availability, you might still be unable to start the car 2 days a year, or during winter there might be 2 weeks where the doors won't unlock until the sun melts the ice in the door locks. Ready to buy?
Of course not. So, why would you risk your business and revenue streams on an equally shaky Specification Level Agreement? Not to pick specifically on HP, but let's take a look at their "industry-leading SLA." While HP touts the 99.95% availability, which works out to about 4 hours per year, it also states that downtime isn't considered downtime until 6 minutes of outage has already accrued. It also doesn't consider server downtime if that server could be rebuilt in the same zone. So if your site goes down on Black Friday 6 minutes might elapse before you know about it, and it's not their fault as long as you could have launched a new server in the same datacenter.
In reality you don't have 6 minutes, in fact you have less than 6 seconds before you lose your customer. As a business in a social and always-on world, your bottom line depends on meeting or exceeding the expectation of every customer, and if (or more likely when) you run into a hiccup, proactive handling of the issue is your best chance to retain that customer and earn their business back. Customers are savvy, they realize no company is perfect but they expect a high level of responsiveness and attention to their unique experience – not a blanket apology posted on some status blog they never would have seen.
So what's needed? An SLA for the customer; not for the provider
The desire to hold their cloud providers accountable with strict SLAs has forced providers to define metrics they can easily measure, and often work around. The reality is that accountability matters to the end users, and that is where the focus needs to be. In my next post, I'll explain how best to approach your provider to get your SLA to work for you.
P.S.: You can find our Dynatrace SaaS SLA and the Dynatrace Managed SLA on our website.