We have received lots of great feedback on our deep dive browser diagnostics support for Internet Explorer 6, 7, and 8. The feedback has come both from our community as well as from thought leaders in the broader web 2.0 community such as John Resig, Steve Souders, Stoyan Stefanov, and many more.
But the one big request we have constantly heard is: When will you support Firefox?
Our answer used to be: It is on our list – we are working on it – be patient!
Well – the waiting is "almost" over. We have a dedicated team here in Linz, Austria working on supporting Firefox as well as staying up to date with changes in IE. Today it is my pleasure to give you a first glimpse on what will soon be available for a broader public.
dynaTrace Support for Firefox – a Sneak Preview
dynaTrace installs as a Firefox Add-On that makes itself available through a toolbar similar to what we have in Internet Explorer: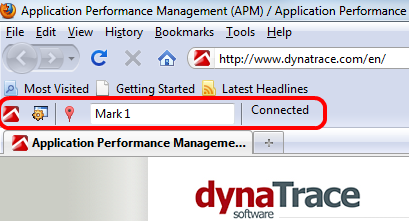 Once connected every activity (network download, JavaScript execution, navigation event, …) is recorded and sent to Dynatrace AJAX Edition: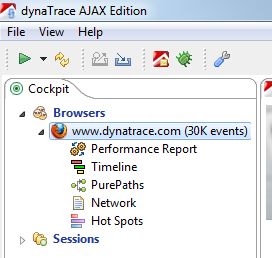 From here on everything is the same as if analyzing data captured in Internet Explorer. The Performance Report analyzes the visited pages based on the Web Performance Best Practices and presents that data in the same categories as IE: Caching, Network, Server-Side and JavaScript/AJAX. The recently-introduced ability to compare your site's ranks against live performance data from others in the Industry (e.g.: Top Alexa Pages) is also available, making it easy to see how well your site performs compared to your competition: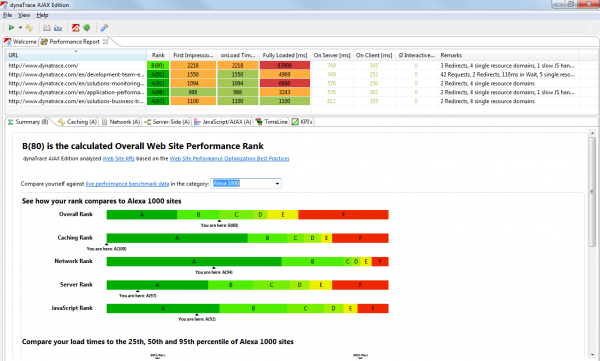 What would Dynatrace AJAX Edition be without the in-depth JavaScript tracing? Well – it wouldn't be as great as it is. Our Firefox support provides the same in-depth tracing that can either be analyzed through the Performance Report, the Timeline, HotSpot or PurePath View: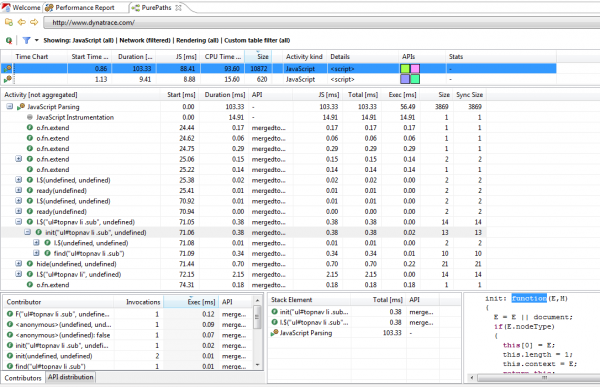 For more information on the general feature set of Dynatrace AJAX Edition check out the 12 minute walkthrough video and the material that is on the ajax.dynatrace.com website. All features available for Internet Explorer will be available for Firefox as well.
What is the REAL COOL thing about this?
Having Firefox support in addition to IE allows you to
a) analyze and compare performance across browsers and browser versions (IE 6, 7, 8 and FF 3.6+) – one tool does it all
b) automate basic performance analysis as introduced with Dynatrace AJAX Edition 2.0 – enabling integration with Selenium, Watir, ShowSlow, …
c) fully automated analysis and reporting, end-to-end performance analysis (browser to database), and automated regression analysis (across builds and browsers) when using Development Team Edition
When do you get it?
The current implementation is really cool already – but it is not at the stage yet where we feel comfortable releasing it to the broader public. We are however interested in early adopters that want to help us to improve the quality and provide additional feedback for a solid release. Therefore we are announcing a "Closed Beta" program starting early January. If you are interested please e-mail us here: ajax-contact email.
This almost feels a little like Christmas – doesn't it? 🙂 Special Thanks to the talented and dedicated members of the engineering team in Linz who have put in many long days and nights to bring this to you – now we need just a bit more help from you so we can get this in everyone's hands as early as possible in 2011.