When it comes to unparalleled notoriety, Starbucks dominates on a global scale. If you walk down virtually any street, you'll discover a Starbucks coffee shop – maybe even two or three. There's a strong likelihood that you even visited one this morning.
27,000 stores across 77 countries, over 330,000 employees, and up to 90 million customer orders a week. This company means business.
But behind a rapidly growing global brand, that's in high demand every moment of the day, is an enterprise business that's hugely complex yet needs to be performing optimally every millisecond of the day – front end and back end.
Starbucks on stage
At our recent Perform event in Las Vegas, we had the pleasure of Starbucks on stage to share insights into the company's most recent advances in digital transformation.
Naveen Dronavalli, Manager of Application Development and Monitoring for Starbucks, delivered the perfect conclusion to the event as our final customer speaker. He shared the story of Starbucks' performance monitoring journey, including Dynatrace's pivotal role in shaking up their dev culture. He went on to stress the importance of being able to keep your ISV partners in check, especially when you face major hiccups like excessive logging issues that drain time and resources.
Check out his presentation below or read on for a quick summary.
Naveen is a 10-year Starbucks employee and a passionate advocate of making sure the company's software is operating perfectly all the time. Naveen shared that in 2016 he and his team prioritized identifying a superior application performance monitoring solution for Starbucks to integrate into the company's larger technology vision. They reviewed multiple extensive studies and POC demos before selecting Dynatrace as their guarantee to software perfection.
Starbucks and Dynatrace have been busy 
Over the past year, the two companies have covered a lot of ground. Starbucks has already rolled out Dynatrace to many of its COTS applications and integrated its capabilities with Starbucks' collaboration tools and incident management platform. Now the company is looking to extend Dynatrace to all of its remaining apps and make full use of the new AI-powered Dynatrace platform.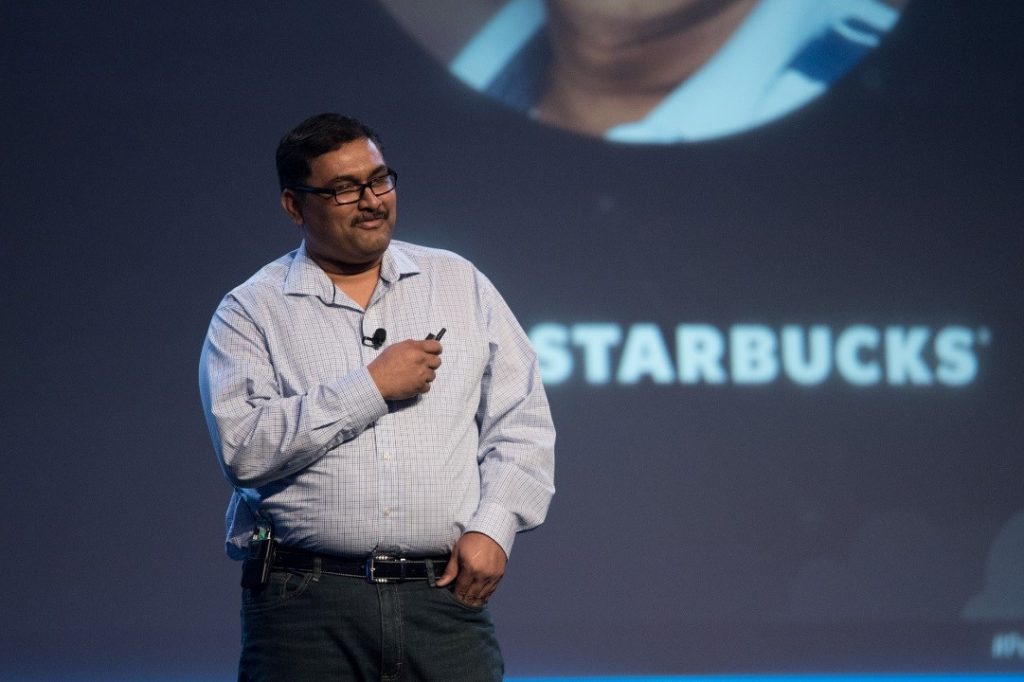 Keeping ISVs in check, and eradicating excessive logging issues
"Dynatrace is a great win-win situation for us and our vendors, and it's leading a big culture change for us. We are changing the way we engage our vendors." – Naveen Dronavalli, Manager, Application Development and Monitoring, Starbucks
So, why did Starbucks go the performance monitoring route in the first place? Naveen broke down a common and recurring problem that was frustrating Starbucks to no end (stop me if this scenario sounds familiar):
Users would encounter an IT problem with a third party app
They'd call up the enterprise help desk, who would log a ticket about the problem with IT
Starbucks IT would then reach out to the app's vendor and engage with their help desk. The vendor's IT team typically then gets involved, but because they are not familiar with the ins and outs of the Starbucks system, the problem often gets thrown back over the fence, so to speak.
So, now the issue is kicked to a war room, where more time was wasted bringing even more people up to speed on what was wrong with the app. Hours, days, even weeks passed before a final resolution was ever achieved.
Sound familiar?
What Naveen and his team love now though, is the fact that Dynatrace can see the exact problem – where it is, who's responsible, and how to fix, which saves huge time and resources right there.
But wait there's more. What about excessive log files?
Starbucks also faced challenges around excessive log files which were causing apps to slow down. But third parties would struggle to see where the problems resided. But, with Dynatrace, Starbucks can see exactly where an issue is, even if it's with an open-source application used by a third party vendor, and fix immediately. The benefit of this is:
The end-user experience doesn't suffer – internal or external
Naveen and his team don't have to manually delete log files
Starbucks doesn't have to resend files to the log analytics provider, which means license costs remain low.
Dynatrace as the new standard of reporting.
Now that Dynatrace is embedded in Starbucks, Naveen and his team have seen a shift in development culture which means performance monitoring is now viewed holistically during the entire dev, ops, and production cycle. And all vendors need to meet the end of month Dynatrace reporting standards! Love it.
Thank you, Naveen.
Big thank you to Naveen for his insightful, honest session. We were thrilled to have you on stage with us. We appreciate the time it takes to travel and attend an event, let alone find time to prepare and rehearse. It was so satisfying to hear how we've helped make internal life at Starbucks easier. What was also hugely satisfying for the Dynatrace team was hearing Naveen quote the following:
"Before I came here to Perform, I thought we had done a lot together. But, after listening to the last two days of presentations…oh boy. There's a lot to do in our space. I'm excited." – Naveen Dronavalli, Manager, Application Development and Monitoring, Starbucks.
For more blogs sharing the wash-up of our Vegas event, visit here. Oh, and if you haven't already considered it, you should sign up for Perform Europe and join us in Barcelona on May 23-25. We have a heap of customer stories from brands as big as Starbucks. It's going to be a stellar event.