This weekend marks the 49th annual Super Bowl! If you aren't psyched to watch the big game, you can still be entertained by the extravagant commercials companies pay millions for each year. Hopefully, if you work in the IT department of one of these companies you've already load tested the landing pages the commercials will be sending people to during the game so they don't crash.
We've got monitoring in place now for the relevant landing pages below. We'll be looking at a number of criteria like response times, how many objects, how many connections, how many bytes and how many third parties different sites have. Check back on Sunday because we will be live blogging Super Bowl commercial successes and failures!
Here's a list of the tests we have lined up… and as you'll see later in this blog post, we already have some concerns about whether Pepsi will be up to the challenge…
Sites being monitored:
The Pepsi Challenge?
In looking at some of the preliminary test results, I'm the most worried about Pepsi. The sheer number of Connections, objects, the amount of data, etc. are really pushing the boundaries from a performance standpoint.  I hope their network and hosting partners are up for the task, especially since they are sponsoring the Half Time Show and are heavily promoting user generated (third party) content.
Here is what their page looks like now: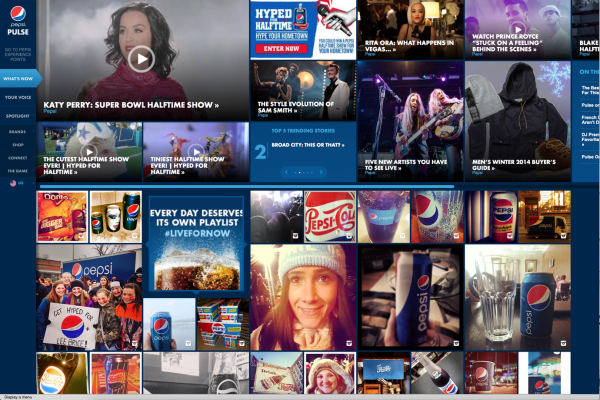 Here lies the challenge. Look at how the page loads using Safari developer tools.  Do you see the network requests bar?  It shows 6 lines, each line represents an open connection.  Modern browsers only support around 6-8 open connections, which means that ALL 200 connections (every time the page loads) has to be squeezed into that tiny pipe.  It is a recipe for issues when hundreds of thousands of people try opening these pages.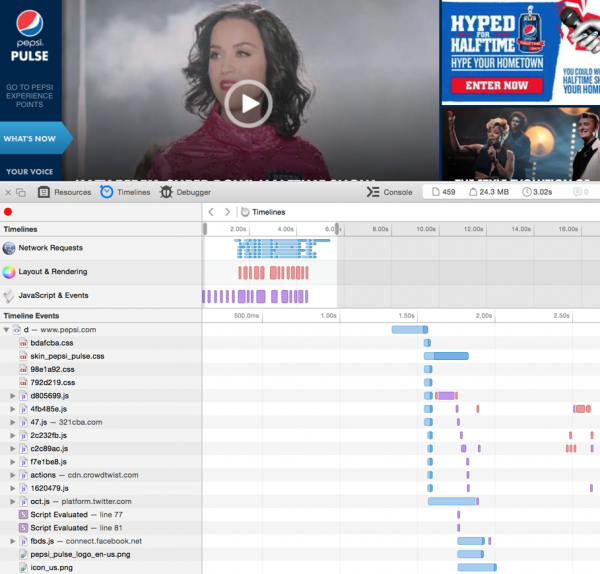 If you see a page loading slowly on Sunday, let us know on our live blog! We'll be updating periodically.