The stats about China's e-commerce industry continue to make my head spin.
We've just seen Singles Day 2016 break more records than ever before (US$1 Billion in 5 mins) and China is now sitting comfortably as the largest retail e-commerce market in the world:
Total sales this year will exceed US$899 Billion
This figure makes up nearly half of all global online retail sales
E-commerce sales in China are expected to grow 20% year on year until 2020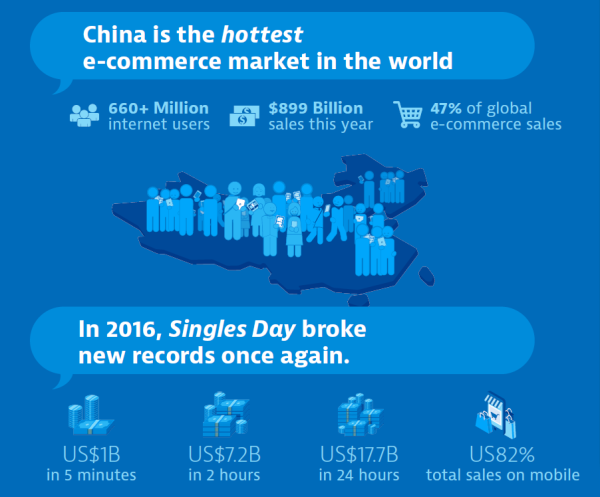 China's online retail shoppers are young, highly educated and very willing to spend, according to new research. They're also a lot younger than the typical US shopper and are twice as likely to use their mobile phone to research or carry out purchases.
As the cross-border retail phenomenon grows rapidly, the need for global site performance strategies takes hold.
Think globally; act locally
This year, in the lead up to Singles Day, Dynatrace analysed the performance of 20+ luxury, mid-level and marketplace retail sites – both foreign and local ones. We looked at them purely from the perspective of the Chinese consumer.
You can read more in-depth analysis of what we found out here at International Business Times.
To surmise at a high level, Chinese retailers have set a fast DOM interactive pace for international retailers as of today.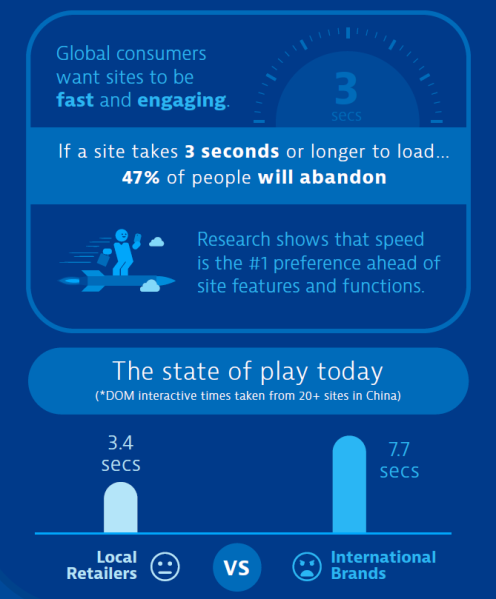 Diving a little deeper into the 'why', we can see that the best performing sites are kept simple and stripped back. Less complexity clearly poses less performance risk in China.
Top tips for digital performance management in China

Host content locally
CDNs and DNS are critical to site performance in China. Content must be served up from within the country or HK.
Keep third party hosts to a minimum
External functions can be problematic. Be careful using Google APIs, live chat, marketing automation tools, Adobe Typekit and more.
Site simplicity is crucial
The best performing sites (in terms of speed and consistency) keep a close eye on complexity. Limit the number of hosts, objects and keep page weight low.
Monitor from the right perspective
We must monitor from the perspective of the Chinese consumer to truly understand user experience. All too often retailers test site performance from an external, geographical location.
Localised strategies win
Replicating a site from another country and attaching a .cn URL will not suffice. Top retailers build localised sites fit for the country's unique digital landscape.
There's no other place in the world where functions and features need to be balanced and measured carefully against speed and performance consistency.
But the only way to do walk this fine line is to have both a real user and synthetic monitoring perspective on site performance. China's digital landscape is constantly changing and a site that's running smoothly today might be facing issues tomorrow.
You can check out our complete infographic on our China Singles Day data analysis here SinglesDay_infographic
For more reading you can also see my other posts on Digital Performance in China.