At any given moment, web and mobile applications are in use globally by thousands of customers who expect a perfect software experience. Just because your applications are accessible from your location and run great on your laptop doesn't mean that your customers around the world are also having a great experience with your software. Therefore, it's imperative that you ensure the continuous availability and high performance of your applications from your end users' point of view.
Dynatrace Synthetic Monitoring, in combination with Real User Monitoring and Session Replay, makes Dynatrace the market-leading digital experience monitoring solution. With Synthetic Monitoring, you can easily check the availability and performance of your applications as well as your APIs. With performance monitors executed at regular intervals from Synthetic Monitoring locations worldwide, you can easily compare application performance with real-user experience. Synthetic Monitoring data is also utilized by Dynatrace AI-driven alerting and root cause analysis, which connects the dots between front-end and back-end monitoring and synthetic monitoring results. In this way, Dynatrace ensures that you're automatically alerted to issues and receive detail regarding the reasons underlying those issues.
Public locations are a core element of Dynatrace Synthetic Monitoring. They are fully managed by Dynatrace, offer high availability, and provide the recently added ability to execute HTTP monitors to cover all kinds of synthetic tests.
Dynatrace Synthetic leverages locations from the largest cloud providers
We've heard your feedback during the last few months and are happy to announce a fresh set of 18 new cloud locations for Dynatrace Synthetic Monitoring.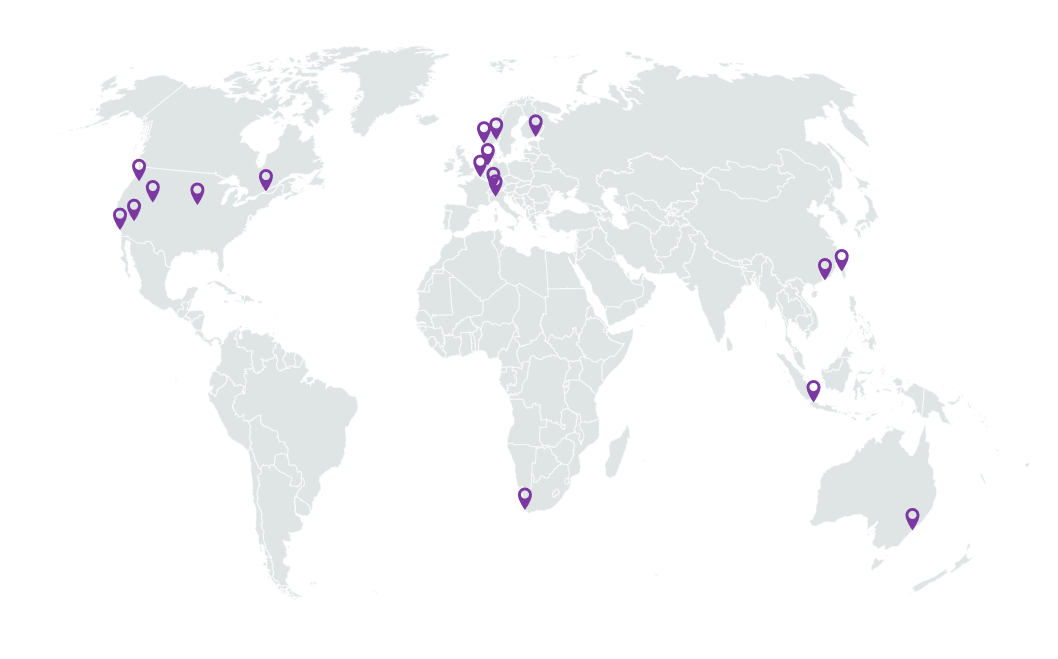 Even with our current list of 70+ public locations worldwide, there are some geographical areas where our customers have asked for additional locations. In keeping with our general approach in which the future of synthetic testing is in the cloud, we keep a close eye on the offerings that are provided by the largest cloud providers. With the new cloud regions offered by Google Cloud Platform, AWS, and Azure, we're now able to provide you with a set of new public synthetic locations.
New Google Cloud Platform locations
The set of 14 GCP locations covers North America (6), Europe (4), and South-East Asia and Australia (4):
Iowa (US)
Oregon (US)
Los Angeles (US)
Las Vegas (US)
Salt Lake City (US)
Montreal (Canada)
Groningen (Netherlands)
Zurich (Switzerland)
Finland South (Finland)
Belgium West (Belgium)
Taiwan (Taiwan)
Hong Kong (Hong Kong)
Jakarta (Indonesia)
Sydney (Australia)
New AWS locations
Dynatrace synthetic monitors can now also be executed from two more AWS locations:
Milano (Italy)
Cape Town (South Africa)
New Azure locations
Last but not least, we've added two Azure locations in Northern Europe:
Oslo (Norway)
Stavanger (Norway)
What's next
Even though our list of our public locations is already quite extensive, this isn't our final word on this subject. As always, we want to hear your feedback and understand your needs. We know that there's high demand for monitoring locations in southern Europe (Spain in particular); we'll address this need as soon as cloud providers offer locations in this region.
While this blog post focuses on public synthetic monitoring locations, we also have news to share with you regarding private Synthetic locations. You can expect further announcements regarding improvements such as:
Support for new operating systems
Private location utilization monitoring
Private location components delivered as containers
If you have comments or questions about the newly introduced set of synthetic monitoring locations, please share your feedback with us at Dynatrace Community.