This is a guest blog from Aaron Smith, Associate Partner and Digital Thought Leader at Rosetta.
Disclaimer:  I'm a marketer with a degree in web development, and while these days I'm usually discussing media mix, I got my start in online retail 12 years ago writing code so this blog is written from that point of view.  My position with IT folks is and always has been one of sympathy during the holiday season – when marketers run wild.
With retail busy swinging for the fences this past holiday season, merchants and marketers may have forgotten to include IT when they launched big events to hit their targets.  And as both industry professionals and shoppers know, if your site doesn't load properly, then "the conversion that should have been" is likely happening elsewhere.  Not a new story.  Every year retailers big and small leave shoppers hanging – with a site that hangs – and miss critical holiday opportunities.  But if these outages happen every year or so, many wonder why the industry is not ahead of the challenge.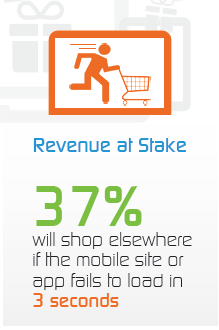 Answer:  We never do anything the same way twice.  Retail is about comps, comps are about increases, and increases come only with changing our game plan.  Inherent to online retail, a sea of new and emerging opportunities present themselves every time we check our email.  Furthermore, there are plenty of retailers still testing and refining the existing marketing mix.  We marketers seek new methods to beat last year and flood the site with qualified traffic.  What's casually overlooked during this process, however, is a check-in with IT on whether or not the "big event" is about to turn the site upside down.
Let's take a look at three major factors surrounding this year's holiday that created pressures on site stability and review methods to help get in front of potential pitfalls.
Mobile and Responsive Design
A 2013 survey by Harris Interactive on the use of smartphones and tablets for holiday shopping showed a 36% surge in mobile traffic over last year.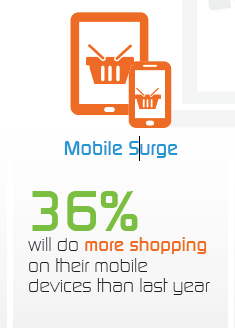 For years we've watched mobile usage skyrocket so this stat is not particularly surprising.  The stat does, however, become a risk when you consider marketers lobbying to merge mobile and desktop sites under a 'One Web' concept.
Under One Web, the use of responsive or adaptive design means that all site traffic from all devices pings the same domain.  Traditionally, load testing for the main site references historical peaks of activity – from desktop users – and measures site stability under a multiple of those benchmarks.  Retailers are slowly moving away from the old "m dot" mobile sites in favor of a sleeker user experience and consistent content across devices.  Retailers operating under a One Web strategy who do not consider mobile usage when load testing will find themselves peaking – or crashing – and missing revenue during critical days.
The fix:  Unfortunately, it's not as easy as just including mobile data for future tests.  We must also account for the phenomenon that people are increasingly connected, and therefore usage and visit frequency are increasing on the whole.   As web pages continue to get bigger and demand grows for perfectly optimized pages for all devices, it's important that your designers and developers prioritize performance testing  with APM tools to analyze the impact of the load on the different application components.  Your APM tools should be precise enough to show the specific mobile device, the specific location, and the specific browser.  This dashboard shows performance stats from synthetic monitoring that your APM tool should capture.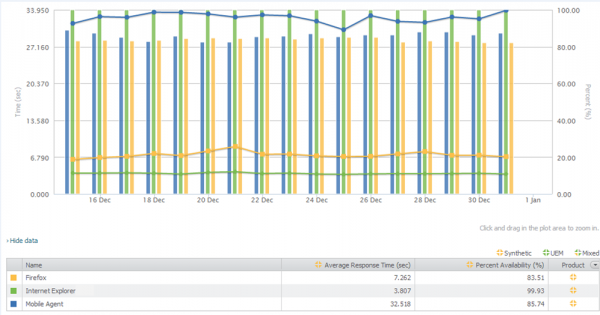 And this monitoring should be done not just before a massive new load, but as part of ongoing site performance management so that APM becomes part of the fabric of the overall success of the site.  So if you're a marketer pushing to go responsive, pull in your CTO before you read one more blog and make sure you're fully prepared from an infrastructure perspective.
Retargeting
In a recent survey conducted by Chango, more than half of respondents planned to spend more on retargeting in 2014.  As a marketer I don't find this surprising at all, and even though 3 out of 4 users know they're being retargeted it still remains an effective and efficient means to recover an abandoned cart or just to reengage the shopper.  Additionally, retargeting capabilities have broadened over recent years beyond the site user and are now able to chase down users who opened an email or merely triggered a paid ad on Google.  Marketers love the medium that leaves no place to hide for the aloof or reluctant consumer.
So, what happens if all of these marketers succeed in massively increasing spending on retargeting to cover all possible opportunities?  We know based on MarketingLand's survey that over 15% of those retargeted have responded to those ads.  If you're an online retailer and you've fully funded retargeting, then you should also be prepared to handle an extra million visits during a day like Cyber Monday.
The fix:  Marketers, if well prepared, should already be studying and forecasting site load and using some basic math to budget for the potential retargeting spend.  When doing so, shoot an email to a friend in IT and ask them for performance data.  Hopefully they have APM tools that are precise enough to provide baseline and ongoing performance data tied specifically to the retargeting campaign.  Not only will it ensure the site is prepared for the influx of additional activity, but you may win a favor in slipping in any additional tags to launch the campaign if you're extra nice.
When Five Weeks Turn Into Four
There were just 27 days between Thanksgiving and Christmas during holiday 2013, the shortest shopping season since 2002.  This means marketers needed to capture 25% more traffic in a shorter period just to get to parity with previous years, not to mention growth with the market at 15%.
The fix:  Tell IT!  As soon as that light bulb goes off that you are up against a circumstance like this, fire off an email.  If it's so critical that you convert every visitor, and your plan calls for increased traffic, help the team in IT by bringing them into the loop.  If a retailer takes advantage of a responsive design site, and marketers layer on a heap of retargeting traffic, double mailing frequency, and max out paid search budgets, I would feel very badly for the IT team that diligently load tested based on past year's peaks.  You can blame your marketers for any outages in that case, and tell them I said so.
In summary, having lived through over a decade of managing retailers through the critical holiday season, I'd be happy to never see another site outage again.  It's nearly always preventable, and with more open communication between marketers and technologists (yes, it's possible we can all be friends) we can achieve that.  New opportunities to engage our coveted consumers are around every corner, and being ready to capture their attention means more than good marketing.  It means having a site ready for them when you bring them there.
Source of Infographics: Online survey conducted within the U.S. by Harris interactive on behalf of Dynatrace from Oct 14-16 2013.