Two years ago, my team decided to extend our community portal to become "a real" APM Community where members (both commercial and free products) can go to find help and educational content on all topics regarding Application Performance Management (APM). The most critical pieces to that community were: free access to all relevant content (documentation, best practices, knowledge base, downloads) as well as a very active discussion forum where members can get answers to their questions. Two years later I have to say we achieved this goal with more than 60,000 registered members. In this blog I want to first share the Lessons Learned and then discuss the ideas we have for the future.
Lesson #1: Give access to Content
We know that APM is a very broad topic. We have many best practices on how to analyze, optimize and manage application performance from small to enterprise applications. But no one out there is an expert on all aspects of APM. So we decided to make all content available so that our members become successful when dealing with their own APM challenges.
As we have a lot of content in different areas we decided to have four levels of access privileges to content:
Public: there is some content that EVERYBODY can read – such as all articles on our APM Blog, our Web Performance Best Practices or general articles about Application Performance such as Monitoring Amazon Cloud Environments
Registered AJAX Edition: customers of our free AJAX Edition get access to discussion forums after they have registered an account. The product is free to use– but after a five-day registration-free period one is required to register in order to access the Web Performance/AJAX Edition related discussion forums.
Customers/Partners: customers of the paid products get full access to ALL production documentation, APM discussion forums, product and community downloads as well as additional educational services such as Video Tutorials, self-guided online training or webinars. They also get access to our Knowledge Base and our Support System in case they need help from our Technical Support Engineers. In a pre-sales engagement, prospective customers can try the resources to experience the benefit of this community and available content. As we don't have any secrets we always treat potential customers the same way we treat our existing customers and grant full access during our product evaluations. It's a huge plus and helps make a more comfortable decision
Employees: we also use the community for internal discussion forums and information exchange. We used to have a different platform for that but decided to provide all relevant information through a single portal. The internal discussion forums are a big success.
Lesson #2: It takes time and passion to get a forum started
I remember the discussion I had with our CTO regarding open discussion forums. We would have to accept negative feedback that everyone – including our prospects – could read and risk lack of activity and with that giving the wrong impression that we have a very small user base that doesn't leverage the community.
Well – two years after that decision I can tell you that the small number of negative postings actually helped us, as we treated it as "constructive" feedback in order to make our product better. Postings from frustrated members who were not happy with a particular feature or release resulted in these problems being fixed and also created a more direct way of having our members influence the direction of the product. We introduced RFE (Request for Enhancement) forums where members can post their ideas. Through Up/Down-Votes we allow the community to tell us how important these RFEs are.
But it was a long a bumpy road to get people share their experience on how they use the product and also raise their complaints. We started with seeding questions or encouraging customers who had contacted us directly via email to use the forum instead. We started with one or two questions per week, now we are between four and five on average per day on both the customer-facing as well as internal forums – that's more than a 10-fold increase. It also took a while for community members to start answering questions that other members asked. In the beginning it was our team that answered questions as fast as possible so that members saw the benefit of posting questions. The more members that were drawn to the forum the more likely it would be for other members to answering questions -> THIS IS what really defines a community!!
Lesson #3: You need to measure your own success
I already talked about some basic forms of measurement- how many blog post we have, for example. However, it was critical as an organization to see whether the time spent actually paid off. That's why we built dashboards to monitor the activity on the Community Portal. I use these dashboards every week for reporting. The following focuses on forum activity where I am interested in the number of new posts and replies on our internal as well as customer-facing forums. I also get to see which types of users are reading our forums: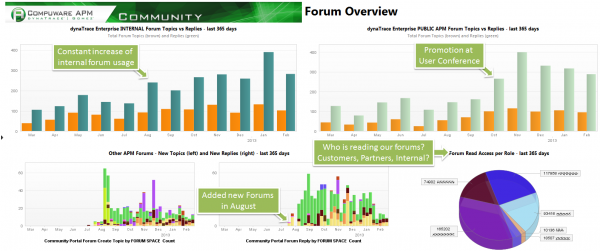 Another critical metric is the number of registered members. We want to make it easy for customers to register and by looking at the numbers of registered customers, partners and AJAX Edition users we can see whether we grow our community base at least as fast as our customer base:

So – make sure you measure. Otherwise you won't know whether you are successful or not.
Lesson #4: Search is critical – What you can't find isn't there
With more and more content on our community it becomes even more important for the content to be found. One way is to provide good navigation and structure of the content. The other option is to provide a good search capability. I have to admit that this is something we need improvement on. Even though the Search capability is good in our current implementation it can get better. We don't want members to say "I know I've seen this before but I don't remember where and I can't find it!" – We also see that certain questions get asked over and over again.
For this reason we decided to invest in new search capabilities by looking at integrating our community with a Search Appliance that our company already owns. That will probably lower the number of new forum entries – but will subsequently increase the number of members who become successful faster because they can now find past forum posts with answers without having to ask the same questions over again J
Lesson #5: If you are global – use a CDN and/or lower your page footprint
After getting acquired by a larger corporation that already did business in the APAC region, we found that User Experience could be improved. For example, images could be optimized (compressed, smaller resolution, …) and a CDN would help with more members from different geographical regions signing up. Looking at the UEM (User Experience Management) World Map showed us that our user experience in some of the APAC countries is lower than in EMEA or US: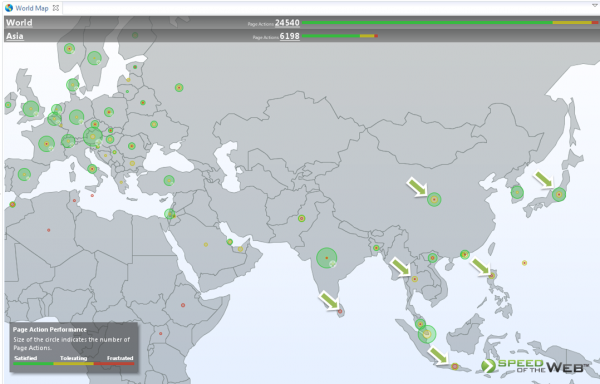 Looking at one of the users that had a frustrating experience shows us that loading some of these pages takes up to 77s and several pages include JavaScript Errors: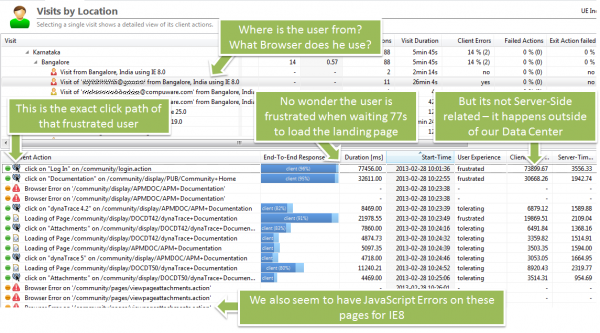 We try to watch these problems on a continuous basis. We get alerted on problems of slow pages or errors that happen and with that have the ability to fix these problems before they affect too many of our users. With that we make sure to keep our users happy and keep these red dots on the World Map to a minimum J
Lesson #6: You need to keep the ball rolling
It is hard to build a community – but it is almost as hard to keep it rolling. Once you have reached the critical mass where community members help each other out it is easier to keep growing – but – it still requires you to play a very active part in moderating forums as well as constantly providing new and valuable content for the community (Best Practices, Tips & Tricks, White Papers, …). As we grew the number of forums on our community, we appointed different moderators for each forum to make sure that comments of the community continually get addressed in the absence of another community member doing it for us. This is one way we make sure that we keep the ball rolling.
Conclusion
If you want to build a good APM Community it takes several things: Easily accessible and searchable content, a dedicated group of content creators, members and moderators to get it going and a system that allows you to measure your success as well as identify problems fast.