For Fathers Day 2015 we thought we'd mix things up and do some different retail comparisons.  Digital Migrants (traditional companies migrating to provide products and services through digital channels) and Digital Natives (newer companies built around digital technologies) all operate on the same level delivery playing field.  Some have adapted strategies to compete with each by providing end users (consumers) the fastest possible experience.  They've done this because studies have shown that end users who have to wait even a second will be less likely to buy and will look to a competitor for that product or service.
This time of year specialty retailers get ready for Fathers Day traffic.  This year for Fathers Day, our team at Dynatrace looked at retailers in three categories: Outdoor and Adventure, Tech and Gadgets and Home Improvements.
We tested these sites from multiple locations across the US for several weeks using Chrome based browsers.
Let's have a look at Outdoor and Adventure.  In this category, Digital Native Altrec.com led Digital Migrants KitteryTradingpost.com and discksportinggoods.com for the top three performers.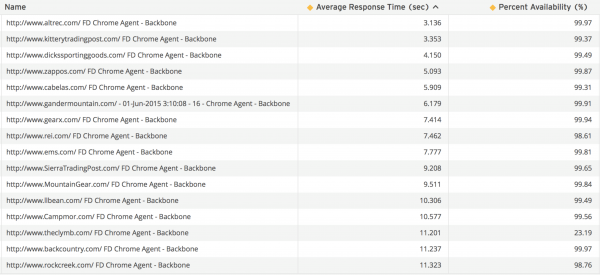 In terms of success rates (external availability) almost all the participants were in the 99% range, and the one that was not was because we had set our timeouts to be pretty conservative and they were trying to deliver over 9 megabytes of data every time some tried loading their homepage.
We also looked at Tech and Gadget specialty retailers.  In this category Digital Migrants took the lead with Apple.com, Verizon.com and Hammacher.com taking the top three spots.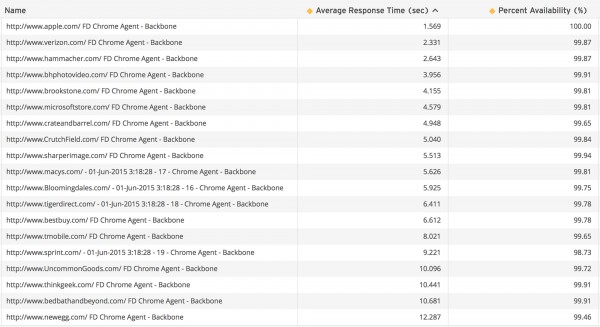 Apple.com posted an impressive 100% success rate for the period leading into Fathers Day.   We rarely see 100% success as there are almost always some network level issue which brings the numbers down.  Apple's design strategy really wins out.  They have reduced third parties to a minimum.  Their market dominance (and cash) has been put to good use building out their own hosting facilities.
Let's have a look at Home Improvement Sites.  All of these vendors were Digital Migrants.  84lumber.com, lowes.com and acehardware.com took the top 3 spots in terms of performance.

What we've seen is that regardless of whether a company is a Digital Migrant or Digital Native it makes no difference, competition is high for all these companies.  If we look at some Key Delivery Indicators (KDIs) there are some common characteristics across the categories we are looking at.   When we look at KDIs we typically look at number of bytes (this is how much content is delivered), Number of third parties (Hosts), Number of Objects and Connections (this is the complexity of the page).
We can see definite trends, which are to be expected.  As more companies use techniques like Responsive Design we see that mobile traffic will have more optimized KDIs.
When we look at how Apple is delivering content, we can see the exact extent of their optimization, dramatically reducing the number of third parties, object and connections.
Competition amongst retailers is intense, while Apple may have a an infrastructure (and purse string) advantage what they have learned, and what makes them most competitive came out of what they observed through multiple development iterations.  Optimization is the inevitable outcome of a DevOps methodology.  That is what empowers companies to become truly competitive.
Father's day 2015 allowed us to see some interesting trends.  Digital Business Owners need to understand how the competition is delivering their products and services.  That information can be used to help shape future design iterations and sprints.  Let's see what the retailers learned from Fathers Day 2015 next year?  Happy Fathers Day.