The new version of the Dynatrace ServiceNow integration application is certified for the ServiceNow Orlando release and has been published to the ServiceNow store.
The updated Dynatrace ServiceNow application has UI enhancements, the addition of a new Dynatrace entity, and additional event management updates. It also fixes some known issues from previous versions.
What's new at a glance
You can upgrade to the updated Dynatrace ServiceNow integration (version 2.6.0) from the ServiceNow store or directly from within your ServiceNow instance.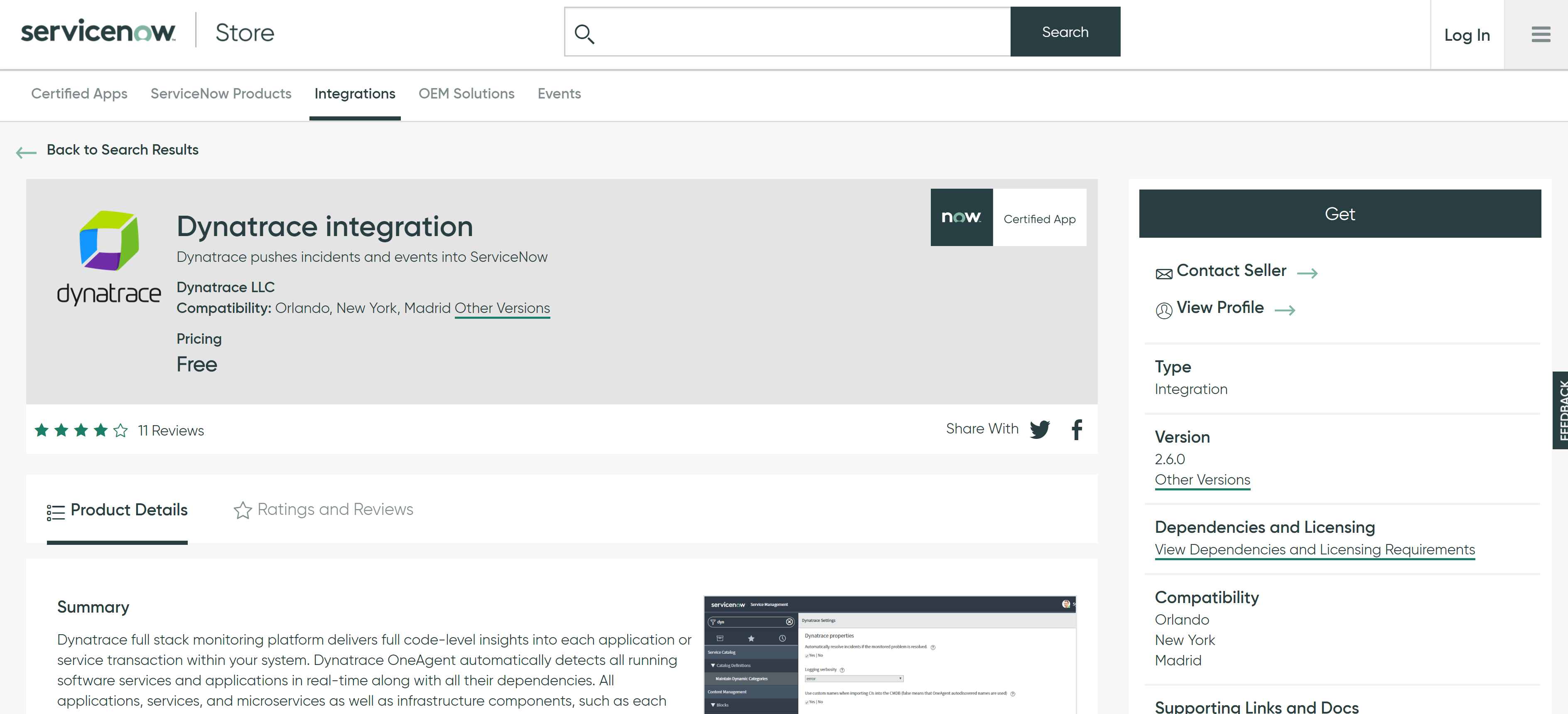 Note: Be sure to download the ServiceNow Integration Enhancements document from the Supporting Links and Docs section. This guide will help you implement some of the enhancements.
Enhanced CMDB integration, improved UI, and more
Add value to the integration with Dynatrace entity tags
Until now, only information about host tags was passed from Dynatrace to ServiceNow. We've expanded this so that you can now also access process, service, and application tags. The tags are currently added to each ServiceNow configuration item (CI) comments field.
Tag information can be used for multiple ServiceNow use cases:
Determining the assignment group for incidents based on the primary CI tag (assuming the tags are updated on the CI in Dynatrace).
Processing the CI information differently based on tags and using tags to notify teams or associate CIs with specific cost centers.
Writing custom alert rules that are based on the CI tags associated with generated events.
Gain insight into your RUM application endpoints by integrating Dynatrace applications with ServiceNow
We've integrated the Dynatrace applications layer (as shown below in Dynatrace Smartscape view) with the "Business Applications" class of the ServiceNow Dependency Views map (see second image below). This enables you to use ServiceNow to gain insight into all the RUM application endpoints that you're monitoring with Dynatrace. This also enables you to have auto-generated ServiceNow incidents for any problems that are opened against a monitored entity and the underlying impacted CIs or dependencies.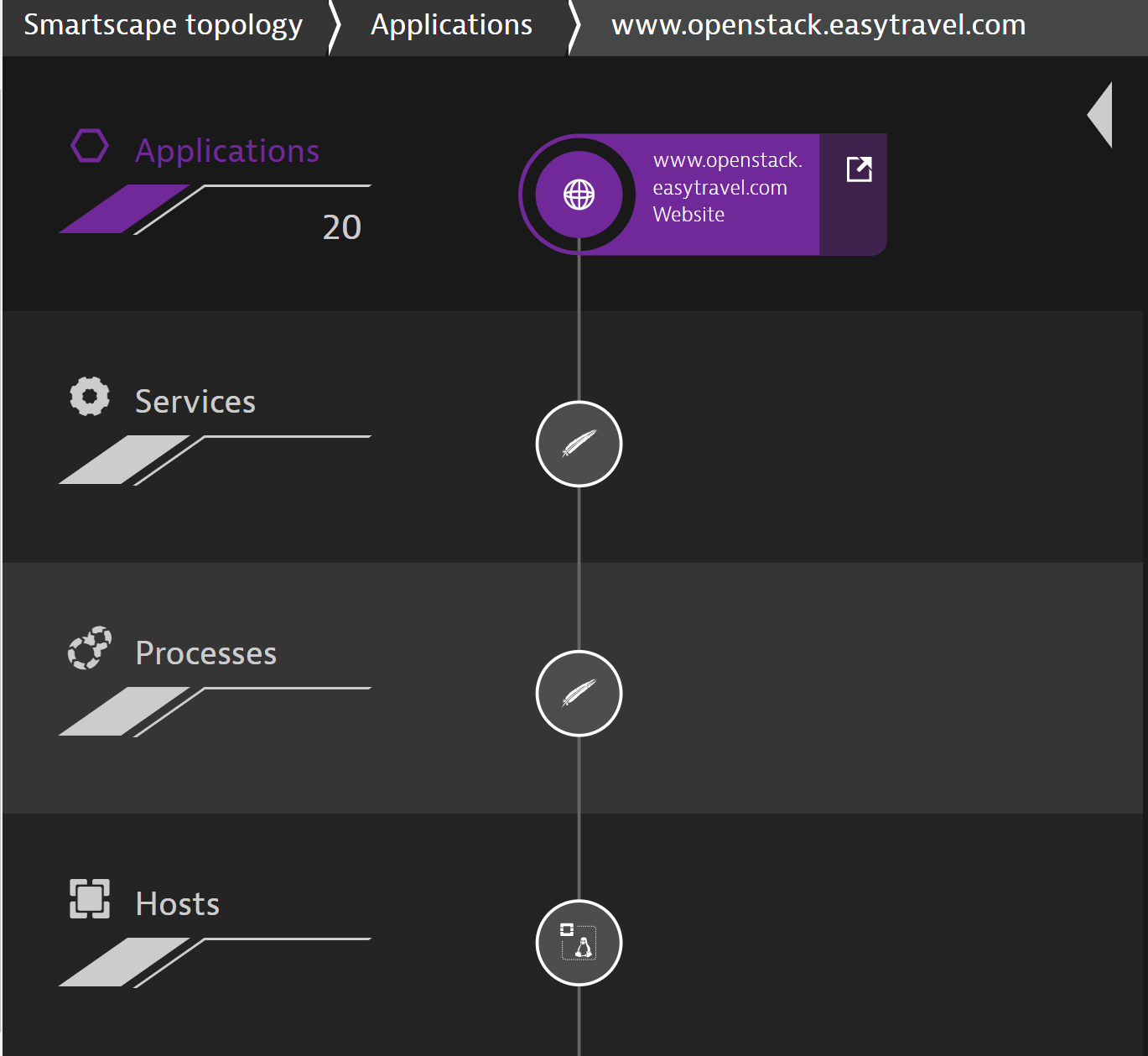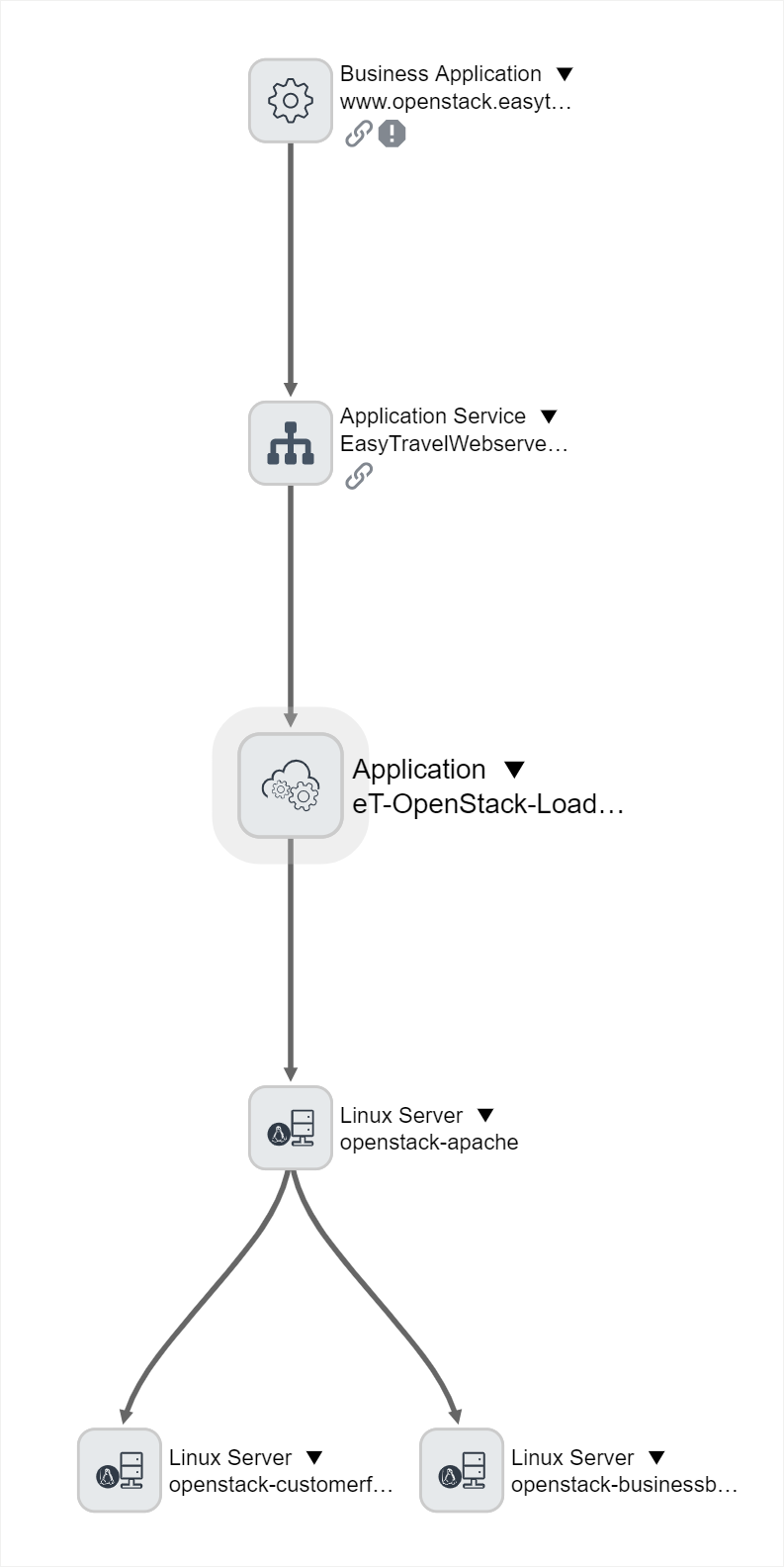 Quickly notify relevant teams by grouping alerts based on Dynatrace problem IDs
In previous versions of the Dynatrace ServiceNow integration, alerts that were generated for events were always linked to the ServiceNow Message Key. ServiceNow uses the Message Key to uniquely identify events and group alerts when sending notifications to responsible groups/teams. To serve this purpose, we've created a new ServiceNow alert correlation rule that is available out of the box with the ServiceNow Paris release.
Easily drill down from ServiceNow alerts to Dynatrace problems
We've updated event alerts so that the Dynatrace problem URL is now displayed in the ID of Source Event field (available in ServiceNow New York and later). This provides Support/Help desk teams with a seamless drill-down experience from ServiceNow alerts to Dynatrace problems. The image below shows that the incident number is now reflected in the task column.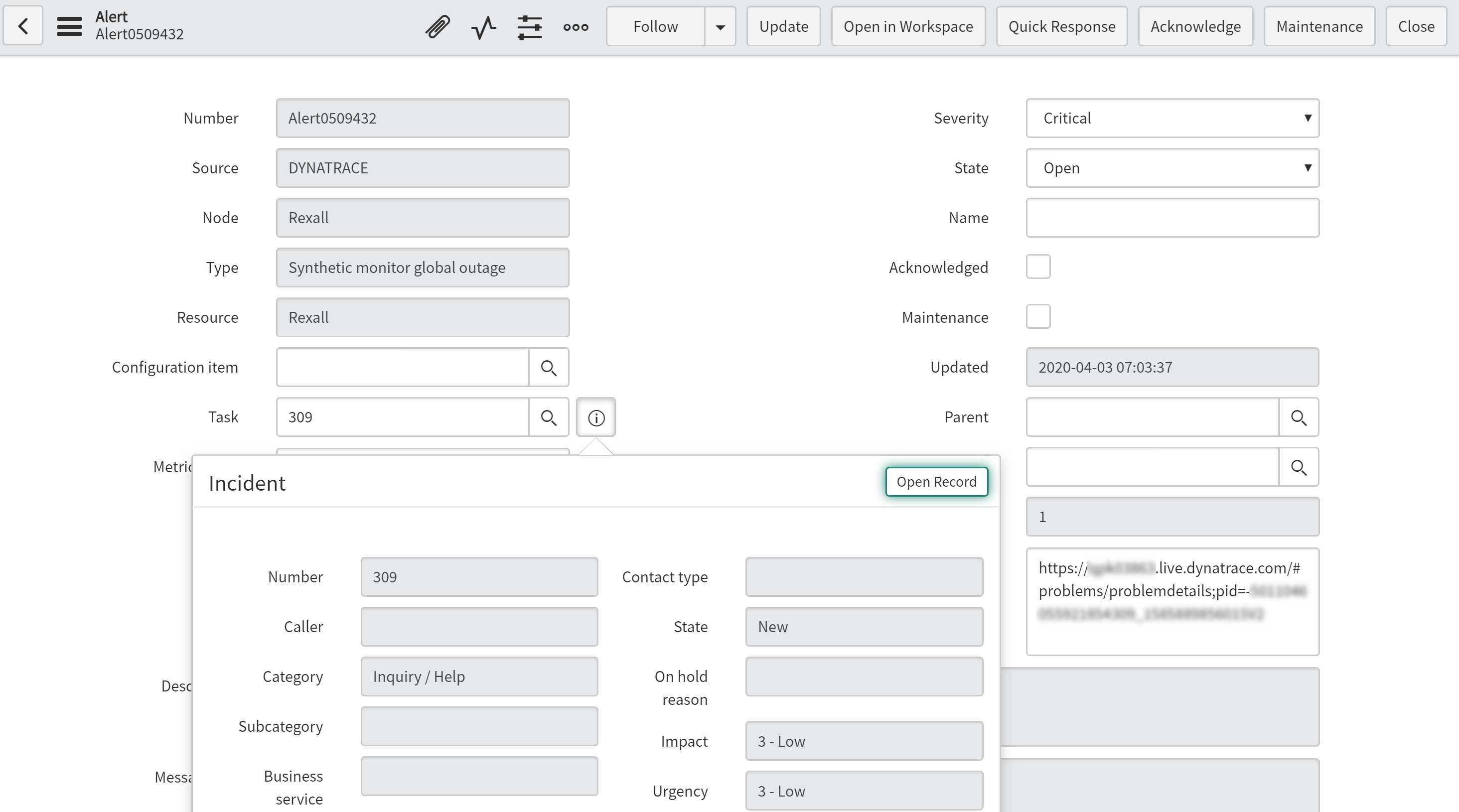 Select Quick Response to open the problem in Dynatrace.

Further improvements
Find all necessary information in the ServiceNow Dynatrace menu
Once you install your application in ServiceNow, the ServiceNow Dynatrace menu provides access to all monitored entities related to the application. This provides a better user experience, with all necessary information just a click away.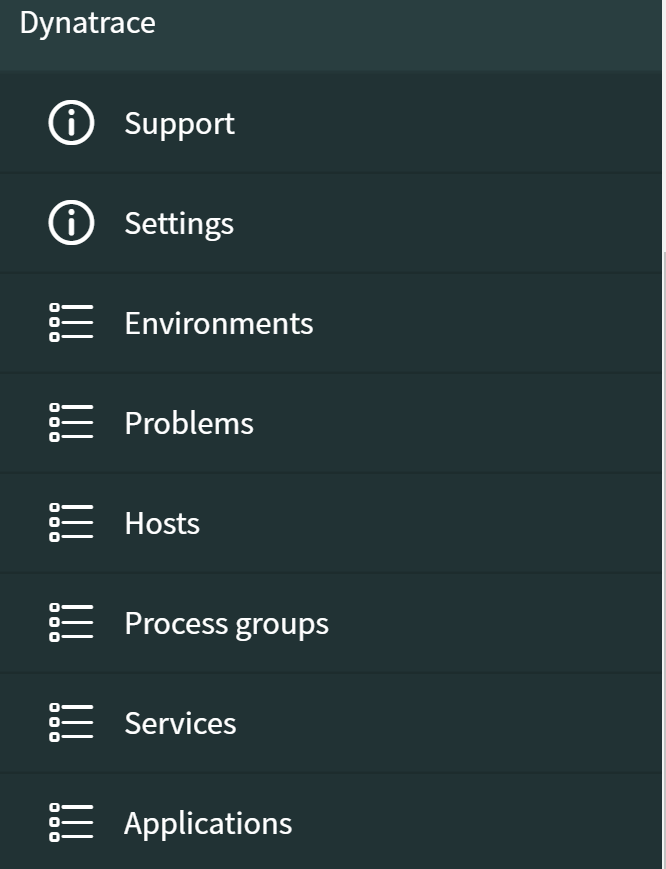 See all processes in the CMDB
More processes are now visible in the CMDB. These were previously skipped because of ServiceNow's IRE (Identification and Reconciliation Engine) constraints. We now populate all necessary identifier attributes so they won't be rejected by the IRE. We've also made it so that duplicate processes don't appear in the CMDB.
Get the full picture by generating unique names for your services
Application services are uniquely identified in ServiceNow based on their names. In the past, this resulted in services with the same name being missed in the CMDB. We've addressed this issue for new customers by providing the ability to now combine the Service Name and the Service Entity/Correlation ID to generate unique names, thereby making sure all services are available in the CMDB.
Note: Existing customers should be cautious in enabling this change as it may create duplicate services. To make it so that you can migrate at your own speed, we've provided an option on the ServiceNow Settings page where you can select the behavior you want. If you want help with migrating over to the new service names, reach out to us at success@dynatrace.com or post a comment in the Dynatrace Community user forum.

Summary and version information
The updated Dynatrace ServiceNow integration focuses on enhanced CMDB integration, improved UI for better user experience, and a refactoring of event management integration. We've made sure that the integration is easy to set up and provides visibility into every entity that is integrated from Dynatrace into ServiceNow.
This version of the Dynatrace ServiceNow application is compatible with the Orlando, New York, and Madrid versions of ServiceNow.