Dynatrace has been recognized as a Leader in the 2021 Gartner Magic Quadrant for APM, with the furthest position for Completeness of Vision and the highest for Ability to Execute. Gartner also scored Dynatrace highest in 4 of 5 use cases in the 2021 Critical Capabilities for APM report. Application-layer observability is critical for modern, multicloud observability strategies. Dynatrace's best-in-class multicloud observability, AIOps, and automation enable the world's largest organizations to tame cloud complexity, speed innovation, and deliver better business outcomes.
I am delighted to share, Dynatrace has been named a Leader for the 11th consecutive time in the 2021 Gartner Magic Quadrant for Application Performance Monitoring (APM) report. Once again, Gartner has positioned Dynatrace highest for Ability to Execute and furthest for Completeness of Vision. Also, Gartner released its 2021 Gartner Critical Capabilities for APM report, which evaluated solutions from 15 vendors. Dynatrace scored highest across 4 of 5 use cases, DevOps/AppDev, SRE/CloudOps, IT Operations, and Digital Experience Monitoring, and second highest in the Application Owner/Line of Business use case.
In the Magic Quadrant report, Gartner defines APM as, "software that enables the observation of application behavior and its infrastructure dependencies, users, and business key performance indicators (KPIs) throughout the application's life cycle." The industry's move to dynamic, multicloud, and hybrid-cloud environments, which produce an immense volume, velocity, and variety of data, has increased cloud complexity, and brought the need for automation and intelligence, in addition to observability, to the forefront.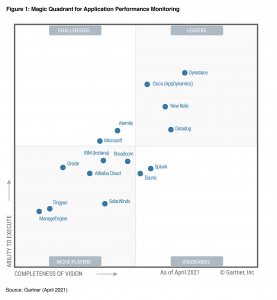 Anticipating the evolution of our market, we designed the Dynatrace Software Intelligence Platform to:
Provide the broadest multicloud observability, spanning applications, infrastructure, user experience, AIOps, automation, and application security in a single platform, to provide a single source of truth across the full stack. Dynatrace enables our customers to tame cloud complexity, speed innovation, and deliver better business outcomes through BizDevSecOps collaboration.
Extend our best-in-class observability with unparalleled AIOps and automation. Our platform combines the broadest observability data with our AI engine, Davis, and automation, including continuous discovery, proactive anomaly detection, and optimization analysis across the lifecycle. It's this combination that helps our customers deal with the explosion of observability data. Whether it's the speed and quality of innovation for IT, automation and efficiency for DevOps, or enhancement and consistency of user experiences, Dynatrace makes it easy. No silos of data, no DIY stitching together tools, no wasted time, and no wasted resources.
I believe our durability as a recognized Magic Quadrant Leader is powerful acknowledgment of Dynatrace's continued foresight anticipating rapid changes in our market, and our continuous innovation. We anticipated the industry's move to dynamic multicloud environments and DevOps processes. The complexity of these environments has driven organizations to stitch together 'do it yourself' solutions that require the organization's best talent, steals time from innovation, and are not scalable over time. By contrast, the open and intelligent Dynatrace platform delivers immediate time-to-value at massive scale, which allows our customers to focus on speeding their innovation through digital transformation.
We are grateful for this recognition. Indeed, achieving a Leader position in the Gartner Magic Quadrant for APM with the highest and furthest positioning for the second time is a historic and unique moment for Dynatrace, our customers, partners, and the wider communities we serve.
I want to extend a BIG THANK YOU to this community who are at the heart of everything we do and the reason we have been able to achieve our unique positioning in these reports.
Download 2021 Gartner Magic Quadrant for APM
Gartner Disclaimers