We're excited to announce that Dynatrace has achieved the Amazon RDS Service Ready designation in recognition of our successful integration with Amazon RDS, which simplifies the installation, operation, and scaling of relational databases in the AWS cloud.
Dynatrace is an AWS Advanced Technology Partner, so it's easy to integrate Dynatrace with AWS to help you stay on top of the dynamics of your cloud environment​. In addition to automatic full-stack monitoring, Dynatrace provides comprehensive support for a wide range of AWS services.
We're therefore excited to announce that Dynatrace has received the Amazon RDS Service Ready designation. The AWS Service Ready Program was established to support the seamless integration and deployment of AWS services and to help AWS customers identify compatible products like Dynatrace. This means that AWS customers can spend less time evaluating new tools and more time scaling their business.

Achieving this designation differentiates Dynatrace as an AWS Advanced Technology Partner with a product that is integrated with Amazon RDS and is generally available and fully supported. This is recognition of the successful integration of Dynatrace with the Amazon RDS, which simplifies the installation, operation, and scaling of relational databases in the AWS cloud. Tasks such as hardware provisioning, database setup, patching, and backups are fully automated, making Amazon RDS cost efficient and scalable.
Automatically identify and solve Amazon RDS issues that impact application performance
After discovering your AWS infrastructure, Dynatrace starts to monitor and analyze RDS database performance. When a problem arises, the Dynatrace Davis® AI causation engine shows you how applications impact your databases and how you can resolve issues.
A major provider of supply chain security solutions in North America leverages a setup of Amazon Elastic Container Service containers connected to almost 200 RDS instances. With Dynatrace, this customer is able to automatically detect the root cause of performance problems originating in issues with RDS availability or configuration that impact their containerized environments.
To provide their online services, a leading US-based education and technology company has deployed a complex environment in AWS containing thousands of EC2 instances and hundreds of RDS instances utilizing various DB engines. Before Dynatrace, they were missing a single pane of glass for finding the root cause of performance issues in such a diverse landscape. Today, Dynatrace provides them with problem detection across all of their databases, easily enabling them to troubleshoot problems in any of their 322 RDS instances or MySQL, PostgreSQL, and Oracle databases.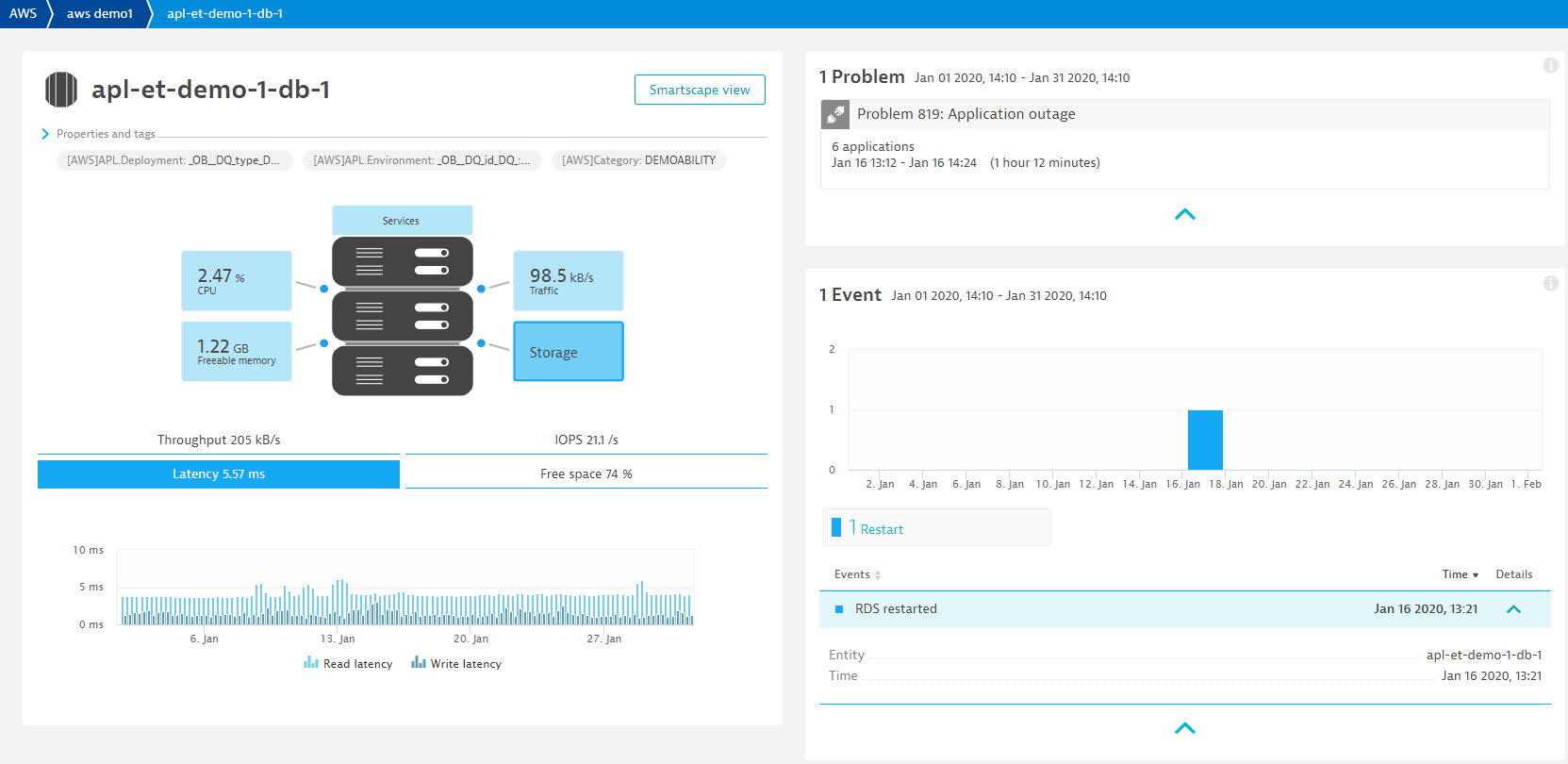 All-in-one, AI-powered monitoring of AWS applications and infrastructure
What makes Dynatrace unique:
Fully automated: With zero-touch configuration, continuous discovery and mapping, you'll have more time to innovate.
Full stack: Dynatrace understands all the relationships and interdependencies, top to bottom, so you don't have to.
AI powered: Dynatrace Davis AI causation engine provides real-time, precise answers so you can minimize troubleshooting and spend more time innovating.
Next steps
Watch this Dynatrace Power Demo to learn more about Dynatrace AWS monitoring and how Dynatrace Davis spots problems in real time and provides business impact and root cause analysis. Or, give Dynatrace a try and see the magic for yourself.