The digital business landscape is highly competitive.  The transformation from traditional approaches to doing business to a real dominance of digital channels is well underway. At Dynatrace, we see interesting trends shaping how Digital Business Owners approach the playing field when they have no choice, but to aggressively go to market online.  For Mother's Day 2015, the Dynatrace team examined a number of specialty sites, which received high traffic prior to May 10th.
Some of these sites performed well and others – not so much.  One notable trend is the number of customers taking to social media to voice issues with user experience and customer satisfaction.  Here is an example of a social media exchange between FTD and a customer.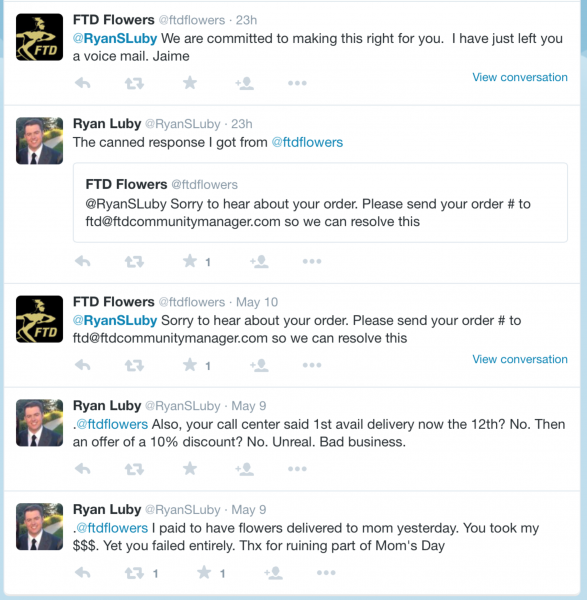 This is a perfect example of how a traditional business (FTD) is leveraging social media to try and help a customer.  While this is interesting and exciting, isn't it also rather expensive?  In this example the company should have all of the information it needs to rectify the situation prior to the customer complaining on social media…  or do they?
More often than not, what companies are failing to do is capture every user's online visit in vivid, high fidelity detail to understand what each customer was looking to do – and what is at the root of any issues that may have taken place.  Now the example above was based on a fulfillment issue, but we see these kinds of exchanges all the time.  Sometimes the issue happens on the front end and sometimes it happens on the backend.  The easiest way to prevent these issues is to capture the complete business process from when a user visits a site and enters an order through an application, to the fulfillment of that order.  Below is an example of what capturing a visit would look like.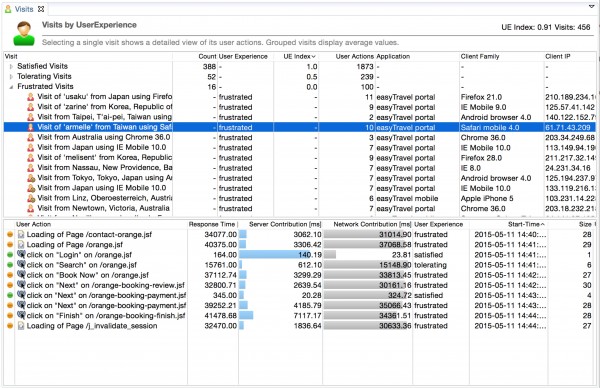 By knowing what a user did, and exactly when they did it would allow an organization that was looking to embrace digital to know the answer to every question. They would not even have to ask,  "What was your order number?"
So let's get back to some of the things we saw this Mother's Day.  This year we tracked some "Flash Sale" sites. These are specialty retailers or retail aggregators who offer limited time, limited inventory sales.  There is a focus on urgency due to the perceived high demand and low supply of carefully selected merchandise coupled with a count-down of a short window of time the chosen inventory will be available to purchase. So – digital performance is a must when it comes to delivering a satisfactory experience to the end-user. Every second counts – and that's what makes these sites so exciting for consumers.
We also tracked some greeting card vendors and health and beauty sites.  Let's start with a look at the flash retail sites.  Myhabit.com is a top performer with the site responding at ~2.8 seconds on average.   Jane.com was a very content heavy site with lots of large images (so much so that it often pushed our default thresholds for page size) and it came in at 15.8 seconds on average.

This phenomenon of a "Flash Sale" site is based on the strategy of short-term, high volume sales.  As with traditional retailers, performance is paramount in a highly competitive space.
Here are some health and beauty sites.  While bathandbodyworks.com had some issues on May 3rd it was a top performer at 5.3 seconds.

When we look at the detail around greeting cards we see that traditional card providers (American Greeting and Hallmark) have embraced the digital business transmission and are performing well.  Shutterfly.com (a relative digital newcomer) is showing that their site is twice as slow as the established greeting card providers.
Looking at the details we again see the KDI's (key delivery indicators) which point to heavy, complex, third party laden sites performing more poorly than the more optimized sites.  Are we seeing digital maturity from these established brands?

We often point to these KDI's as measures for site complexity so we though we would visualize it.  Bellow is a view of the response time for all of the Hosts (most of which are 3rd parties) for Shutterfly.com which was around 70 different Hosts.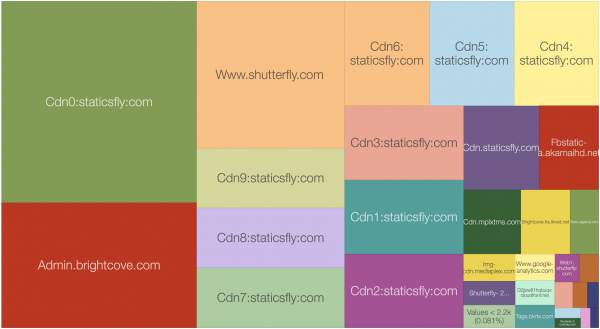 In comparison here is the response time of the hosts from American Greeting's page (19 Hosts).  A much simpler, less complex page to be sure.
The competition for the over $20 billion dollars being spent this Mothers Day is fierce.   This digital transformation is showing us that traditional brands are not taking a back seat to newer upstart brands.  Digital maturity doesn't mean doing everything that can be done on a site, it means doing the right thing to provide the best possible experience for the end user.
Know how your mobile and website speed compares to the best in your industry, Take our free performance test!