Dynatrace now shows you exactly which resources your Apache web server spends time and CPU on.
Ever wonder why certain Apache web server requests take longer than others? Apache is highly configurable with numerous rules and modules, so it's historically been a challenge to know which resources contribute to the overall response time of individual Apache requests. This is no longer the case.
To analyze an Apache web server request:
Click the Services tile on the Dynatrace homepage.
Select an Apache service request.
Click the Review response time hotspots button.
Notice the Breakdown of service execution time section. Two new items have been added:
Apache internals this represents the time that the Apache web server spent handling a request, outside of any module. The dark blue represents the amount of CPU consumed by Apache in comparison to overall time (light blue).
What's more interesting of course is the Apache modules entry. Click this to view a complete breakdown of the contribution of each Apache module. The example below shows that the analyzed request spent most of its time in module mod_proxy, but also in other modules.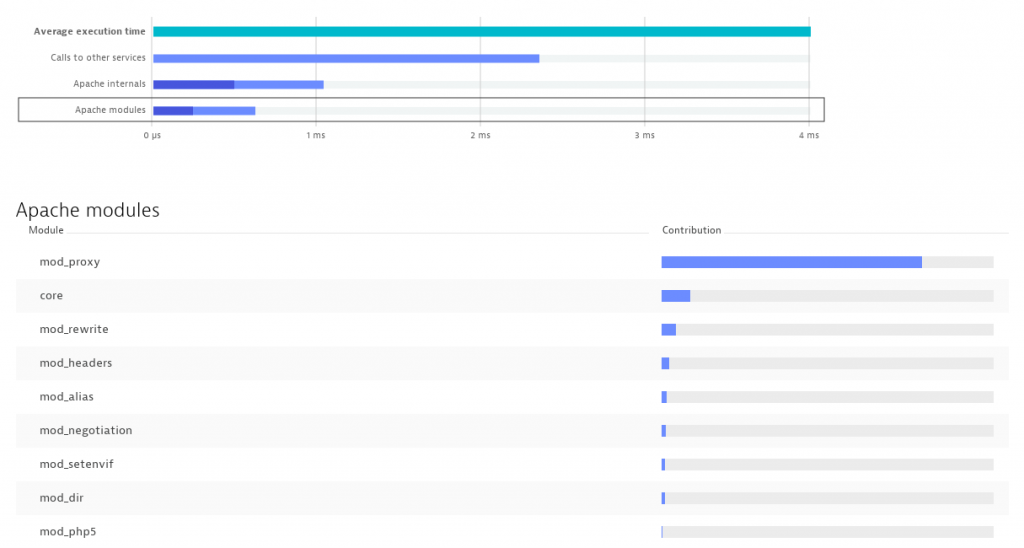 This functionality is dynamic and so detects all modules as long as they consume a significant enough amount of time. This means no more blind spots for your Apache web server performance monitoring! Dynatrace now offers real user experience monitoring, web server metrics, end-to-end request monitoring, and now finally, deep monitoring of your Apache web server. And we aren't done yet!
Note: You need to upgrade to OneAgent v1.79 to enable this feature.