IWD 2022 campaign theme: #BreakTheBias. Imagine a gender-equal world. A world free of bias, stereotypes, and discrimination. A world that is diverse, equitable, and inclusive. A world where difference is valued and celebrated. Together we can forge women's equality. Collectively we can all #BreakTheBias.
The theme for this year's International Women's Day was #BreakTheBias". Whether deliberately or unconsciously, bias makes it more difficult for women to get ahead. Our Dynaspace for Women Employee Resource Group (ERG) aims to tackle challenges like this by working with our communities to get more women involved in tech, fostering a more diverse and inclusive workplace, and spotlighting the achievements and philanthropic contributions of women in Dynatrace.
We are thrilled to have three incredible women on the Dynatrace Board of Directors – Jill Ward, Kirsten Wolberg, and Ambika Kapur. Each of these leaders "#BreakTheBias" on a regular basis. Following the success of our first inaugural Women in Tech panel at Dynatrace Perform 2022, we recently hosted a virtual panel discussion with these three board members. Denise Mitchell, Vice President of Global Human Resources at Dynatrace, moderated the discussion for more than 500 Dynatrace employees in attendance.
Meet the women of the Dynatrace Board of Directors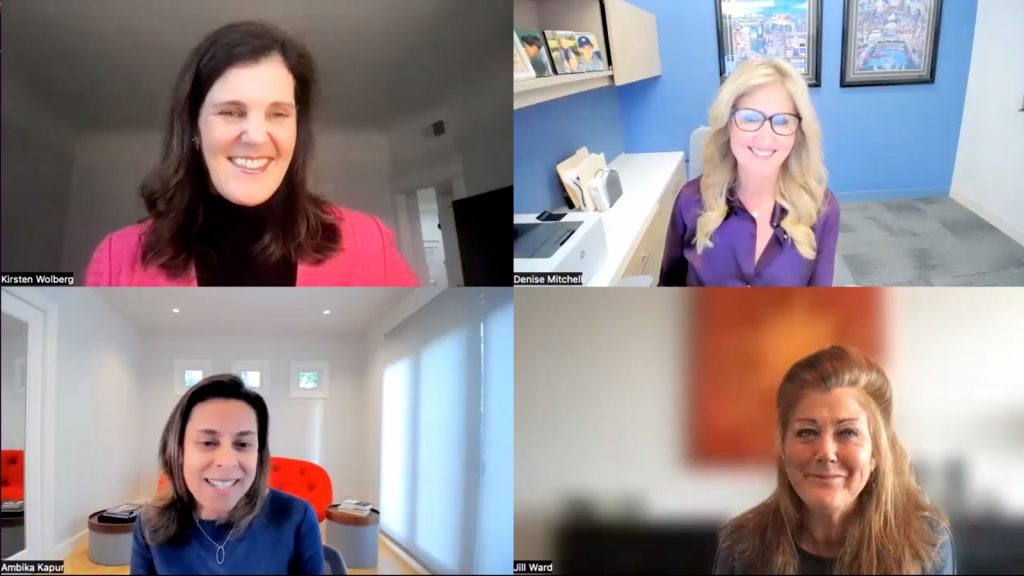 Jill Ward is Chair of the Dynatrace Board of Directors. She has previously held senior leadership positions with companies including Intuit, Fidelity Investments, and Bain & Company. Ward is now fully dedicated to her board work, passionately pursuing new experiences, and working on products that inspire her and make a difference in the lives of people every day.
Kirsten Wolberg has held leadership roles at companies including DocuSign, PayPal, and Salesforce, and now dedicates much of her time to her board work. As a passionate technologist, Wolberg first became familiar with Dynatrace as a customer.
Ambika Kapur, the newest addition to the Dynatrace Board, is an experienced product management and marketing leader. In addition to her role on the Dynatrace board, Kapur currently serves as VP of product marketing for the Network and Advanced Security Business Group and VMware.
Panel discussion: Succeeding despite bias
Wolberg kicked off the #BreakTheBias panel with a story drawing on a study completed by Stanford University's Clayman Institute for Gender Research that described the language managers often use when evaluating the performance of male and female employees. According to this study, managers more often used "communal" language, such as collaborative, kind, and relationship-building to describe women. In contrast, managers often describe men with phrases like risk-taker, emerging leader, and future of the firm. These language choices can reflect unconscious bias, often resulting in promoting men at a faster pace.
Ward, Wolberg, and Kapur continued the discussion by sharing their experiences in the workplace and what motivates them, both professionally and in their personal lives.
For Kapur, success means a balance of objective and subjective measures. "You can always make more money, but you cannot make more time," Kapur says. She cites the importance of ensuring that you make time more valuable with more subjective measures, such as who you work with, how enjoyable the work is, and whether it is making a positive impact.
Make time for "crystal moments"
Ward's closing comments resonated with the audience. "I always make time for 'crystal moments,'" she says—the times that no matter what, one should not miss: graduations, birthdays, funerals, and other critical life moments. This focus helps her maintain a work/life balance.
As Women's History Month drew to a close, we looked back on the events we held and drew inspiration from the stories our board members and employees shared. We encourage everyone to take the time to learn more about International Women's Day, to reflect on what #BreakTheBias and adversity means to you, and to define your own crystal moments.