As we celebrate International Women's Day 2022, people often forget that women are still a minority. We continue to fight for equity, inclusion, and to be valued. We must break the bias that creates stereotypes and discrimination, and this is no easy feat. This global initiative has been going on for over a century. A century! And at Dynatrace, we have also joined the call to empower women and make our mark on history.
Within the last year, the women of Dynatrace have made huge strides on our journey. We have joined other employee resource groups (ERGs) in creating "Dynaspace," which embodies our vision of safe spaces for all Dynatrace's minority groups and their allies. The Dynaspace for Women made it their mission to make an impact within Dynatrace and within the tech industry.
Inaugural Women in Tech panel at Dynatrace Perform 2022
This February at Dynatrace's flagship conference, Perform, the Dynaspace for Women hosted our first-ever Women in Tech panel. Moderated by our own Noelle Faris, VP of Investor Relations, we spoke to three female leaders in the tech industry and discussed their experiences as "game-changers," which was the theme of Perform. This panel made a bigger impact than we could have ever imagined! Our employees, our customers, and in some cases our families, were thrilled to see women represented and to witness an honest conversation about what it sometimes takes for women to succeed.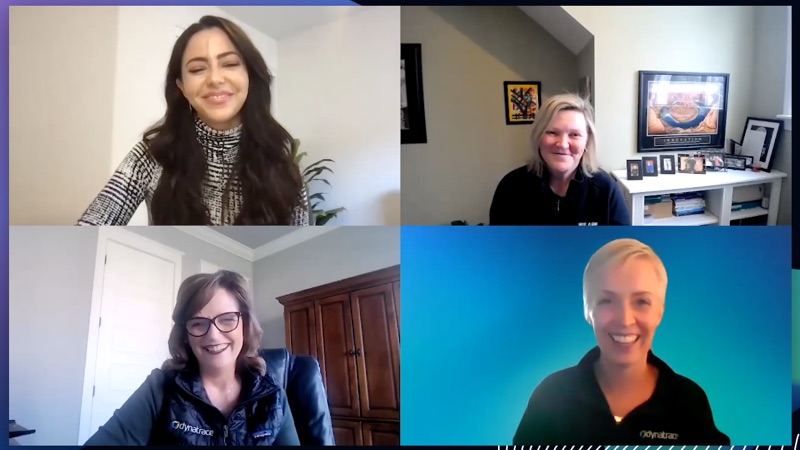 One of our members, Rebeca Bolanos, a Customer Success Manager, even shared the impact on LinkedIn.
"Loved listening to a host of gamechangers. My two youngest daughters made it home from school just in time to join me for the Women in Tech-Digital Gamechanger panel hosted by our very own women of Dynatrace ERG." Rebeca's daughters crowded around her laptop to watch with her.
"And who is she mom?" one of the girls asked.
"She is the assistant general counsel at SAP," Rebeca told her. "She's a powerhouse attorney working at one of the largest software companies in the world. And she could be you, sis."
Women of all ages need to feel represented, and in 2022 we can be a part of sharing our stories with the world.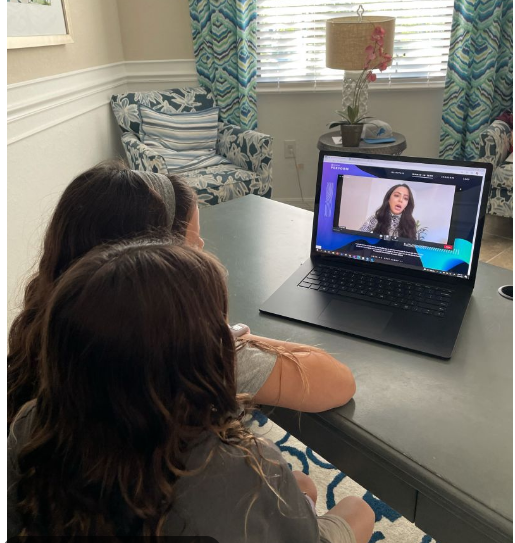 Growing membership and growing influence
The momentum behind our Perform panel was a result of an incredible year of achievements. Dynaspace for Women has grown to a membership of over 250 members, and we have started several initiatives, and joined others ongoing within Dynatrace. We launched a career mentorship program, a guest speaker series, and an EMEA chapter of women. Our leadership is also part of Dynatrace's Diversity, Equity, and Inclusion (DEI) committee, working to make Dynatrace even stronger.
And we don't want to lose sight of why we are all here in the first place: technology. Our own members formed an engineering committee and strive to educate our members in new ways. Kayan Hales, Manager of Technical Product Specialists in Dynatrace One, presented on AWS with the help of Twinkle Joshi, Software Engineer. These women are dedicated to encouraging women to go further in tech, whether it be through picking up a new appreciation for our industry, or perhaps changing the course of their careers. The goal in this group is to help each other do more, and our members are constantly proving this.
#BreaktheBias for International Women's Day 2022
This year, the global theme of International Women's Day is "Break the Bias." Not only are women around the world working to break biases, but we are inviting all people to do so. In honor of this year's theme, Dynaspace for Women will be hosting a company-wide panel with members of the Dynatrace Board of Directors, specifically the women. These women have fought through adversity and bias to become some of the most well-respected women in tech. We encourage you to also learn more about International Women's Day.
We understand that everyone faces bias in some way. No matter what your gender, ethnicity, orientation, please ask yourself, "am I a part of something? Am I treated with respect? Do I feel safe?" If you don't, or you just want to ensure that people around you do, join an ERG at your own company or even create one.
For Dynatrace employees, we're lucky enough that there is a Dynaspace for everyone. Let's break ALL bias together.