Dynatrace makes monitoring easy with a single agent install for all hosts you need to monitor. Dynatrace Agent then ensures that you know everything that's going on in your systems. However, because Dynatrace evolves quickly, with new functionality and support for the latest technologies announced on a frequent basis, we need to release a new version of Dynatrace Agent every month. Beginning with Dynatrace Agent v1.75, agent updates are performed automatically. You will now always have the latest, most secure and advanced version of Dynatrace Agent available without worrying about manually updating your agent software.
Some Dynatrace Agent components however run in the processes that Dynatrace monitors (for example, Java, .NET, Apache, and IIS processes). These processes continue to be monitored with the previous version of Dynatrace Agent until they are restarted. Following restart, these processes are monitored with the latest version of Dynatrace Agent.
You can control which agents update automatically by going to Settings > Updates: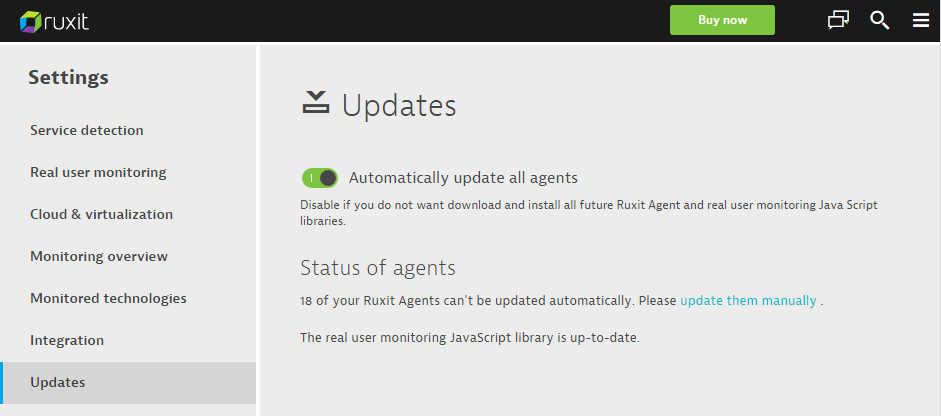 You can disable auto-update globally by turning off the Automatically update all agents setting. You can then enable auto-update for specific hosts by going to Settings > Monitoring overview > Hosts and clicking the edit button of the hosts you want to modify. Slide the Update Dynatrace Agent on this host automatically switch to the On position.