I was lucky enough to be a part of a webcast a few weeks ago that looked back at the 2015 holiday shopping season. "Sucharita Mulpuru (Vice President and Principal Analyst at Forrester Research and leading expert on eCommerce, multichannel retail, consumer behavior, and trends in the online shopping space) provided the relevant business effects of the 2015 customer holiday shopping experience, and I looked at the technology side of things. Our discussions dovetailed nicely. After all, technology is a large and growing component of customer experience.  Here are a few of the highlights in case you missed it.
Have online sales reached a "Tipping Point"?
Our first topic was whether or not the industry hit a tipping point in 2015, between on-line and in-store shopping. There has been a lot of discussion about this in the media, but Sucharita reminded us that it's a bit more complicated than it sounds. Yes on-line is growing, perhaps faster than in-store, but it is starting from a base that is so much smaller than in-store sales volumes that it is probably an overstatement to say this represents a "tipping point."  Also, the ubiquity of smart phones is having a huge impact on shopping habits. Many shoppers are on-line while they are in-store, although Sucharita reminds us that actual conversions from mobile devices are still extremely low.
Mobile shopping is up, but does that mean more mobile sales? Looking at this Dynatrace sponsored Harris Poll (.pdf) from October, mobile impacted the holiday shopping plans of 6,000+ adults from around the world. Not surprisingly, it also found that people planned to do more shopping in 2015 on their mobile devices, and also that many expected to do so while in a store. But it was striking just how much millennials – adults 18 to 34 years old – are really driving mobile shopping trends.
Perhaps most importantly, the report also indicates that millennials have very high expectations for customer experience, including the performance of their mobile shopping journey. In fact, half said they would basically give up and go elsewhere if a site or app failed to load in 3 seconds or less.
It's all about the customer experience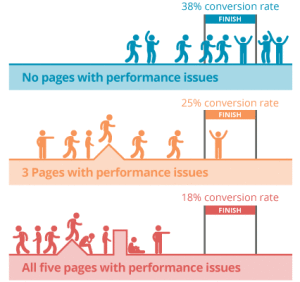 But mobile is still critically important to the customer shopping experience. Shoppers use their devices to enhance their in-store experience, when they are deciding where to go, what to buy, etc. They look up store hours, compare prices, research reviews, check for availability, and more.
What is the secret to the top online retailers' success?
In preparation for the webcast with Sucharita, I looked at just how well how the top on-line performers performed – in terms of response time and availability across Cyber Monday. I contrasted that with that the results of retailers who demonstrated the most room for improvement. While that was interesting stuff, I think it was more interesting to consider how the best performers achieved such outstanding results.
I observed the following best practices:
Optimize your application for performance. More about that in the next section.
Have a plan in place when things go bad – and not just a reactive disaster recovery plan. By itself, that alone would be a bad plan. The plan has look beyond disaster recovery and make sure that sites and applications have been thoroughly tested well before any holiday event. The plans have to include ALL parts of the organization including digital business owners, development, test, and of course operations.
Have the right tools. Having a site go down during a holiday event is traumatic for a retailer. It's not enough to only have a plan – you also must have the right tools in place. When things go bad for a retailer we typically see them go into a "war room" scenario. Each team has their own set of tools, probably telling them that their area is green, yet still the problem persists.  Retailers need tools that bring teams together, a common tool that everyone in the organization can use and reach the same conclusions, including operations, development, test, and digital business owners.
Understand the data. Having the right tools in place is a step in the right direction, but having the expertise to understand what the data is telling you is another. Modern retail applications are incredibly complex, with applications having hundreds if not thousands of dependencies. Sifting through log files (which is what we see most often) is the old (and most costly) way of solving a problem. Most retailers have teams of individuals who each understand their part of the application, and they may have a few "rock stars" who have the big picture in how it all works together. Retailers need to have an understanding of the relationship between application components and external internet factors. While they may have a few rock stars, what they need is a next generation set of tools to automatically notify that an event is occurring, analyze all the dependencies and discover the root cause of the issue.
Optimize application performance
So getting back to that first best practice – retailers need to optimize their application for performance.
They need to understand how to minimize page weight, the number of objects, and the number connections being made during each session. They all add to response time, often unnecessarily. They also need to minimize the number of third party dependencies. Each represents a potential problem that is outside of your control.
Optimizing the delivery of the retail site is the start of this process, but retailers should also look into how the site is being delivered on the server side. Focusing on either the client (browser) side or the server side alone is a recipe for disaster.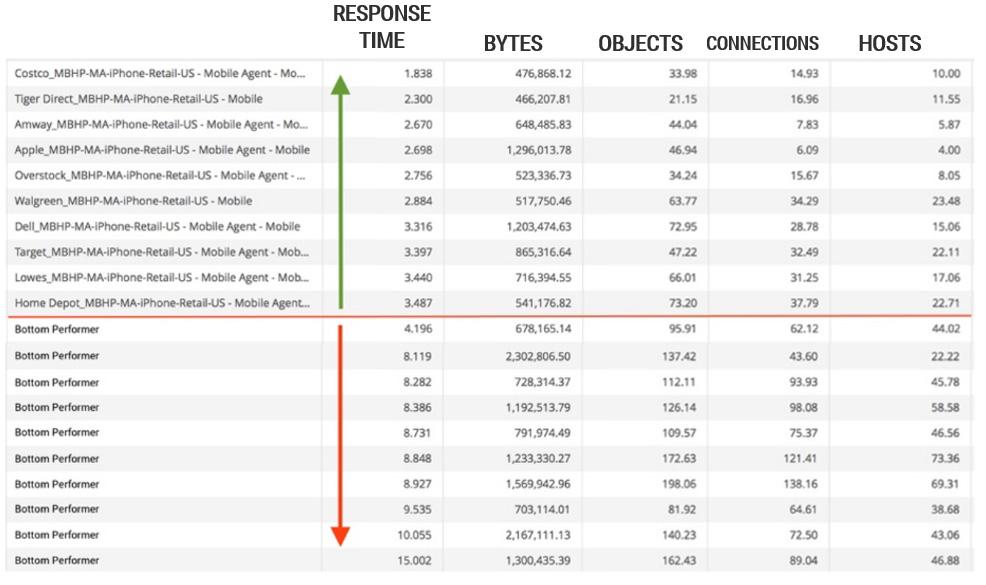 Does it matter to the bottom line?
One of my favorite notes from the webcast was reference to a study with T-Mobile that correlated response time with conversions, and it is pretty clear that performance definitely affects the bottom line. The study looked at nearly than 380,000 transactions, and produced some pretty compelling results. See the full study here.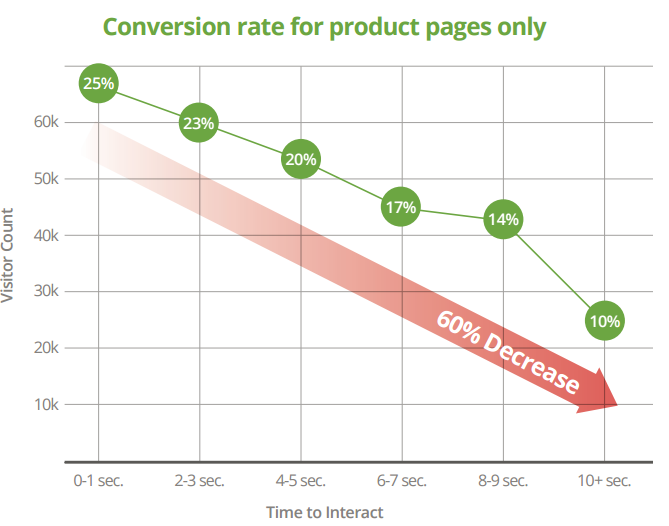 Tune in for more…
While we may or may not have reached this tipping point, there is clear evidence that we still have work to do in supporting our online sales divisions. I encourage you to view the webcast for yourself to hear the entire discussion about on-line shopping trends and the customer experience. If you have questions or comments, feel free to share them here.