Dynatrace Software Intelligence holds the key to true AIOps, auto-remediation, and automation along the entire digital value chain.
In the ever increasingly competitive software market, it's important to stay ahead of the competition – always looking five, ten years ahead of your current position. To do this, and do this well, you need to innovate. And that's exactly what we've done.
We first introduced our software intelligence platform in 2014. And, as CEO John Van Siclen and CTO Bernd Greifeneder anticipated the future of the software industry they built the platform on a foundation made up of automation and intelligence. As a result, enabling us to innovate in the way we do today; constantly developing, learning and bettering the way we operate.
And that's exactly what we've done with our software intelligence platform.
At our Perform Vegas 2019 conference this week, we announced the enhancement of our software intelligence platform. Equipped with the next generation of our AI – Davis® – the platform is now powered by new and enhanced algorithms and can ingest data from third-party solutions – giving Dynatrace an AI-powered platform like no other.
While our deterministic approach to AI has enabled customers to simplify cloud environments and focus on innovation for the last four years, the enhanced power of Davis now provides answers with even greater precision and relevance, using additional context from third-party data. Overall providing a better experience from a customer and user perspective.
"The Dynatrace AI engine paves the way for autonomous operations. Knowing Dynatrace is delivering precise, contextual answers are enabling us to create auto-remediation workflows that remove the need for human intervention in the resolution of recurring problems."

David Shepherd, Service Delivery Manager, Global IT Service Excellence at Experian.
Dynatrace Software Intelligence: Beyond Human Capabilities
When you look at the AIOps market, there are an overwhelming number of options to choose from; much more traditional, and less efficient than what Dynatrace has to offer – both financially and practically. But our enhanced platform not only enhances business operations, but it improves efficiency – both from a cost and practical perspective.
And now, more so, this extended openness and Dynatrace's AIOps capabilities enable truly autonomous cloud operations.
In contrast to machine learning approaches, which only correlate and cluster problems, Dynatrace's software intelligence provides precise and actionable problem identification, impact analysis and root cause — the necessary ingredients for auto-remediation that are both technically sound and reliable, with no high maintenance or manual efforts.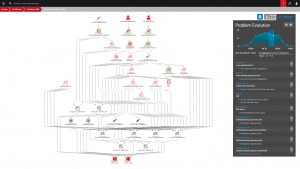 In addition to our autonomous capabilities, Dynatrace offers customers end-to-end coverage of hybrid cloud environments, with high-fidelity and context-rich monitoring data – even from third party sources. Overall, each of these elements making a more cost-effective and time-efficient software intelligence platform.
How Dynatrace is Revolutionizing the AIOps Market
Open platform, smarter and broader.
For a comprehensive real-time health check, you need 360-degree visibility from the user interaction to the network layer and the mainframe to the cloud.
Davis addresses this situation through an open architecture; allowing for the seamless integration of custom metrics and third-party events, including information from CI/CD and external sources of monitoring data and events.
Opening and enhancing the platform to third-party data results in a smarter, broader platform by enabling Davis to learn beyond the users' context. Thus, providing enhanced user experiences and maximizing the value of investments in other data sources
Superior data collection, easier and automatic.
To get true-root cause analysis, we need to collect data with high-fidelity – bringing better grouping of disparate alerts and single root-cause determination – and rich context for real-time topology and service flow mapping. Data collection needs to be fully automated as manual instrumentation simply does not scale, and with enhanced algorithms users are better able to detect performance with high precision, without relying on baselines.
Deterministic answers for automation and self-healing.
For auto-remediation to work reliably we need a complete picture of the problem. Having this provides a broader range of precise and actionable problem identification of root causes; identifying the exact technical root cause, how the problem got introduced and an assessment of its severity in terms of impacts to actual users. The Dynatrace AI engine delivers all of the above.
Following this process, Dynatrace AI can power auto-remediation workflows and self-healing, deliver even more precise results and eliminate previous blind spots by identifying suspicious metrics without relying on baselines.

Discover How Dynatrace AI Can Unleash Your Company's True Potential
There is no silver bullet when it comes to AIOps – we're not talking alert noise reduction or faster troubleshooting. What we have in mind is enabling the next generation of enterprise software by automating operations, DevOps and the entire digital value chain.
This requires a set of intelligent capabilities built for dynamic, web-scale environments. And to get these capabilities, you need Dynatrace. Not only have we designed a platform that is efficient, accurate and intelligent – it's also manageable and easy to roll-out, regardless of project size.
Dynatrace Software Intelligence holds the key to true AIOps, auto-remediation, and automation along the entire digital value chain. Thousands of our customers have proven this in production but it's also easy to see it for yourself.
Further reading
eBook: AIOps Done Right: Automating the Next Generation of Enterprise Software
Webinar Series: AIOps with Dynatrace software intelligence
What is AIOps? A Software Intelligence Approach
Download the free trial and see what it can do for you.
It's easier than you think. Give it a try.