60+ Sessions
Transform into the digital future at light speed
Dynatrace Perform runs from
Monday, January 28th to Wednesday, January 30th.
We look forward to welcoming you to Perform Las Vegas 2019.
The current agenda overview is included below, and will be updated regularly as speakers and further details become finalized.
There are two optional sessions available on Monday, January 28th. They are as follows:

Hands-On Training Day (HOT Day)
8:00am–5:00pm​
Fee – $800 (USD)​
Partner Summit (Partners Only)
1:00pm–5:00pm​
Agenda Overview
---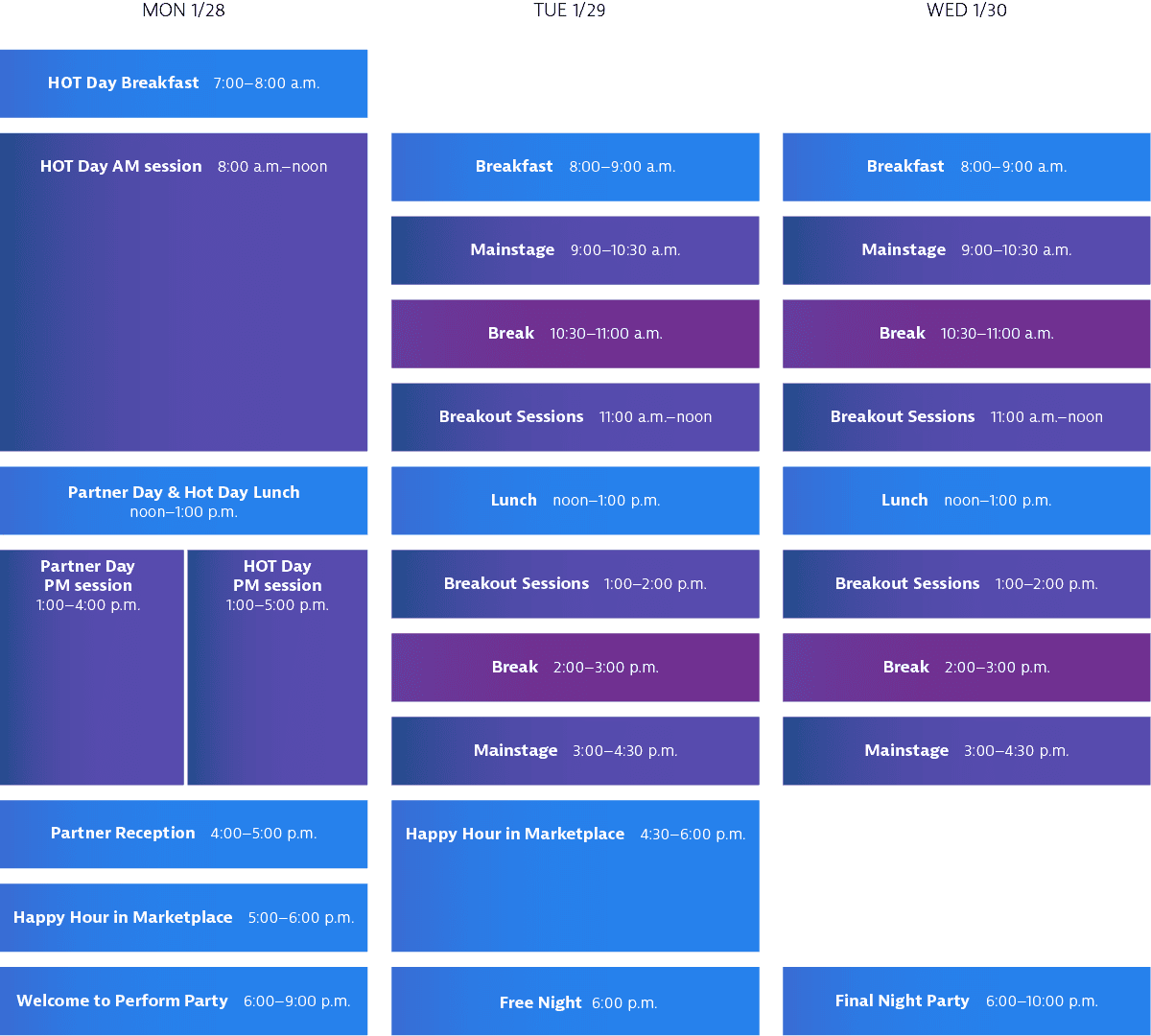 ---
PLEASE NOTE: The Partner Summit is for Dynatrace partners only.​
If you are unsure if you should attend, please reach out to Matt Keenan with any questions.​
Breakout sessions
Perform breakout sessions are deep dive sessions with not only our customers & Dynatrace experts but AWS, RedHat, and more:
Cloud automation
Dynatrace works with your cloud strategy: migration or cloud native. Containers, microservices, or serverless. Hybrid and Multicloud. Learn how to leverage automation for web-scale.
Software Intelligence​
Leverage Dynatrace's automated, AI-powered, full stack software intelligence platform to monitor complex and dynamic environments, reduce MTTI/MTTR, rationalize tools, and drive faster innovation.​
DevOps to NoOps​
Release more frequently, faster, and with fewer issues; increase innovate through better collaboration and continuous feedback; build resilience into your operations (SRE); and start to do "Everything as Code"​.
Improving business outcomes​
Fast-track your applications towards perfect user experiences, increase conversions and meet business objectives through Advanced Analytics, real-time visibility and insight into your customers' behaviors throughout their entire digital journey.​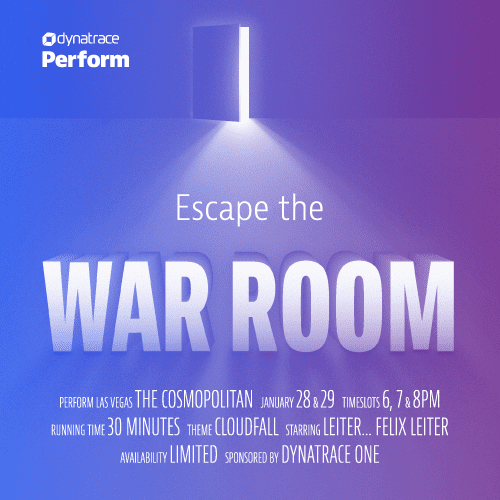 This year's Dynatrace Escape the War Room is a Secret Agent themed adventure codenamed "CloudFall", where you have 30 minutes to escape a dingy jail cell and the clutches of your abductor. When a top-secret list of your fellow undercover agents' secret identities are exposed, it is up to you, Agent Felix Leiter (Leiter, Felix Leiter), to recover the list and save your fellow agents. While investigating an unknown individual known only as "Cypher", you are captured and placed in a locked room. Your job is to find out who "Cypher" really is and escape from this dingy cell before it is too late. You will be challenged in more ways than one with this exciting Escape Room.
This limited availability option, back by popular demand, is a fun way to take a break after the first two days of the conference. Sign up now and escape if you can!
Have a Dynatrace story to tell? We want to hear it.
Apply to be a session speaker at Perform Las Vegas 2019.
Join us at Perform 2019
Conference price: $895 | HOT Day: $800