Companies like telecom provider BT have increasingly enlisted AIOps and digital transformation as they evolve their service portfolios.
Today, many organizations strive for digital transformation. But many also lack a vision for digital transformation or the means to execute on that vision through technology. Enter AIOps and digital transformation, which can help organizations actualize their goals.
The concept of digital transformation can be defined as the use of digital technology to make business operations and processes more efficient and to improve customer experience.
A minority of organizations now recognize that digital transformation not only requires digitization but also automation via software intelligence.
For successful organizations engaged in digital transformation, AIOps (or AI for IT operations) and digital transformation go hand in hand.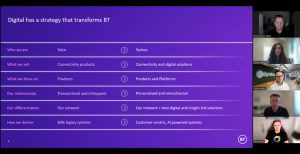 Companies like BT, a telecom provider, have increasingly enlisted AIOps and digital transformation as they move to the cloud and evolve their service portfolios.
AIOps incorporated into BT's digital transformation approach "has really transformed the way we work [and] the way the teams feel about their work," said Chris Deane, head of digital platform and security engineering at BT, during a webinar on the company's digital transformation.
Data indicates that increasingly C-level executives recognize the importance of joining AIOps and digital transformation. According to an IDC report, for example, 90% of global 2000 CIOs will use AIOps technologies and automated remediation to improve cost and performance metrics as well as resiliency and agility.
AIOps and digital transformation are at the forefront for BT
For BT, AIOps and digital transformation are at the center of the company's upcoming three-to-five-year digital transformation strategy. BT has 30 million consumer customers, 1.2 million enterprise customers, and global operation in 180 countries.
As it has expanded, BT has turned to technology—and increasingly to the cloud—to enable its transformation. BT's goal over the next several years is to digitize its business to offer more diversified services. This expansion into the cloud aims to make BT less of a product, transactional business and more of a services-providing, omnichannel business.
"It's about evolving the business and being less telco-specific and …  becoming more of a product and platform player," BT's Deane said.
But BT's move to the cloud has also generated complexity and a profusion of data. Organizations such as BT that are undergoing rapid change need greater visibility into their multicloud environments to combat increasing cloud complexity and risk.
BT, for example, has some 2,400 applications that reside in the cloud, and it generates 29 petabytes of data throughout its technology estate.
"The amount of data that is being observed is really big," Deane said. "There was no way with the increase in volume and scale of platforms and solutions out there, to have enough humans to cope with all of that."
As a result, BT has enlisted Dynatrace's modern observability platform to identify issues in its multicloud environment.
BT's journey with AIOps and digital transformation echoes familiar pain points from which other organizations suffer.
According to the recent "2022 Dynatrace CIO Report," 71% of CIOs say the explosion of data due to cloud-native technology stacks has surpassed human ability to manage.
Observability reduces MTTR and incidents themselves
Modern observability not only helps IT teams prioritize incidents as they occur but also helps them address problems before they affect users.
"It's not just about reducing the time to fix a problem but also reducing the amount we have in the first place," Deane said. "We have been able to head off problems that would have arrived in production and would have had to be fixed on the fly."
According to the Dynatrace CIO Report, 93% of CIOs say AIOps and automation are increasingly vital to alleviating the shortage of skilled IT, development, and security professionals.
At the heart of this proactive identification of issues is software intelligence, which underlies the Dynatrace observability platform that BT uses to monitor its environment.
"The AI side of this is a really critical aspect of how we're going to deliver on these ambitions," Deane said. "We needed something to be able to do the analysis and surface the problems because it would be impractical to try and get people to do that."
That's because the software intelligence of Dynatrace AIOps eliminates the human effort required to surface site performance and security incidents and identify their root cause, says David Baldry, lead solutions engineer at Dynatrace.
With the Dynatrace platform, organizations like BT can use Davis, the platform's proprietary AI, to identify events and root cause. That enables BT teams to prioritize issues. "Having that AI component has really helped us to focus in on the real problems," Deane said.
"Davis automatically establishes baselines and continuously updates from all observability data from across the entire ecosystem. When an issue does occur, Davis uses fault-tree analysis to step through all dependencies and come up with a root cause for you. Davis is providing the answers that BT needs, reducing incidents and time to get to the root cause."
AIOps does what teams of humans cannot do on their own, Baldry emphasized.
Combining AIOps and digital transformation efforts have yielded results for BT. The company has experienced a 50% reduction in digital incidents and a 40% reduction in mean time to resolution of incidents. That, Deane estimates, translates to some100 million in "internal value" and return on investment.
Auto-remediation of incidents with AIOps: The future is now
For BT and other enterprises like it, AIOps enables companies to get a handle on the twin prongs of cloud complexity and data profusion. In some cases, AIOps enables IT teams to get ahead of problems before they even emerge.
"This is not something a human or team can fashion," Baldry said during the webinar, "especially when you are faced with millions of dependencies across thousands of applications and services that are constantly changing. This is why AIOps is required more than ever."
During times of peak traffic, companies like BT use Dynatrace and AIOps to head off problems and act quickly before users experience impact.
"We have been able to make our product launches much smoother," Deane said.  "No matter how much you test, you always get challenges. IT helps IT teams make spontaneous and quick decisions to head off problems," Deane noted.
As Baldry noted, Davis not only identifies issues but can trigger a chain of events to aid with auto-remediation.
"Dynatrace can automatically create an incident and populate it with all the data captured, including business impact and root cause," Baldry said. "ServiceNow logic can analyze the incident and trigger the appropriate action to remediate the issue: roll back to another version, scale up resourcing, etc. And Davis continues to monitor the incident on whether the incident is active or resolved."
As Baldry noted, AIOps and digital transformation is hardly a sci-fi fiction. While this kind of proactive software intelligence might seem hypothetical, it's real. "This adoption of AI-powered auto-remediation sounds futuristic, but it's not," Baldry said. "It's happening right now."
For more on the Dynatrace platform, click here.