Only at Dynatrace Perform do you get to talk about digital performance monitoring, on stage in front of hundreds of people, while drinking a beer. And, one of the things I was most looking forward to at Perform this year was doing just that: Sharing a beer with my friend Andy Lofthouse on our mainstage.
Andy's an IT senior analyst at Virgin Money, where he spearheads a team dealing with an array of challenges that the company may face at any given time. These can range from complex IT environments, to dealing with an avalanche of systems alerts, to a more overarching problem of being more reactive, than proactive, in addressing some of these issues.
And, he's doing all of this with just four other people.
So, naturally, I knew he'd have a lot to talk about! And, Andy said he'd do it, but only on the condition of doing it over a beer. Maybe he thought I wouldn't call his bluff, but that's exactly what we did. And, over a couple of Fosters', I got the chance to pick his brain on just how he and his team have utilized Dynatrace in tackling these challenges head on.
Getting started with Dynatrace
"We've always had a good working relationship with Dynatrace. We got to talking about the OneAgent, and that sounded like the kind of thing we were looking for, so we decided to try it – and that's how it all began." – Andy Lofthouse, IT Senior Analyst, Virgin Money
Andy and his team had been using Dynatrace's synthetic monitoring since 2014, before moving over to the full-stack OneAgent last year – something that Andy said he wasn't totally convinced of out of the gate, being a natural skeptic. But, as he told the Perform crowd, he became a total believer in what the Dynatrace OneAgent could do after getting it up and running in just two days – and with no manual configuration needed. Andy and his team were able to get the ball rolling with OneAgent right out of the box, deploying it to understand how their services, hosts and other processes were talking to each other, and drill down into the root causes of problems that had been plaguing Virgin.
And, as Andy told us, these problems had been having a serious impact on the business: hundreds of hours were being spent among seven separate teams to try and resolve them, racking up tens of thousands of pounds in costs and a flurry of bad user tweets that was hurting their brand reputation online.
That's where Dynatrace OneAgent came in to save the day.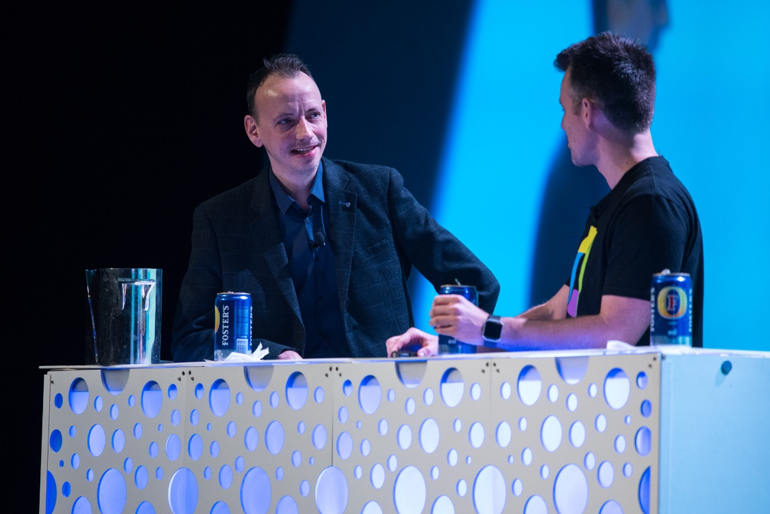 Virgin's first two weeks with Dynatrace
"I'd definitely recommend others try out a Dynatrace proof of concept on a system, potentially testing it on something they already have issues with. It's definitely worth trying just to see how it works." – Andy Lofthouse, IT Senior Analyst, Virgin Money
With their old monitoring solution, Andy's team would get bombarded with emails on a daily basis, with many of them serving no real purpose. In fact, 61 percent of the emails they used to get were about false alerts; only 39 percent were genuine issues. And, of that 39 percent, half were duplicates. So, in other words, their old solution was sending them five times more emails than they had actual issues to deal with. That many emails creates a lot of unnecessary noise, and kept Andy and his team from being able to see the forest for the trees in determining what was a problem worth their attention and what wasn't.
Fast-forward to just two weeks with Dynatrace, Virgin Money was able to trust our AI not to burden them with false alerts or duplicates. Instead, 42 percent of the alerts received were just to note that a problem had been resolved, while 58 percent covered actual genuine issues. That's a 100 percent accuracy rate, via Dynatrace, in highlighting what was already resolved or not an issue at all, and what was an actual problem that demanded Andy's attention. That makes for not only a more simplified and clearer working environment, but it helps dramatically save on personnel hours and costs on IT problem resolution. Talk about a win-win situation!
Sign up for the Perform 2018 Highlights to check out my full conversation with Andy, along with all of our other great session videos and presentations from this year's show.