On the Tech Transforms podcast, sponsored by Dynatrace, we talk to some of the most prominent influencers shaping critical government technology decisions.
In his novel Investments Unlimited, Michael Edenzon and his fellow authors tell the story of a financial institution and its journey to automated governance. The story introduces new concepts, tools, and ideas for organizations to reimagine how they approach governance from both a technical and organizational perspective.
On Episode 60 of the Tech Transforms podcast, Edenzon and I unpack the topic of automated governance and how organizations can incorporate it into their operations. The conversation touches on some of the challenges associated with the practice, including building trust in automation among stakeholders and clearly defining what constitutes evidence in the context of software governance.
During the discussion, Edenzon highlights how automated governance can positively impact an organization's compliance with and enforcement of industry, government, and corporate policies. He also shares how it can increase efficiency for development teams.
Make sure to stay connected with our social media pages. Tag us with #TechTransforms to be featured on our pages!
Software asset inventory and automated governance
Edenzon also shares his work with another recent Tech Transforms guest, Dr. Stephen Magill (Episode 55). He discusses their work on software asset inventory and how that fits into automated governance. Edenzon shares some of the challenges associated with the current model of asset inventory: the configuration management database (CMDB). He also shares his thoughts on the need to inventory software assets to better support automated governance.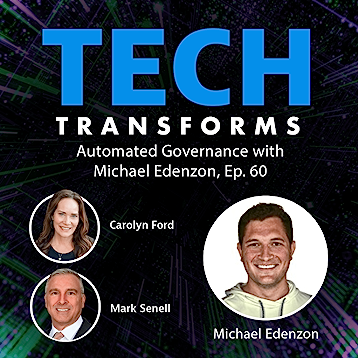 Tune in to the full episode for more insights from Edenzon.
Follow the Tech Transforms podcast
Follow Tech Transforms on Twitter, LinkedIn, Instagram and Facebook to get the latest updates on new episodes! Listen and subscribe on our website, or your favorite podcast platform, and leave us a review!