In keeping up with our corporate objective of continual improvement across all aspects of Dynatrace, we're very excited to share a new way of shouting from the rooftops that you have successfully certified through Dynatrace University.
Earning a Dynatrace certification isn't easy, so we believe your time, effort, and commitment to success should be recognized by the world.
Introducing the Dynatrace Digital Badging Program.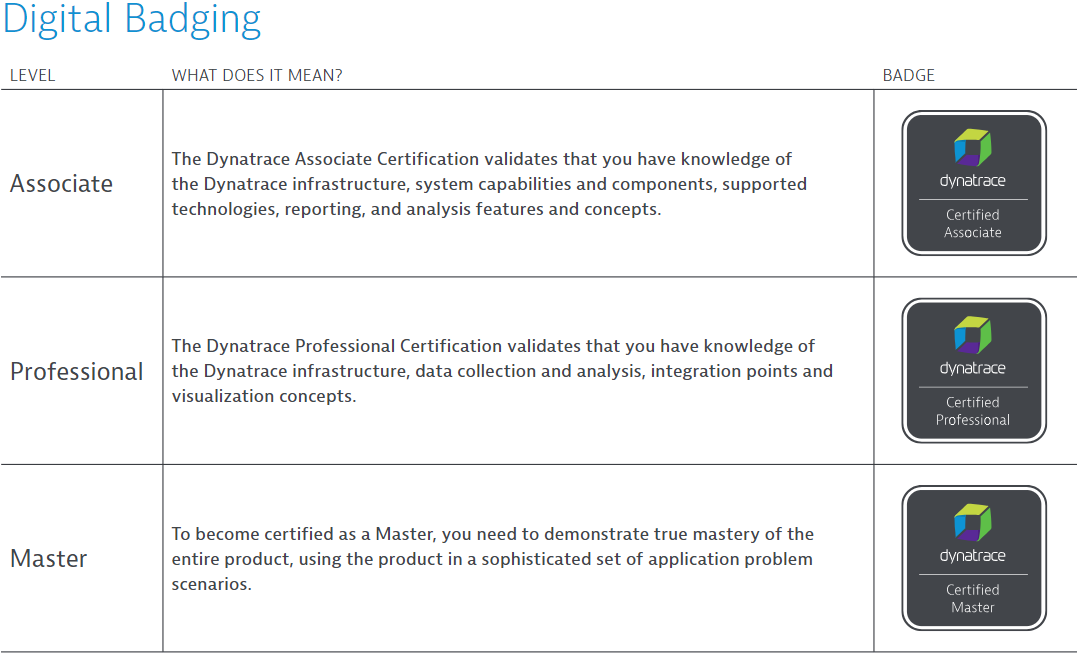 We are releasing digital badges, using the same platform as Microsoft, VMware, IBM, Oracle,  Adobe, and other global leading tech companies, which can be used to validate the status of your Dynatrace certification. This allows you to share your professional story on social media, professional networking sites, and personal websites, so when someone views your badge, they'll be able to learn more about your skills and verify that you truly know your stuff!
The digital badge will showcase your Dynatrace knowledge enabling you to stand out amongst your peers. Not only does this benefit you in your current role or position, but enables you to stand out amongst those in your broader field. Numerous studies have recently shown that employers place greater emphasis on attaining alternative credentials to demonstrate skills and knowledge in a constantly evolving workplace. A significant percentage of positions today, including many that involve Dynatrace, did not exist 15 years ago. The ability to keep up your studies long after you have left school shows a dedication and desire to learn, a skill that employers value highly. Accordingly, 91% of IT managers say they value certification and look for them on candidates resumes.
A Dynatrace certification with your digital badge is the perfect way to demonstrate your knowledge and skill with Dynatrace, but will also help you gain recognition and credibility in the Cloud Monitoring market. The digital badge will increase your visibility across connections on LinkedIn, Facebook, and Twitter and potentially win you that next big promotion!