Life as an SRE means always being alerted on issues, because your infrastructure and applications never sleep. Whether it's an email notification coming in the middle of the night or a customer calling while you are driving home, it's the job of SREs working in the DevOps space to ensure that applications and the infrastructure are up and running. SREs ensure that customers are happy and that organizations meet their Service Level Objective (SLO) targets.
With the Dynatrace mobile app, you can check your system notifications and alerts from anywhere. Stay always up to date and start triaging issues on the go with enhanced drill-down functionalities – without the need to sit in front of your laptop.
How to manage incidents on your mobile?
Dynatrace 3.0, the newly released mobile app available on Android and iOS, uses Davis AIOps to push alert notifications directly to your phone and significantly reduce the incident response times. Its real-time notifications make it easy for you and your operations and SRE teams to keep an eye on critical incidences even when you're on the move.
Critical outages of software and services are a notable risk for modern businesses. Long-term interruptions also come with severe damage to the reputation of companies and brands. Instant detection and response, along with transparent user communication helps to prevent the worst effects of such critical incidences that all companies face from time to time. Dynatrace provides all the critical information out-of-the-box that your SRE teams need to proactively tackle issues before they grow into expensive problems.
Where the incident response journey begins
Let's take a look at a typical SRE dashboard that shows all the essential SLOs of an example payment service software stack. The dashboard shows the state of multiple SLOs and downstream services the payment service depends on, its health state, and important metrics of the underlying technology stack.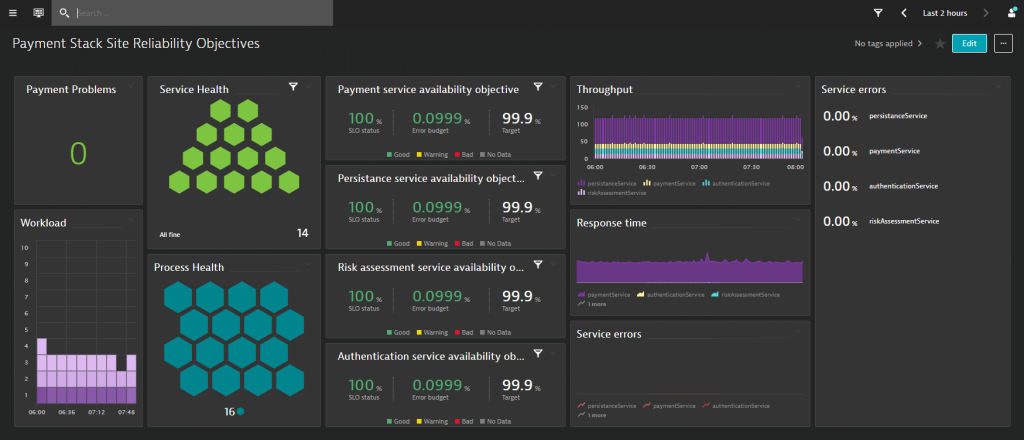 An issue occurs
Once Dynatrace automatically detects a critical incident, the Davis AIOps engine kicks in and automatically analyzes all the available context information to provide an executive summary of the incident's business impact as well as of an actionable root-cause. As shown on the SRE dashboard, two of our critical SLOs are violated and a Davis detected problem is immediately opened and linked to the problem affected SLOs, as it is shown within the screenshot below: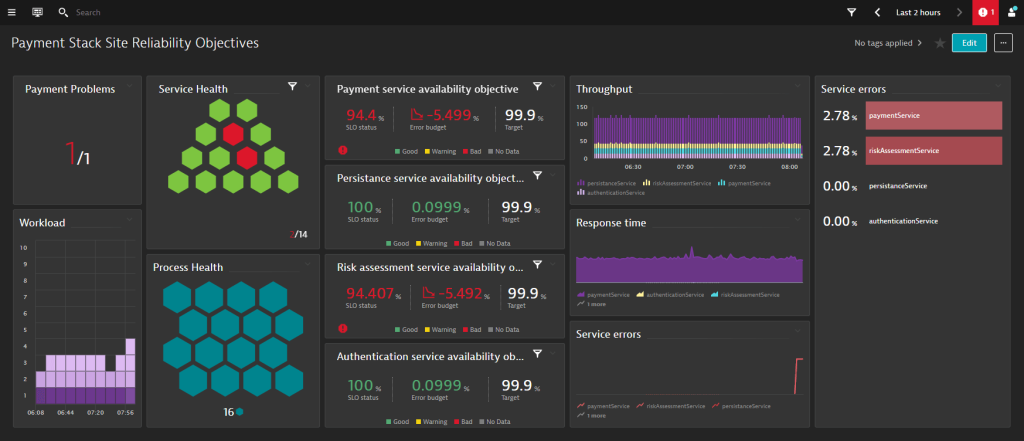 Notify the SRE team
Now every second matters for the Site Reliability Engineering Team as it affects Mean Time to Resolution (MTTR) metrics! They need to assess the criticality of the reported incident in terms of impact to the business and need to quickly find the root-cause to trigger the right remediation actions.
Davis AI immediately supports the SRE team by pushing an alert to the mobile phones of the SRE team responsible for the US region. Push notifications are a great channel for the Dynatrace AIOps engine to reach out to the responsible SRE team within seconds no matter if they're on the road or stuck in a video call.
By opening the Dynatrace app, the responsible team immediately receives a list of currently ongoing incidents, as shown below: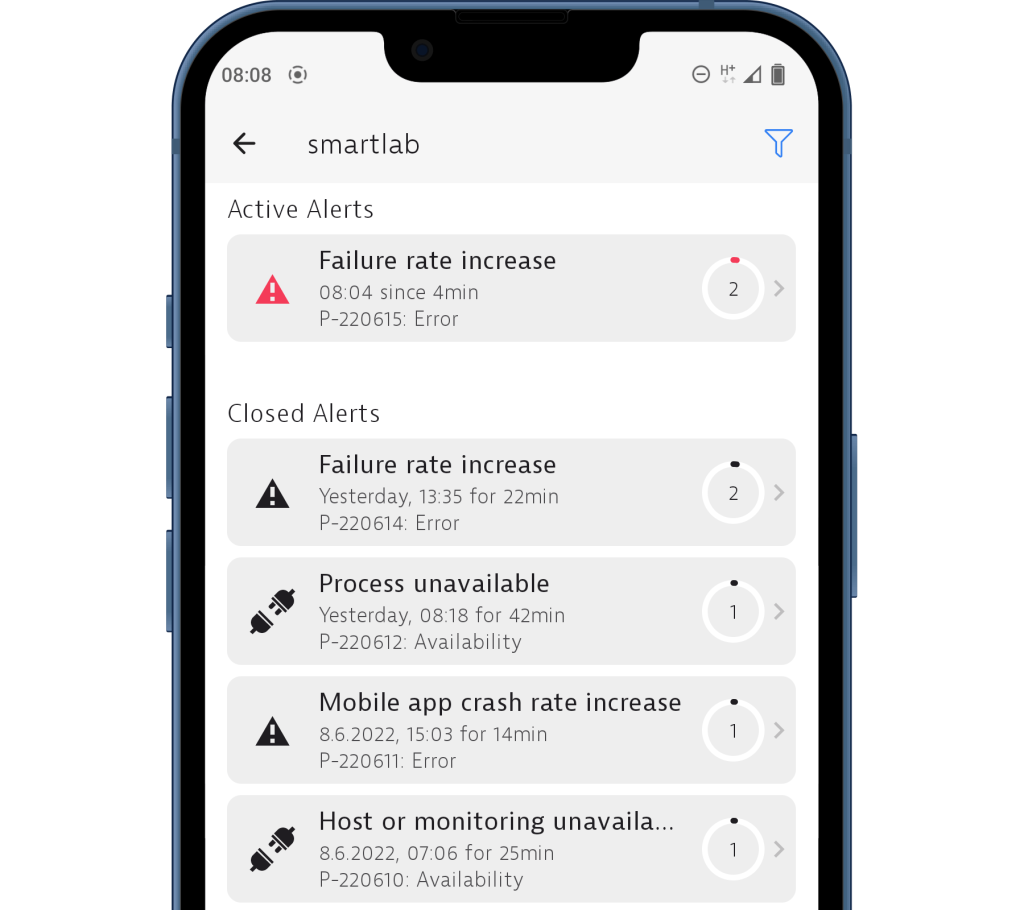 The new Dynatrace notification app for iOS and Android receives those push notification alerts and provides a visual executive summary of the incident.
Triaging incident response on the go
The Dynatrace mobile app takes the desktop experience you are already familiar with and makes it available on your mobile. You can now be even more productive by checking your alerts from anywhere, so you can triage issues from wherever you are.
Showing only the essential information about the impact, topology context, and management zones immediately helps the team get a better understanding of the impact and decide on the response that will remediate the issue.
The following example is a typical alert executive summary shown within the Dynatrace notification app: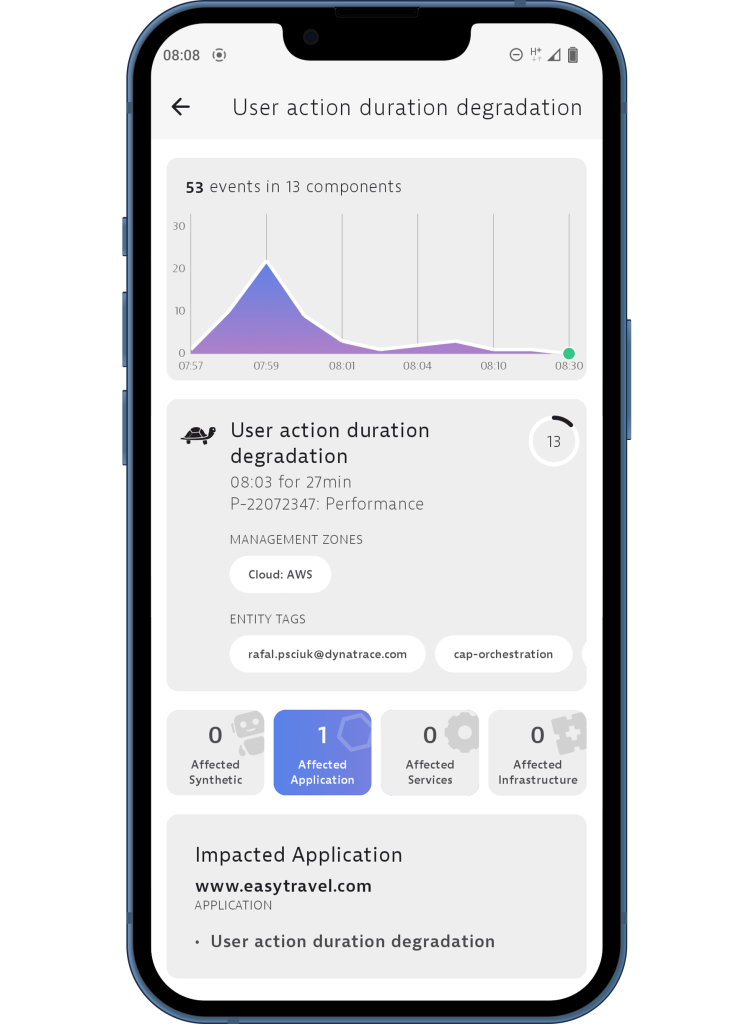 SREs have access to all relevant information in the problem view and can already start remediating the issue. This means saving valuable minutes and ensuring no SLOs are violated.
Incident response in complex environments
The Dynatrace app can manage multiple monitoring environments within one convenient incident overview to avoid confusion in case the operations team is responsible for multiple separate environments. It also allows the ops teams to view Dynatrace SaaS (Software as a Service) environments side-by-side with Dynatrace Managed on-premises monitoring environments.
The following example shows the app listing two Dynatrace SaaS monitoring environments alongside one Dynatrace Managed on-premises environment: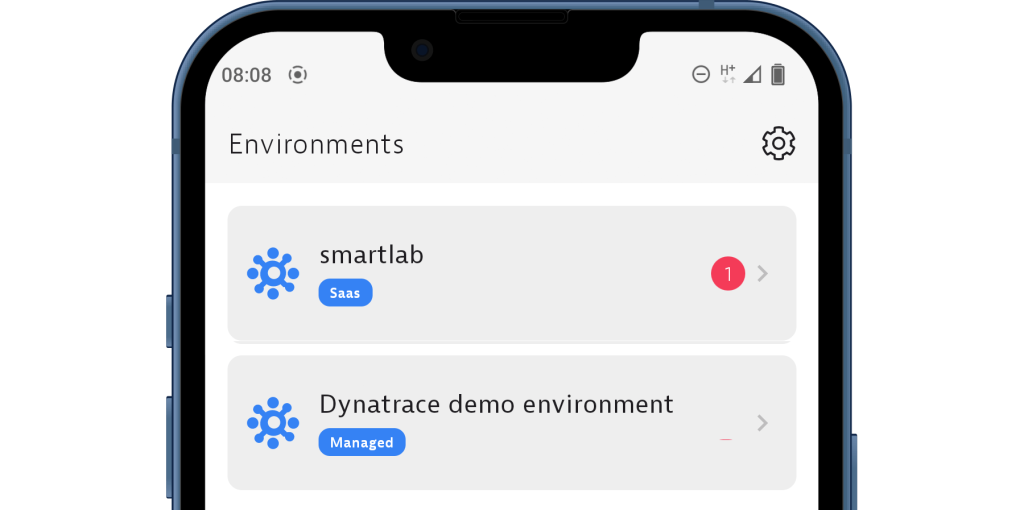 All push notifications are aware of the individual Management Zones of your users, which means that your operations team is not distracted by alerts that are not relevant to them. This further reduces alert fatigue and keeps your teams focused on those parts of your monitored topology that matter.
Reduce incident response times with Dynatrace Alert
Dynatrace 3.0 is available right now – for both Android and iOS. Visit the Apple App Store or Google Play Store to install it on your phone.
We have good news for all who are already using the existing Dynatrace mobile app: we have chosen a migration strategy that gives you the most flexibility!
Both app versions are available via the marketplaces in parallel until the end of December 2022. Beginning in 2023, we will remove the old version of the mobile app from both marketplaces (which means that users will no longer be able to install it), but ensure that already installed apps will be running and supported until mid of 2023.
What's next?
Dynatrace strives to offer the best mobile experience. Accordingly, we are further enhancing the mobile app with personalized push notification filters and AppSec support so SREs can immediately see all security risks at a glance. This capability will be available in an upcoming version of Dynatrace 3.0.
We're highly interested in your feedback! Head over to the Dynatrace Community and share your suggestions and product ideas, to help us continuously improve the Dynatrace mobile app.
See incident response Dynatrace Alert in action
Check out the following video, where Andreas Grabner and I teamed up for a new episode of Dynatrace Observability Clinic. In it, we show you a live demonstration of Dynatrace Alert and answer a lot of questions.