A week of focus on Cloud Foundry
Six weeks after joining Dynatrace I got the opportunity to attend the Pivotal Partner Days in Chicago, an event filled with great insights and hands-on experience. With many new and fresh impressions, I want to summarize my week learning about, and working with, some of the innovative technologies that make up Pivotal Cloud Foundry.
The challenge
In growing into my role as Technology Strategist, I started learning about our integrations with Pivotal Cloud Foundry (PCF) and our approach to monitoring this and similar cloud-native technologies. This led to researching the different PCF tools required to run the Dynatrace OneAgent, including BOSH and Ops Manager. To ship our OneAgent to a virtual machine in Cloud Foundry, we developed a dedicated BOSH add-on.
With the recently announced support of Ops Manager for building PCF integrations (better known as PCF tiles) for BOSH add-ons, we decided that this would be the focus of my Pivotal Partner Days. To get a jumpstart on things I started drawing some mock-ups to illustrate a combination of our ideas about such a PCF tile. In addition, I familiarized myself with Concourse, the tool built and used by Pivotal to build a CI/CD pipeline for tiles.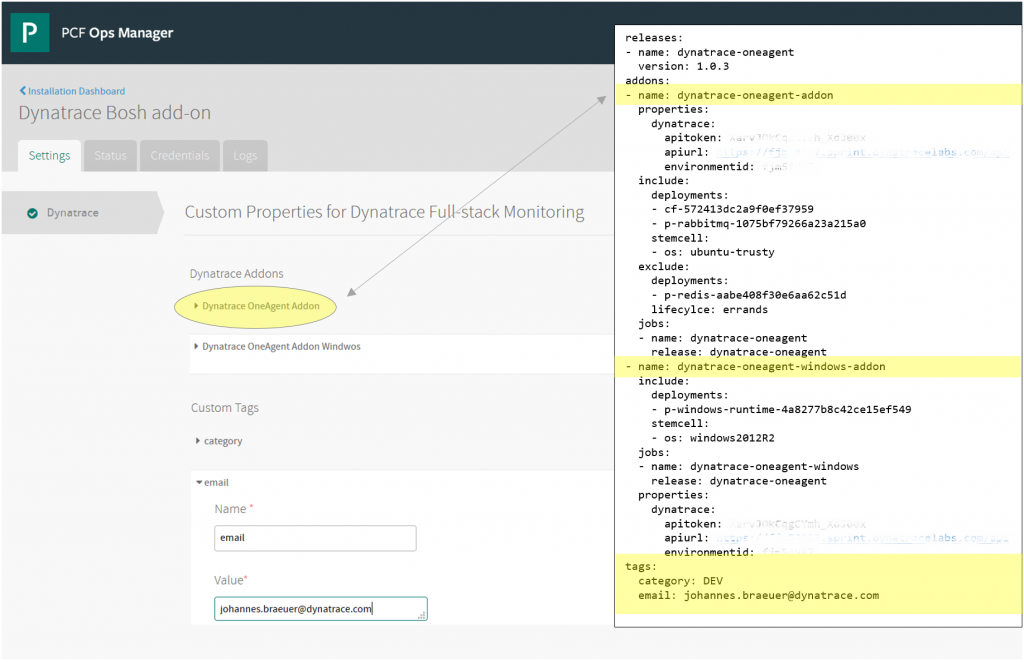 Pre-event training
At the Pivotal Partner Days venue, a warm and friendly welcome from Marina Joseph and Andrea Nodari was waiting. After some introductory talks and breakfast, we jumped right into PCF and got great training on what it means to build cloud-native applications as well as operate such a cluster. If that wasn't enough, the afternoon sessions were deep dives into BOSH with labs that showed how to deploy a BOSH release. What struck me about this training day was the precision with which everything was prepared and set up. With a website that provided all the material and supportive references, it was a pleasure to follow the training day.
Deep dive into building the PCF tile
On day one of the actual software integration workshop, partners were assigned to a Pivotal engineer to help develop a functional PCF tile to be demonstrated the next day. Kevin Takenaga was my pair-programming partner and had already started thinking about our BOSH add-on tile even before we started writing the first line of code. Based on this great starting point, it did not take long to deploy a first running version.
First high five!
Right after that, we continued extending our tile. Although we ran into some feature issues, such as the listing of current deployments within the tile, that currently stretch the capabilities of the Ops Manager and tile generator and could not be implemented, we were still able to work on other ideas for the rest of the day. For instance, we were investigating the support of multiple BOSH add-on configuration blocks and implemented missing config properties.
Tile enhancements and setting up a CI/CD pipeline
Based on the remaining items on our bucket list, we sized and prioritized them in the morning of the second day of the workshop. For the implementation of the first feature on the list, which was the tagging mechanism of VMs, we made a guess as to whether OpsManager would support our desired feature. Luckily, it turned out that it worked right on the first try.
Second high five!
Eager and motivated to keep going and do more, Kevin and I experimented using our tile in an environment containing PAS as well as PKS. So, what do you think happened? Of course, our tile rocked and worked in both on the first try. (Spoiler alert– the BOSH add-on supports Pivotal Container Services (PKS) going to be announced soon).
After lunch, which we shortened because we were excited about to keep working, our goal was setting up a CI/CD pipeline with Concourse. Unfortunately, the deadline to demo came too early and we only installed just the basic bits of the pipeline. Nevertheless, Kevin filled my Slack channel with great references and input I can use when I get back to the office to complete it.  As mentioned, it was time for my demo. This final session of two great workshop days summarized the progress made by all attendees and this was impressive.
| | |
| --- | --- |
| | |
To summarize the Pivotal Partner Days, it was an exciting three days of hands on training that I am so grateful to have experienced. I learned a lot and met a lot of great people looking to build better software using innovative technologies and methods. Thank you to all the Pivotal partners that attended. Your rich expertise and willingness to share were collectively responsible for making it a great event! And, last and definitely not least, a very special thanks to my programming partner, Kevin.