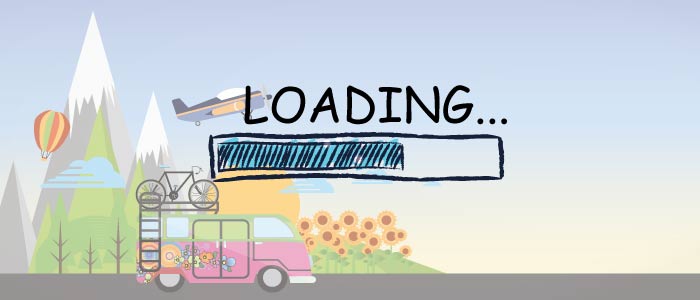 Last night, after we put the kids to sleep, my wife and I sat down to a glass of wine and planned a weekend away.
We're new to the U.K. and friends of ours had recommended a getaway idea that would be fun for the whole family.
Cue: pick up my mobile phone.

Like all tech-mad impatient people in their thirties, we wanted to skim read some basic details about the tourist attraction online before leaping into the purchase and bedding down the detail. We'd already been 'sold' the idea from our mates. We were as good as there.
Only problem is this tourism business' site could barely load. You could see it grinding away, trying to serve up content but it was taking an eternity.
Being in the business of digital performance, I decided to set up some synthetic tests to see how bad the user experience was for anyone trying to access the site, and what was causing such poor performance.
A frustratingly slow homepage.
Below you can see the results of one of my first tests. During the course of one weekend (when most parents find time to book and plan for time away), the homepage response time was swinging from around 8 seconds to nearly 42 seconds.

There aren't many people who will patiently wait around that long for a site to completely load. I know I'm not inclined to.
Looking at First Byte and DOM Interactive times.
The next set of tests then showed me that during the period, this site also had a First Byte time of up to 9 seconds and the DOM Interactive results were getting up towards 16 seconds.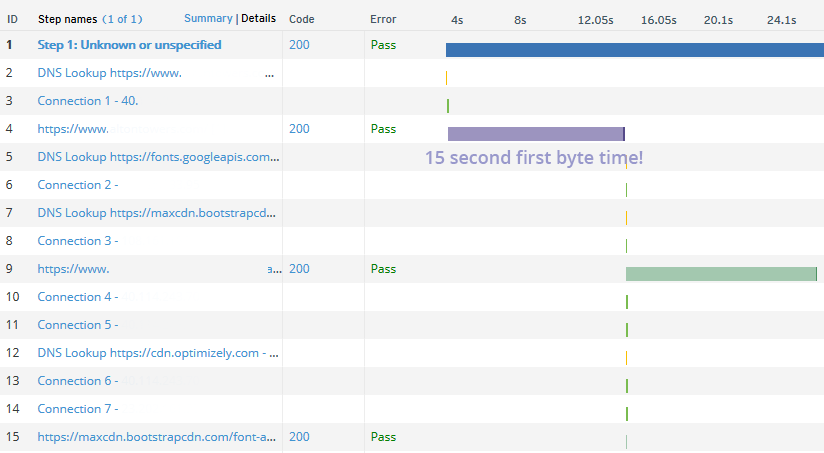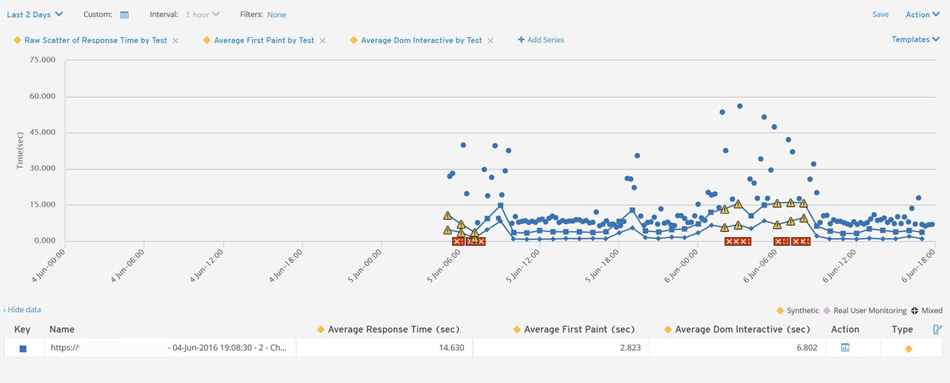 From here I started to look deeper into some of site complexities and potential causes of the poor performance results.
To me, it seemed that a big problem was the actual homepage size. It was an enormous 8.8 MB. One particular image was 2.9MB, which on its own would have been wreaking havoc on performance consistency and creating latency issues with the load times.
While these outcomes aren't all that uncommon, they offer us all a few good digital transformation lessons:
We're ignoring our customers: Sites are generally getting more complex, larger and heavier (especially retail ones) but consumers are growing more intolerant and critical when they are served up bad experiences. They want sites to load in 3 seconds otherwise they'll abandon and this very issue is impacting companies' bottom line globally.
Digital performance management is never ending: If you're not constantly optimising images and objects; if you're not watching page weight carefully; if you're not scrutinizing site features and plug-ins to see how they impact the user journey, then you're never going to succeed at good digital performance/experience.
A question of ownership: Digital transformation today needs the whole organisation to buy into it. IT, Marketing, Operations, Dev-Ops, everyone has to be focused on the same customer experience metrics and everyone needs to shoulder responsibility.
All my wife and I needed was a good overview of the tourism experience on offer and a speedy, responsive site to book our tickets. Instead we grew frustrated and bought a weekend away with a competitor tourist attraction, along with a whole lot of other people too, I'm sure.