Perform Summit Barcelona far exceeded the expectations of attendees, with more speakers, more breakout tracks, and more activities. But if you missed some of the action, catch up on everything right here. From our CEO's keynote, product announcement and a special keynote speaker.
Can you believe it's been two weeks since our annual Perform Summit Barcelona? If you were unable to attend the event, don't worry, you can catch up on all the action below.
The week in Barcelona far exceeded our attendees' expectations, with more speakers, more breakout tracks, and more activities! With each session at near capacity, it's no surprise people are already asking when our next event will be.
Journey to the future
CEO John Van Siclen kicked off day one telling attendees our reinvention story and what to expect in the industry over the years to come. Reminiscing back to five years ago in Linz, when a dinner changed the course of our company and our developers decided to reinvent our platform from the ground up, John continued to tell our digital roadmap for 2020 and beyond.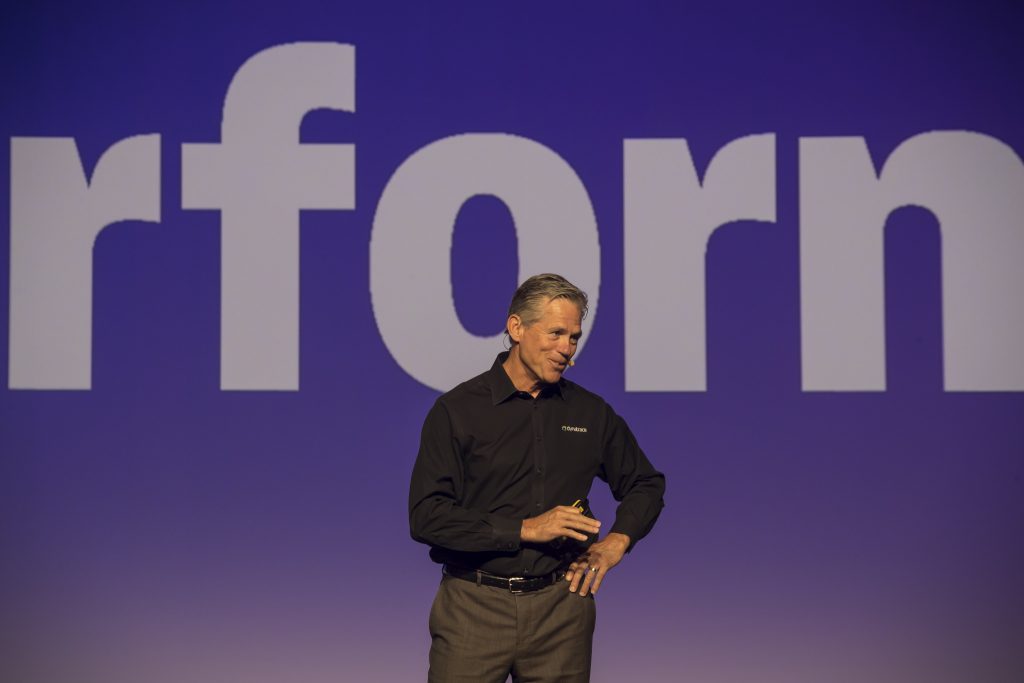 Explaining that whilst the key to success here at Dynatrace does come from our product and capabilities, John Van Siclen demonstrated it's much more than that. He emphasized that our driving force here at Dynatrace, and at the core of all our operations and product developments, is our collaboration with customers and partners alike.
"Paving the way to our autonomous cloud future is no job to be done alone. Working with all of our customers is what makes Dynatrace successful," Van Siclen said. "We hear what works for them, what they want and what they need, and we adapt and innovate our products in line to suit that."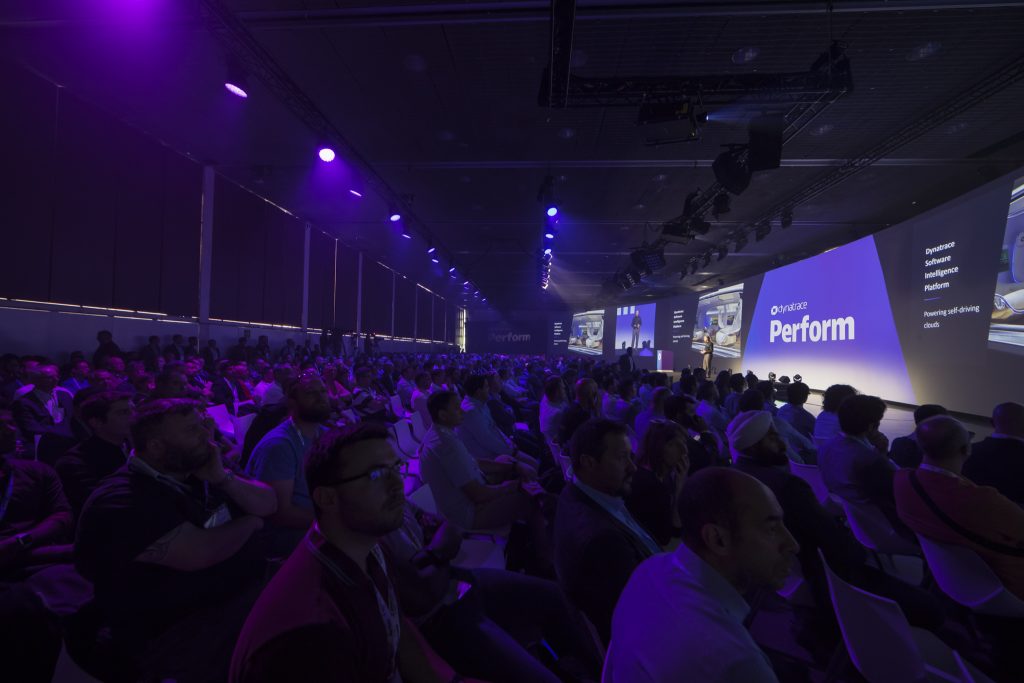 And so, concluding his keynote, John teased what attendees would hear throughout the rest of the conference and what Dynatrace could offer to them but gave them a note to take away with them.
"I want you to remember three words for Dynatrace going forward," John Van Siclen told attendees. "The first is open – how we've opened our platform, including to our AI engine. The second is platform. Think of Dynatrace as a platform – make your entire ecosystem smarter and more efficient. And third, autonomous. And really driving to the autonomous cloud for the first time."
Expanding our product offering
With 24 product releases and 160 news posts released in the last year, our Dynatrace Untouchables returned to our Mainstage to showcase – and live demo – our latest product innovations.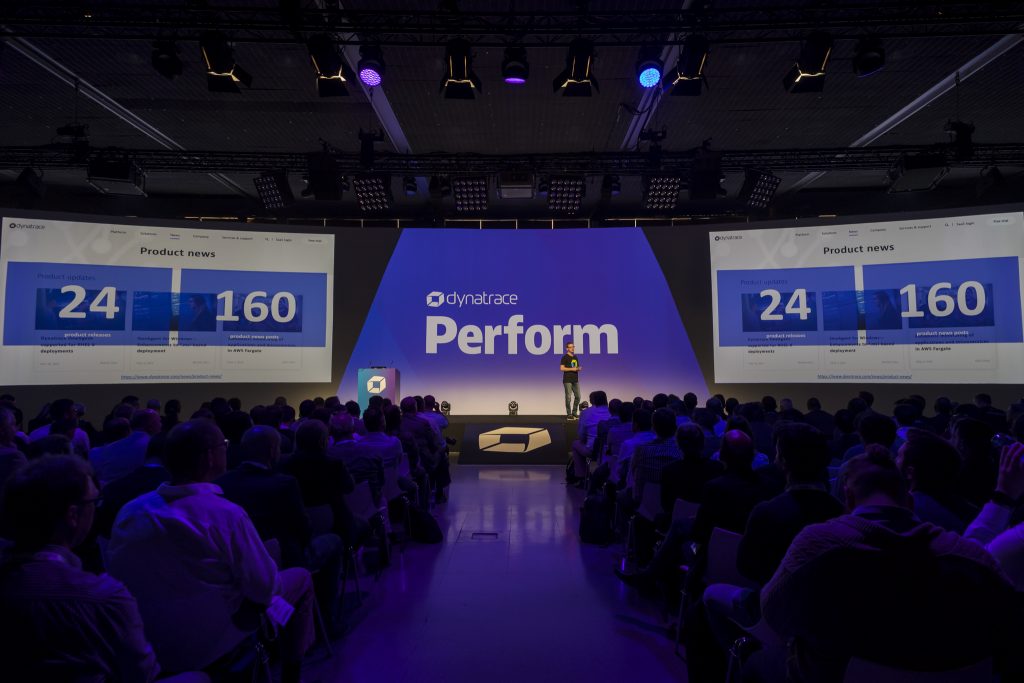 Demonstrating how excellent digital experiences are what set you aside from the crowd our Untouchables team touched four areas in particular; Cloud, Digital Experiences, Business Decisions, and Automation at Web-Scale and showcased how Dynatrace can enhance these areas of business and better how you operate.
"To improve digital applications is our mission," Simon Scheurer said. "Friction is what keeps users from achieving their goals, but Dynatrace is excellent at removing that friction with our synthetic offerings for DEM."
SVP of Product Management Steve Tack took the reigns as he demonstrated our product roadmap even further and the latest offerings to our customers.
Announcing our latest product innovation – the expansion of our support for Kubernetes – Tack delved deeper into the offering and demonstrated how customers will benefit in the future. Expanding our offering to support Kubernetes environments has been done through our AI engine Davis®; providing smarter answers and more actionable insights to customers about their Kubernetes environments.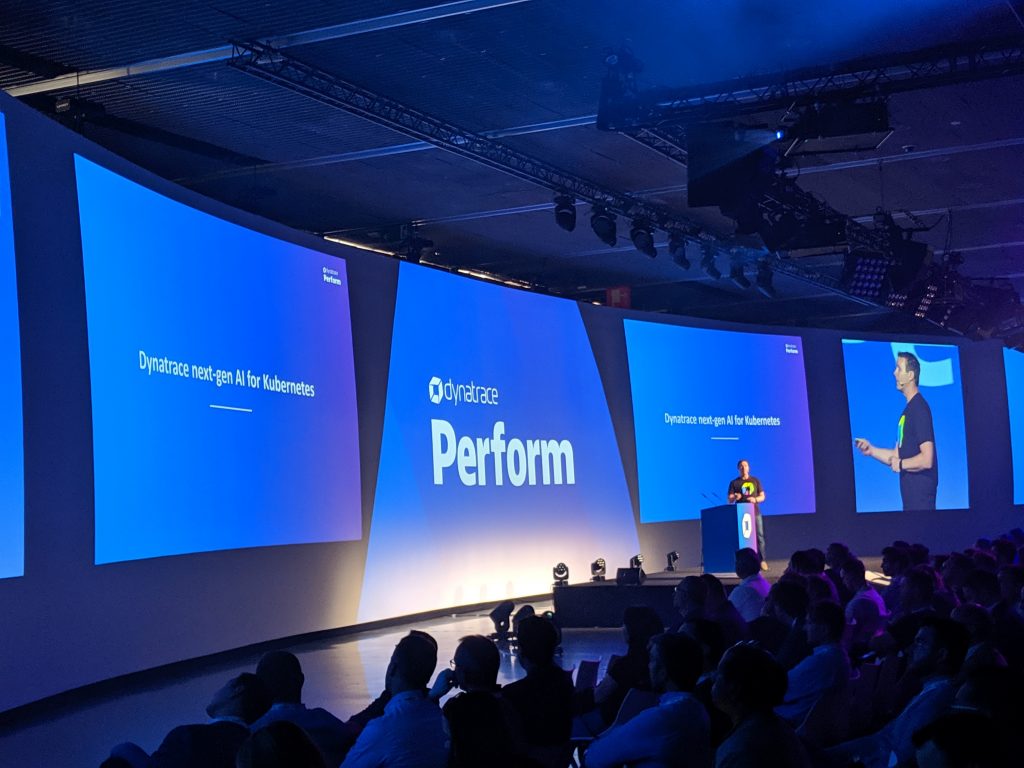 By doing so customers can create even more successful Kubernetes deployments, accelerate innovation through DevOps and increase competitiveness by bringing new services to market faster.
You can read all about our latest announcement, and how you can benefit, here.
Future food for thought
Futurist keynote speaker, Anders Sörman-Nilsson, rounded off what was an incredible first day at Perform Summit Barcelona. He echoed John's ethos of the future, and the roadmap we face today.
"We're prepared for a world that no longer exists," keynote speaker Anders Sorman-Nilsson said. "Change is going to happen without our permission, and we have to face the music at some point."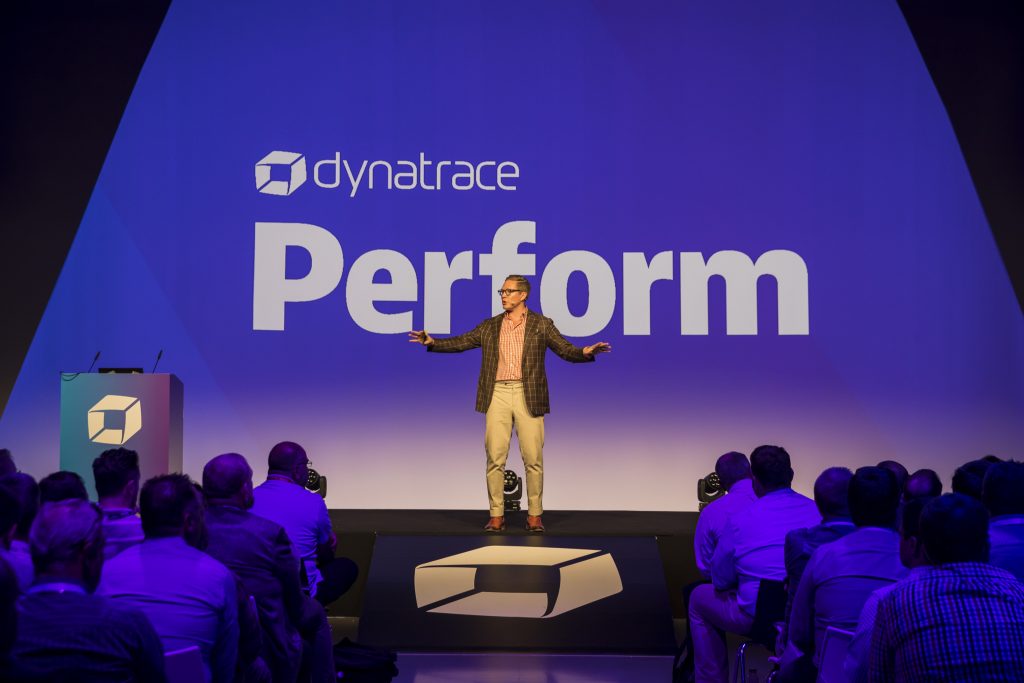 Whilst Anders analyzed the world we live in today, and how he expects this to change in the years to come he brought food for thought to the minds of attendees as he echoed what John Van Siclen – and other speakers at the event – had said. This was a key element to success is collaboration.
Compared to John, and our other Mainstage speakers however, Anders explored the idea of collaboration different from that of a partnership with people, or businesses and instead, one with technology.
"To succeed in today's digital world, you must combine the best abilities of the human brain and augment and amplify this with AI as well, having tradition and technology combining together to become one," Anders explained. "We're now entering a new and exciting era. An era where we're migrating from old school analog, physical of what we can touch and feel and into a digital future."
This idea of collaborating with technology is because the results it provides far exceed the expectations or outcomes we'd ever be able to provide as humans. Anders explained that AI is going to deliver the experiences that we – as customers and users – will come to expect, and so to effectively prepare and succeed in the digital renaissance we live in we must collaborate with that technology to compete effectively.
2020 and beyond
And as Anders concluded the first day of Perform Summit Barcelona, he left attendees in awe and inspired by the prospect of a digital future and how working with technology will pave the way to success, not failure.