Across both his day one and day two mainstage presentations, Steve Tack, SVP of Product Management, described some of the investments we're making to continue to differentiate the Dynatrace Software Intelligence Platform.
Echoing John Van Siclen's sentiments from his Perform 2020 keynote, Steve cited Dynatrace customers as the inspiration and driving force for these innovations. "A lot of what's happened over the last year has been through close collaboration with all of you in this room, how you push us at Dynatrace, and how we work together to drive new capabilities into the platform," Steve said.
Helping customers navigate the increasing complexity of the enterprise IT environment to achieve success in their industries and careers, while empowering them to deliver amazing digital experiences, is why we reinvented the Dynatrace platform five years ago, and what continues to inspire us.
Highlighting the company's announcements from Perform 2020, Steve and a team of other Dynatrace product leaders introduced the audience to several of our latest innovations.
Expanded Kubernetes Support
The number of organizations using or planning to deploy containers and microservices is increasing – with 87% of enterprises already adopting microservices, 68% using containers, and 86% expecting to deploy containers within the next year. Kubernetes has become the preferred orchestration layer for these environments. As organizations continue to digitally transform and scale up their Kubernetes applications and microservices in production, these environments become increasingly complex; apps and microservices can turn on or off in seconds. So, full-stack observability and AI-powered answers are required to drive the precise answers organizations need.
"We've seen a doubling of Kubernetes usage in the past six months," Steve said. "We're able to help drive speed, take multiple data sources, bring them into a common model and drive those answers at scale."
As a result, we announced the extended support for Kubernetes for Dynatrace customers. With this announcement:
Davis now automatically ingests additional Kubernetes events and metrics, including state changes, workload changes and critical events across clusters, containers and runtimes. This drives precise answers in real-time about performance issues and anomalies across the full stack.
Organizations can now understand and optimize Kubernetes resource utilization, enabling users to identify and solve performance issues and improve business outcomes proactively.
Dynatrace now automatically discovers, instruments and maps various container technologies within Kubernetes, making the largest and most diverse containerized environments easier to deploy and manage.
Florian Ortner, Dynatrace Chief Product Officer, joined Steve on stage to demonstrate how our enhanced support for Kubernetes.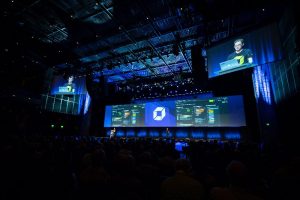 Next-gen Infrastructure Monitoring
Next up, Steve introduced enhancements to our infrastructure monitoring module. To provide customers with greater efficiency, simplicity and speed as they undergo digital transformation, our latest infrastructure monitoring module leverages the answers-first approach delivered by the AI and advanced automation capabilities at the core of our all-in-one Software Intelligence Platform.
During his demo, Andreas Lehofer, Dynatrace Chief Product Officer, explained that with this announcement, Dynatrace has now broadened our coverage of AWS and Amazon services, and how logs-to-metrics conversion extends the benefits of our AI-powered monitoring and the value we deliver to customers. More specifically, the latest enhancements to the Dynatrace Infrastructure Monitoring module include:
Expanded out-of-the-box observability for cloud-native environments achieved by automatically ingesting new and additional data from cloud sources such as AWS and Azure.
Ability to create custom metrics and events from log data, extending Dynatrace observability to any application, script or process.
Davis now automatically provides thresholds and baselining algorithms for all infrastructure performance and reliability metrics to easily scale infrastructure monitoring without manual configuration.
AI-powered Answers for Native Mobile App Monitoring
During his keynote, John Van Siclen described how more than 500 million apps and services will be developed and deployed by 2023 – the equivalent to the total number of apps and services developed in the last forty years.
Steve Tack picked up on this theme during his presentation on day two, describing how we're helping our customers take advantage of this unparalleled wave of mobile innovation, and how we're helping them deliver seamless digital experiences for their own customers while helping IT, business and operations teams work together to deliver better business outcomes.
As the number of apps and services deployed increases, teams face increased pressure to speed up native mobile app innovation and resolve app issues quicker. To help overcome this, we announced enhanced observability for native mobile apps:
Dynatrace now delivers precise answers about the health, performance and usage of native mobile apps.
We've extended our fully automated instrumentation and dependency mapping capabilities to React Native and tvOS, eliminating manual effort and helping customers achieve observability and AI-powered answers.
Davis can now process data from third-party mobile app components to deliver more precise answers in real time, accelerating problem resolution and ensuring optimal experiences for every mobile app user.
Analysis and Anomaly Detection of Business KPIs
Also on day two, Steve announced how we've enriched our Digital Business Analytics module by adding business KPI anomaly detection and analysis capabilities through our AI engine, Davis. Aiming to further enable business, dev and IT teams to collaborate to deliver better business outcomes, the enhanced capabilities help teams:
Identify when business metrics are out-of-line with expectations, using Davis' extended capabilities to process business KPIs.
Proactively identify and resolve problems before customers are impacted because Dynatrace now delivers automatic, real-time alerts on business-impacting anomalies.
Bring Davis precisions to any web analytics tool with our new, out-of-the-box integration with web analytics tools including Adobe and Google Analytics.
You can find out more information about all our release on our news page.