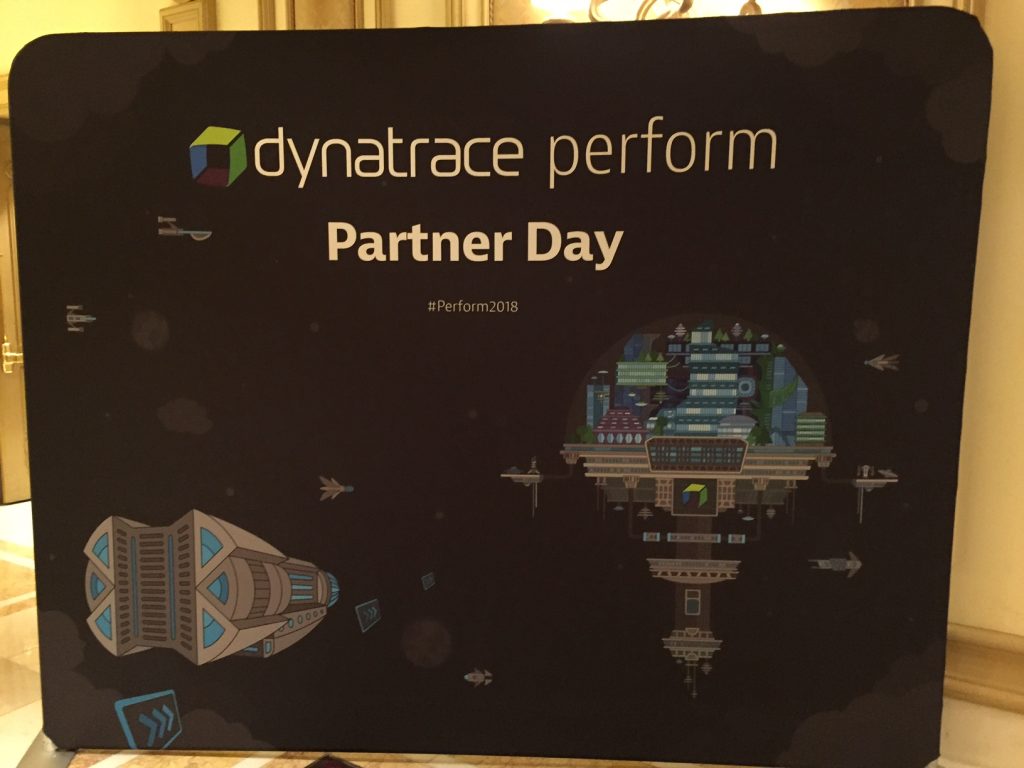 It's good to be back in Las Vegas for another year of Dynatrace Perform.
Day one of Perform is where our most passionate performance experts get hands on training with the 'Hot Day', and it's also where we put the spotlight on our incredible partners. Here's a recap on the partner day.
Dynatrace's Vision for Partners – Today and Tomorrow
Steve Pace, SVP of Global Sales for Dynatrace, started off the day with some stats worth celebrating:
With over 30 countries in attendance, Perform 2018 registration more than doubled since last year's show.
Over 1,200 people are set to live stream this week's keynotes.
2017 was a record-breaking year for Dynatrace, thanks to a 105 percent quarter-over-quarter growth for our all-in-one platform, and an even more eye-popping 750 percent year-over-year growth.
And, as we double down on our partner organization, investing more money and people than ever before, one thing is clear: there's never been a better time to be a Dynatrace partner.
Patrick Barnert, VP of Global Partners, took the stage next and broke down how our partner business grew exponentially in just the last quarter and shattered the $10 million barrier. Bernd Greifender, CTO, then sketched out how over the past six years, Dynatrace has evolved into a truly single-product company, bringing APM, DEM, Services, ITIM and AIOps – and their 20 different services and features –under one umbrella.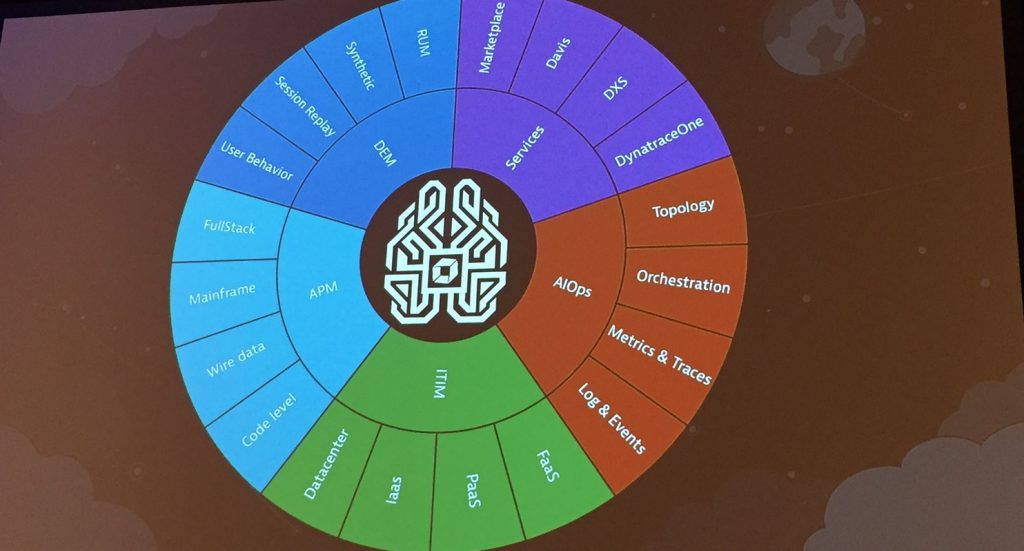 As Bernd explained, the three major themes behind Dynatrace's openness philosophy are coverage, automation and applications – three themes that would reemerge throughout the day.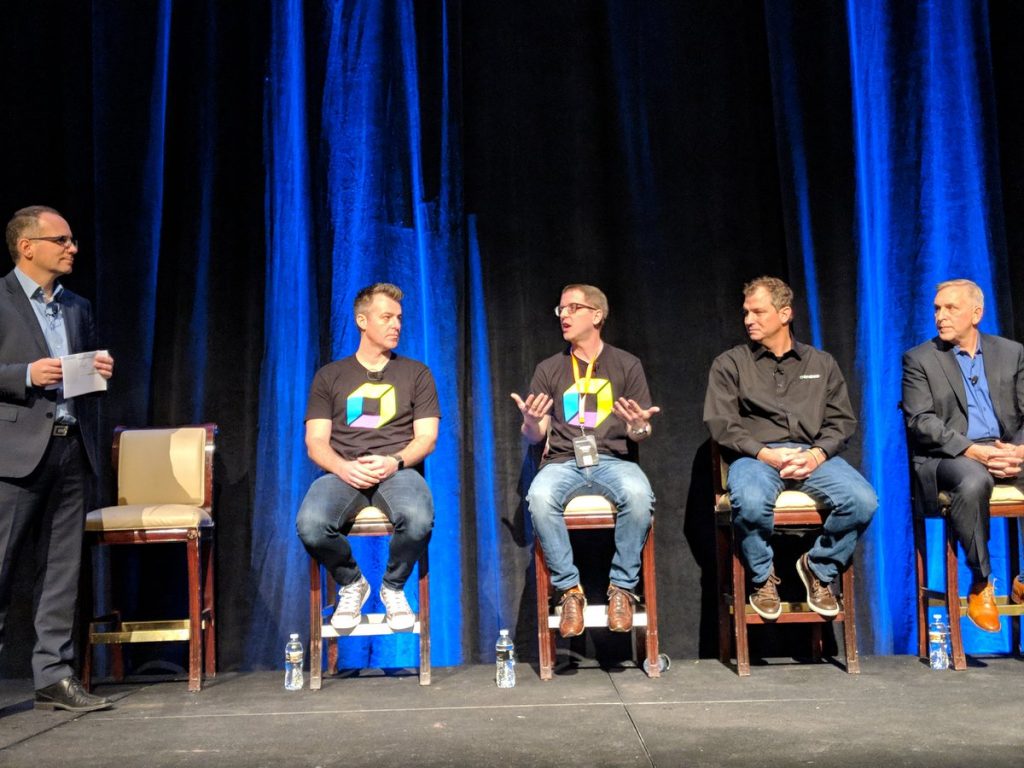 Hearing from Our Partners
We had a stellar lineup of partners on hand to share their stories, and we started with David Wright, GM of Strategic Tech Partnerships for AWS.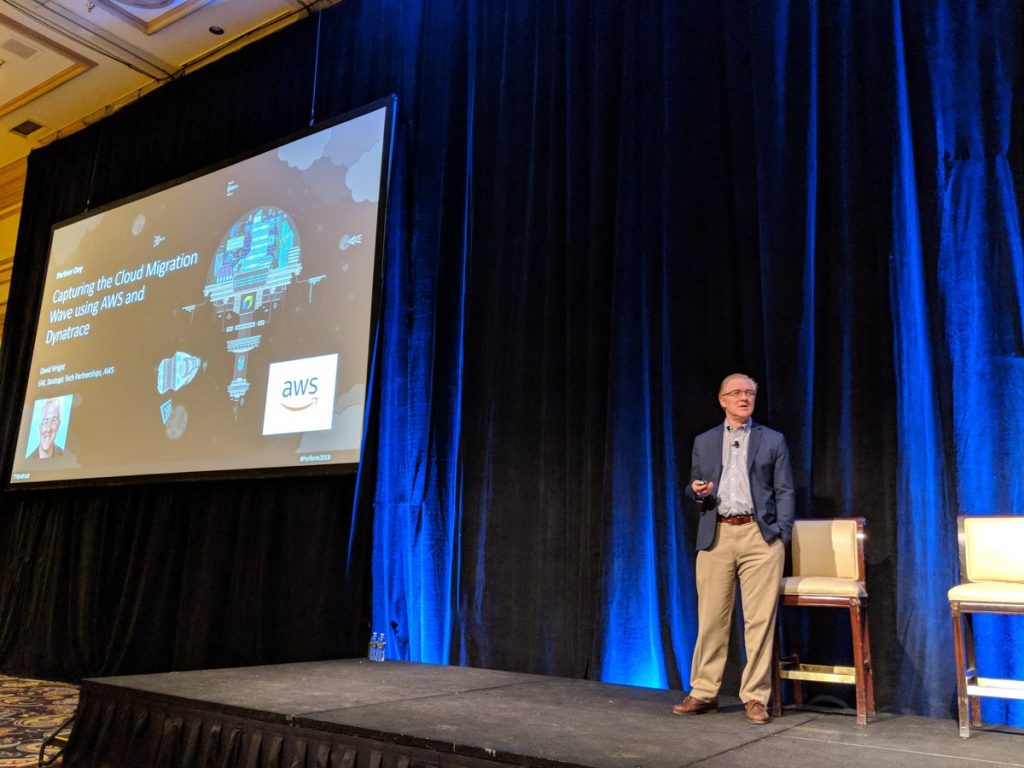 David outlined how agility, elasticity and cost savings, among other reasons, were spurring more cloud migrations – a trend that, in turn, opens new opportunities for application management. As cloud application management is poised to remain a high-growth area for the foreseeable future, AWS continues to look forward to working with Dynatrace – and our expanding portfolio of application and IT management capabilities – in offering a rich APM solution that serves their millions of monthly active customers worldwide.
AddTeq, one of the top three partners in the U.S. for Atlassian, is the newest member of the Dynatrace partner community. Having only just joined two weeks ago, we were so glad to see their CEO, Sukhbir Dhillon share his company's story with the crowd. Sukhbir talked about the DevOps infinity loop, and how a gap had emerged between the Dev and Ops teams that kept them disconnected from their app monitoring platforms. By partnering with Dynatrace, he said, they had a way of now bridging that gap.
ServiceTrace is a leading technology provider for software robotics, with 14 years of experience with robots and deploying an estimated 1.5 billion robot runs per year. Their business focuses on three core areas: an APM/GUI-driven service monitoring for rich-client applications; GUI-driven test automation; and, robotic processed automation. Based on that, you might not be surprised to hear that they used to be a competitor of Dynatrace's! But, as Thomas Rode, Key Account Manager for ServiceTrace's German-speaking market, offered up, that's all in the past, with ServiceTrace now seamlessly integrated into the Dynatrace community.
Chris Morgan, Global Technical Director of Red Hat's OpenShift Ecosystem, talked about the staggering market opportunity for containers – a business that was worth $759 million in 2016 and is on track to be worth over $3.4 billion by 2021. As Chris noted, the market has seen a huge convergence on Kubernetes in just the past year, with OpenShift serving as Red Hat's Kubernetes distribution system. With an average 40 percent savings on infrastructure costs, 20 percent improvement in IT staff productivity, 66 percent faster app delivery and a 530 percent ROI, Red Hat is leading the way on making container development easy, reliable and secure for their customers and the Dynatrace community.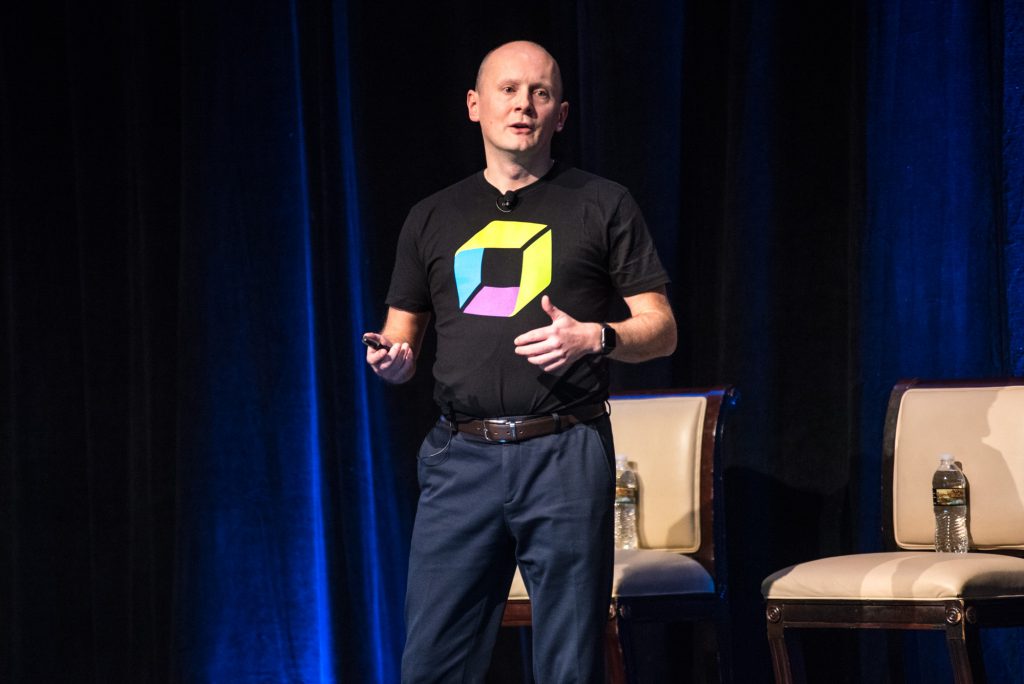 Pieter Van Heck is a Global Strategic Partner Manager for SAP Cloud Platform, and he spent a few minutes talking about how they've worked with Dynatrace to empower their customers to innovate faster through cloud-native architectures, migrating certain applications or elements to the SAP Cloud Platform, and building new apps that use disruptive technologies like machine learning and the IoT.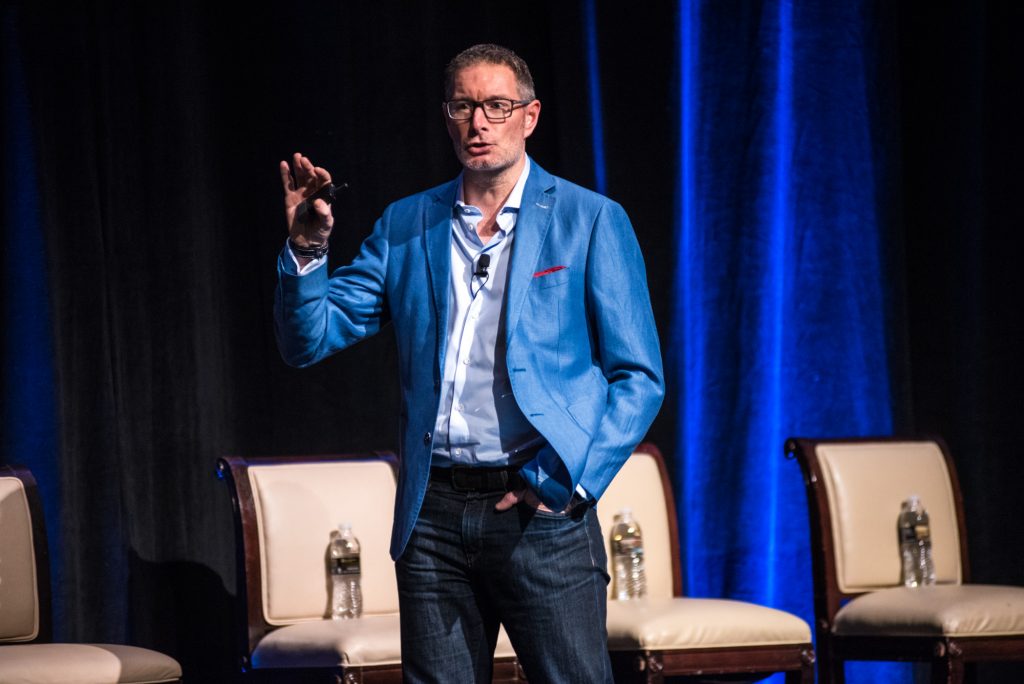 Marc Geall, SVP for Global Partner Operations and Head of Strategy at SAP, followed Pieter with SAP's "3+1" multi-cloud philosophy, which leverages AWS, Azure and Google Cloud Platform into a single SAP contract, with services and APIs that run the gamut of analytics, security, blockchain, mobile, IoT, UX, data intelligence and plenty more.
The North American Partner Awards
To wrap things up, we wanted to honor our partners with an award ceremony recognizing their achievements over the past year.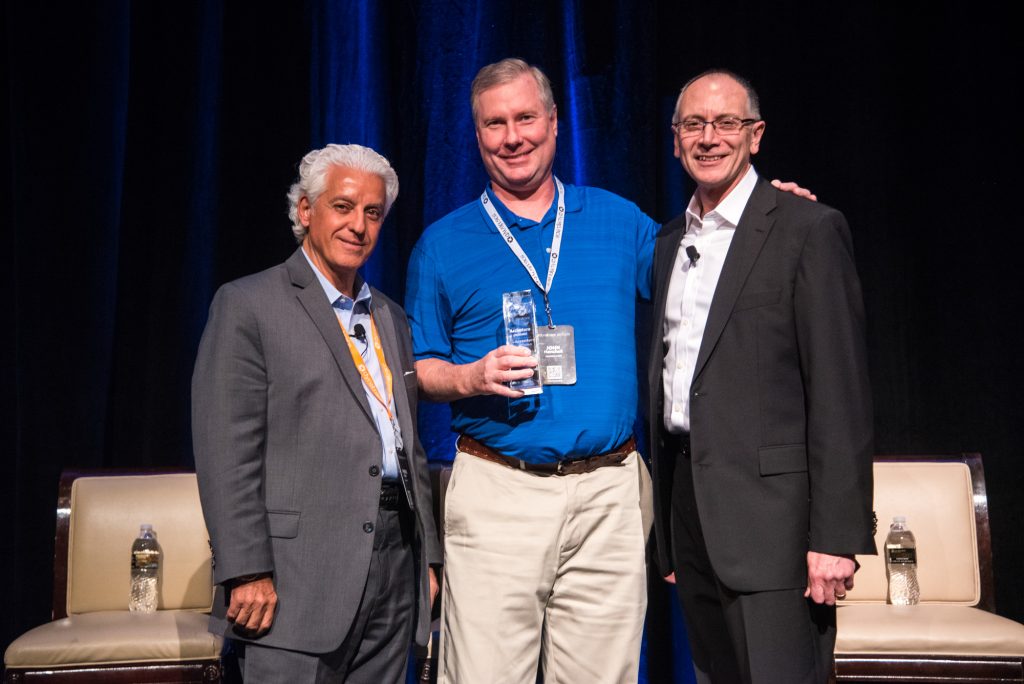 Thanks again to all of our incredible partners who made 2017 a fantastic year for Dynatrace. We can't wait to see what you accomplish in 2018.
That's a wrap for Partner Day and Day 1 of Perform 2018. Check back here tomorrow as we move to the Mainstage for Days 2 and 3!