Every year at our digital performance conference, Perform, we recognize customers and individuals that have surpassed our expectations. This year, we're on the hunt for customers that have made the greatest strides in digital transformation and performance management.
Do you think you or your organization has what it takes to be recognized onstage at Perform? We're currently accepting nominations!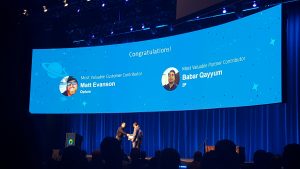 At the individual level, we will recognize our Dynatrace Community Rock Stars who go above and beyond their daily work to help out other Community members. This award takes into consideration annual contributions such as answering questions in the forums, sharing innovative product plugins & extensions, and providing product enhancement requests and feedback. Want to be considered for this award? Stay active and share your digital performance brilliance with the rest of the Dynatrace Community!!
At the company level, awards will be considered for two categories: the "Digital Performance" Awards and the "Digital Transformation Leader" Award. Additional information on each category is described below. Nominations close on December 15.
Digital Performance Awards
There are three awards in this category, offered to those customers who have generated significant positive results using the business driver/use case approach to accelerate Digital Performance Management (DPM) adoption. Each winner delivers measurable outcomes in ONE of our three business driver categories: Optimized Customer Experience ("Customer Champion" Award), Modernized Operations ("Operational Mastermind" Award) and Accelerated Innovation ("The Futurist" Award).
We are looking for customers who have:
Extended the value of DPM across one key business driver-including identifiable use cases with measurable results
A plan for the next business driver and can identify the use cases involved
Achieved success in an innovative way, but also in a way that other customers could recognize and repeat for themselves
Digital Transformation Leader Award
Recognizes "Best in Show" DPM adoption. This customer has reached a high level of maturity in DPM and addressed an impressive array of business drivers. This customer has also implemented a significant number of use cases in support of business objectives.
This winner…
Has extended the value of DPM into at least 2 business drivers (although not necessarily completely), with plans for more – including identifiable use cases with measurable results using IT and the business metrics.
Has successfully applied DPM to support strategic business goals
Is extending DPM through multiple areas of their application lifecycle
Is developing the most internal expertise through community, training, coaching and certifications
Extra points (optional): Has plans to make or is making DPM the basis for creating a performance culture in their company (like building an APM/DPM Center of Excellence, or getting LOB leadership to embrace DPM).
Ready to nominate your company?
Click the Nominate Your Company link below and include the following details in your nomination email:
Company name:
Your name:
Your title:
Your email:
Your phone:
Award name (Customer Champion, Operational Mastermind, The Futurist, or Digital Transformation Leader):
Please remember to provide concrete details that support your nomination, as per the criteria described above. You may also attach documents with further details.

Good luck, and we'll see you in Las Vegas in January!