Cloud computing has revolutionized the way businesses operate, resulting in major digital transformation initiatives across the globe. With this transformation comes layers of complexity and challenges for managing and monitoring multiple products and applications.
In fact, IDC recently forecasted $1.2 trillion will be spent globally on technologies underpinning digital transformation initiatives. That may seem like a tremendous amount of money to invest in an initiative but companies are banking on this investment in digital transformation to drive business efficiencies and accelerate innovation which in return, will increase revenues.
A recent study from Dynatrace shows on average, a single transaction uses 82 different types of technology. To have to manually map the user experience of this transaction or gather data from multiple sources can be error prone and time consuming, hindering response times and overall MTTR. While investing in a strategic service and operations management approach can help mitigate IT complexity, it's not enough to ensure everything runs smoothly.
With the power in the hands of today's consumer, you need to ensure their experience is positive, while meeting the speed and sophistication they are accustomed to in today's digital age. A snapshot in time won't cut it to proactively resolve problems before impacting the customer, real-time data is a must!
Think of successful digital transformation as a layer cake. Here's the recipe: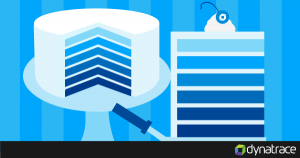 A layer of service and operations management
A layer of superior monitoring for all your systems – business, real-user, application performance, network, infrastructure and cloud
Layer of data and analytics in the context of business health and conversion
Stack it all together and you get a fully automated IT layer cake, which will improve business service and ensure customer satisfaction by eliminating service outages and resolving incidents before they impact the end user.
ServiceNow provides service and operation management solutions and is changing the way people work. Dynatrace delivers unmatched digital experiences with AI-powered, full stack, automated performance management.
Together, Dynatrace & ServiceNow empower your organization to have the most intelligent data and analytics with a single source of monitoring for your entire infrastructure, including host metrics, process level network metrics and log analytics, eliminating the need for other vendors.
Your entire infrastructure is automatically discovered with zero configuration, saving valuable time by getting to the root cause in seconds for real-time detection and incident remediation.
Think you can get this with a lightweight monitoring solution? Think again. No lightweight monitoring solution can provide end-to-end code level visibility into every single transaction across all layers and technologies.
Dynatrace is built for highly dynamic environments and has always been ahead of the curve, gaining recognition as a leader in the APM Gartner Magic Quadrant 7 years in a row!
To compete in the new digital world, organizations need to make quick decisions and trigger changes. By leveraging Dynatrace & ServiceNow together, you will reduce TCO and increase cost savings by making intelligence investments:
Reduce MTTR (Mean Time to Response)
Visibility into the health of your network and infrastructure
End-to-end full stack monitoring
Prevent IT outages
Automated remediation
Machine learning and AI capabilities
Built for complex cloud environments
To learn more about how Dynatrace & ServiceNow work together, please visit our website here here or download our free app for full stack monitoring with ServiceNow.