For recent news about Dynatrace support for IBM mainframe, please see the blog post Native support for IBM mainframe in Dynatrace provides end-to-end visibility and AI-powered answers.
While we've had the ability to monitor IBM System z for more than 6 years with Dynatrace AppMon, we're proud to announce the Early Access Program for IBM CICS and IMS monitoring on the Dynatrace platform!
Beyond just providing code visibility (including DB2 and DL/I), our Dynatrace z/OS agents leverage the Dynatrace AI and automated root-cause analysis with zero configuration required.
This EAP is available starting with Dynatrace SaaS and Managed version 1.158 (GA is planned for 1.164).
See it all, in context
Welcome z/OS to Smartscape! As with all other technologies monitored by Dynatrace, Smartscape auto-discovery delivers a quick and efficient overview of all the topological dependencies in your environment.
On the Hosts level, Dynatrace shows the physical mainframe or logical partitions (LPARs).
Processes represent the CICS and the IMS regions themselves.
Services show each interaction with a region and how those service calls are connected.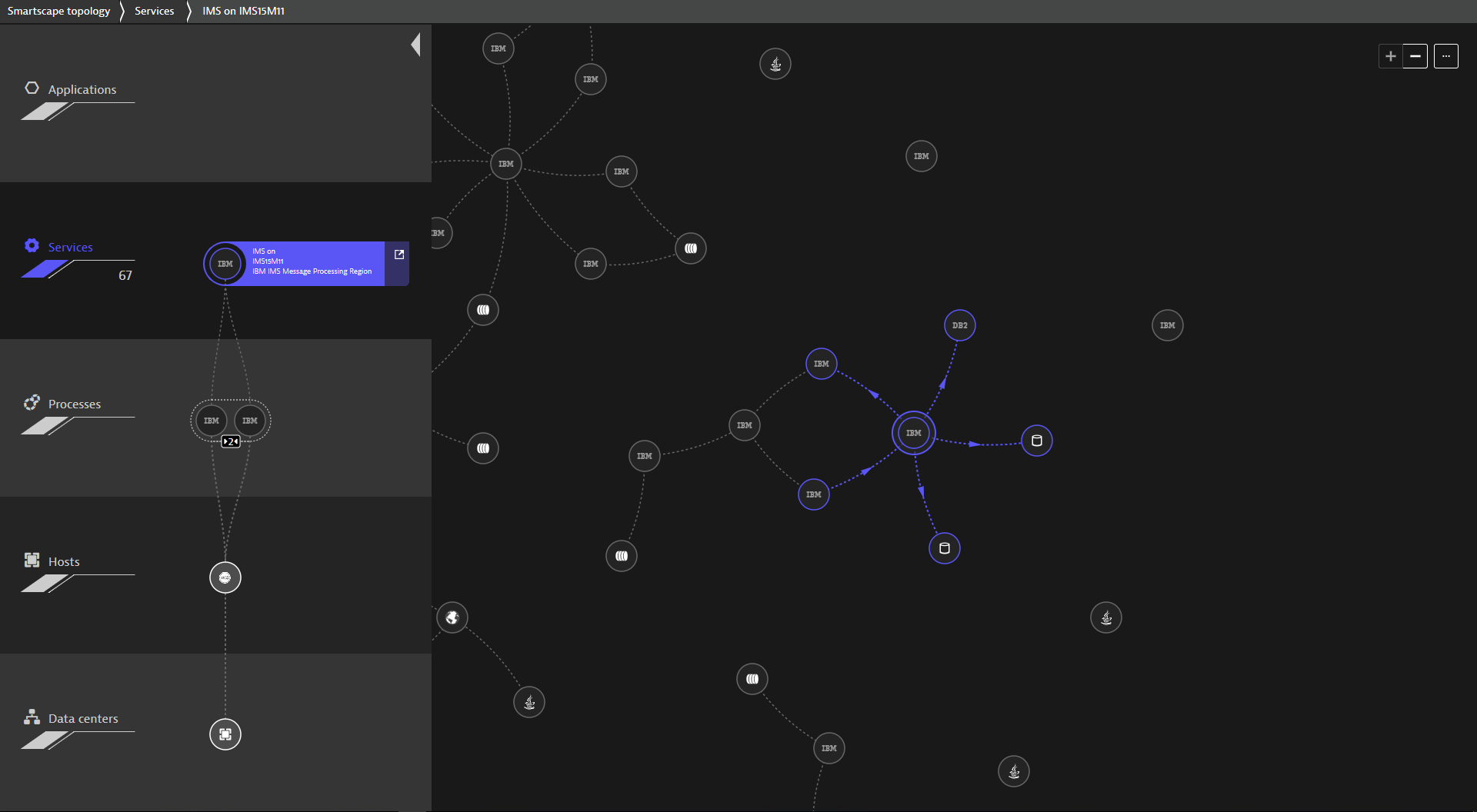 Who's calling?
While mainframe performance tuning has been a well-known discipline for decades, to do efficient application performance management, it's essential that you have the ability to follow transactions end-to-end to understand which services, applications, and user actions trigger which mainframe program calls.
For example, if you're interested in knowing which service called region ET01 during the past 2 hours, you can now search the Transactions & services page and click Analyze backtrace to find the answer.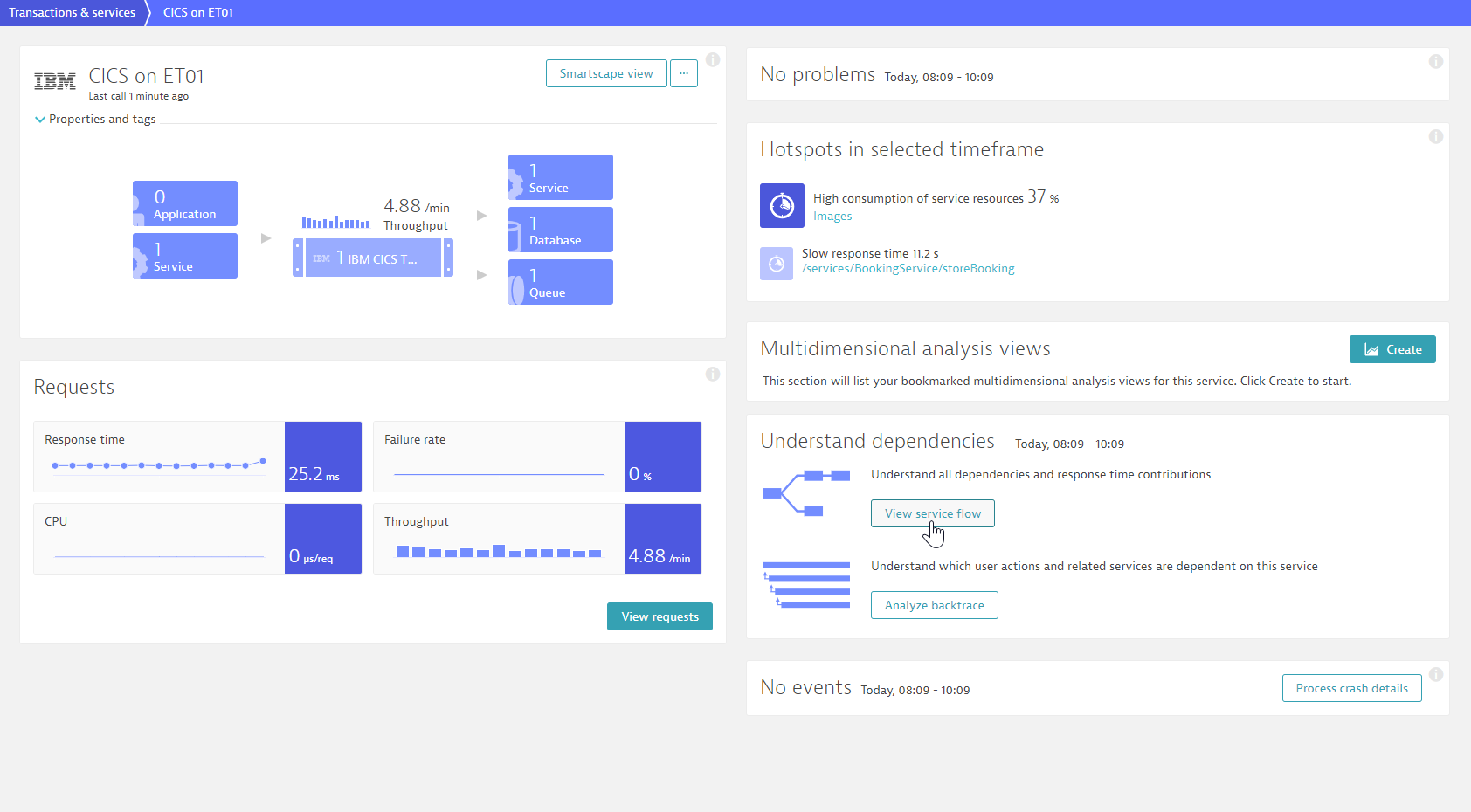 As you can see below, Dynatrace shows all calls to this region, up to the application and user actions. This is available 24×7 for all transactions in your production environments.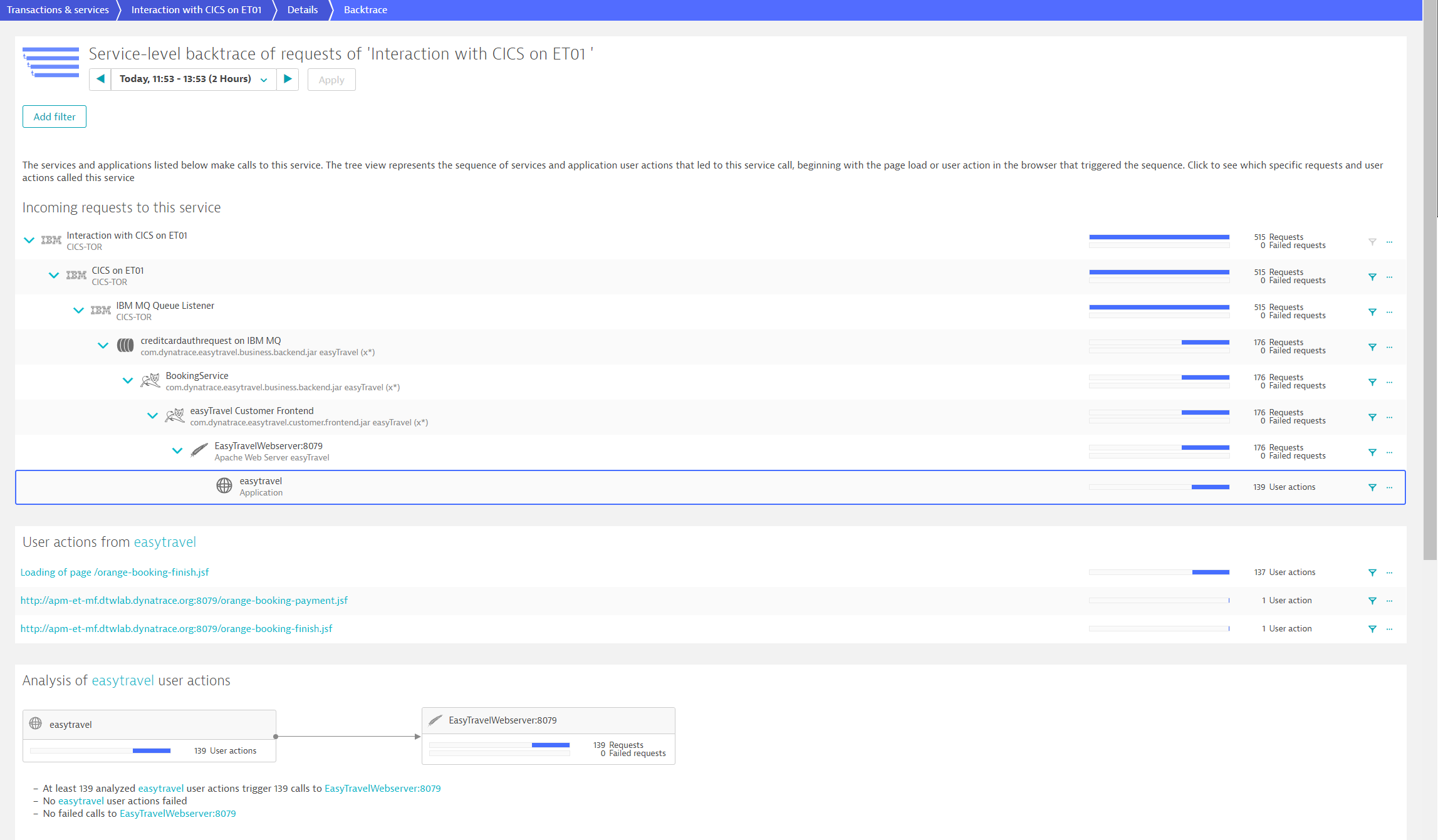 In-depth analysis at the source-code level
Dynatrace not only captures Service flow data, thanks to PurePath technology, you also get code-level visibility into each CICS and IMS service, including database statements to DB2 or DL/I (see second image below)!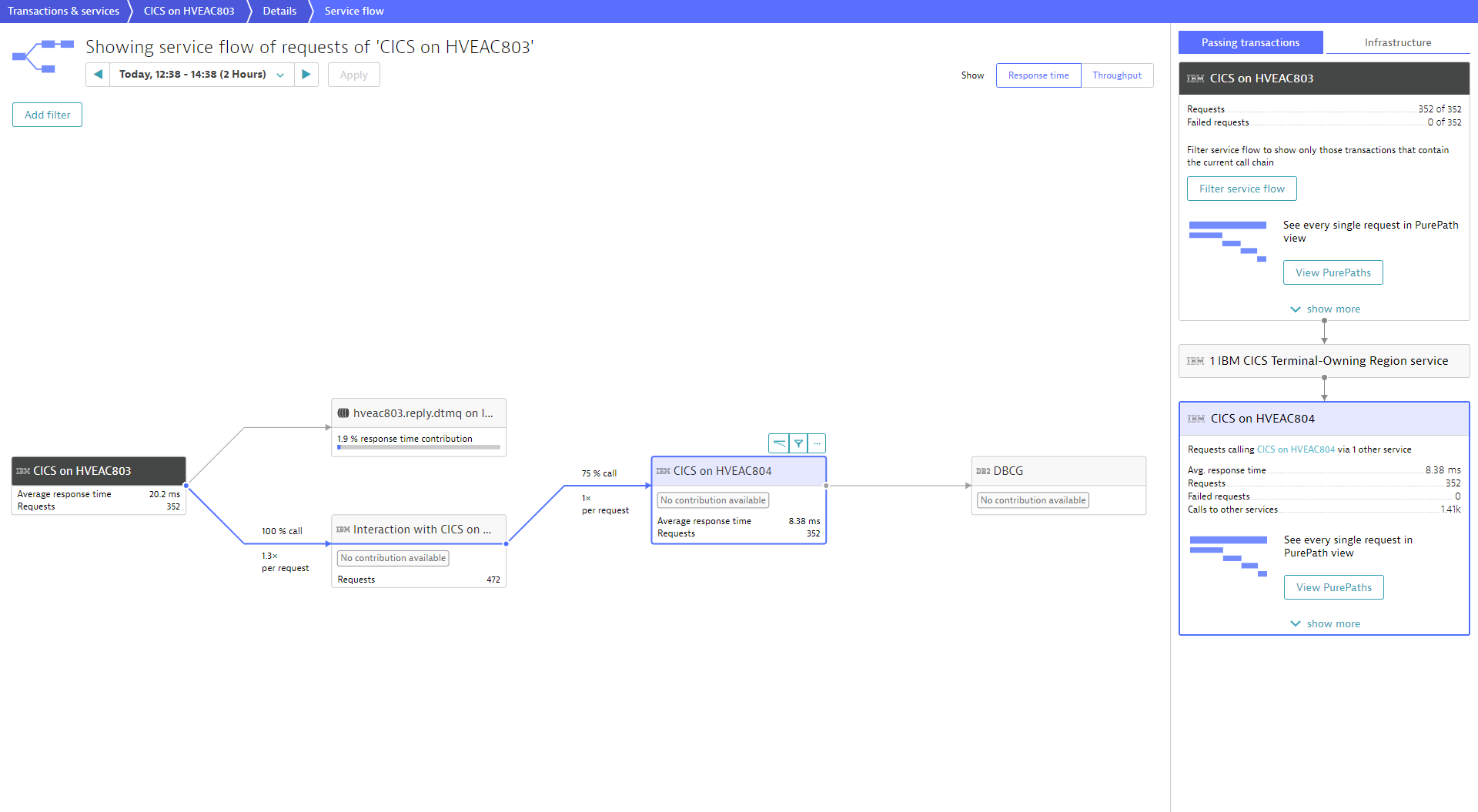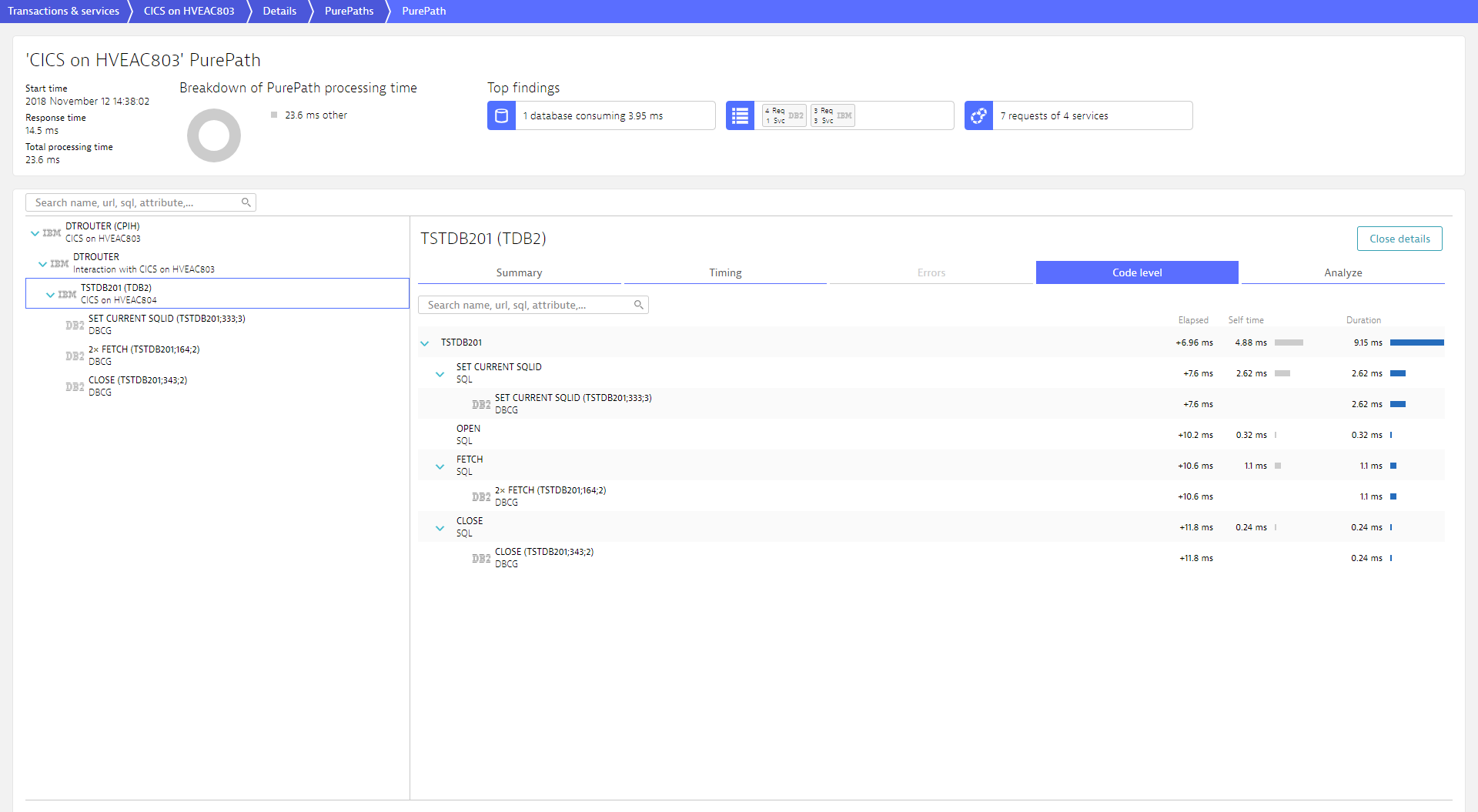 Supported technology and version information
CICS and IMS support is available in the Early Access Program with Dynatrace SaaS and Managed version 1.158.
z/OS versions 2.2 / 2.3 are supported.
DB2 11 and 12
For CICS, the following technologies are supported:

IBM MQ 8.0 / 9.0
CICS Transaction Server 5.1 / 5.2 / 5.3 / 5.4 / 5.5 open beta
CICS Transaction Gateway  9.0 / 9.1 / 9.2
CICS SOAP over HTTP
CICS DLI
CICS MQ Bridge

For IMS, the following technologies are supported:

IBM MQ 8.0 / 9.0
IMS 13 / 14 / 15
IMS MQ Bridge
IMS MQ Trigger Monitor
IMS MSC
IMS Shared Queues
IMS Soap Gateway 3.2
IMS Enterprise Suite 3.2
IMS Connect API 3.2 (version 1.163)
IMS TM Resource Adapter 13 / 14 / 15 (version 1.163)
How can I get this feature?
The Early Access Program is already closed, but GA is expected for 1.164.
Deployment and architecture
While OneAgent auto-detection and auto-instrumentation is an ideal solution for distributed environments, it isn't appropriate for highly-regulated mainframes. Therefore, we came up with an easy to install and lightweight architecture that minimizes the footprint while maximizing control and performance.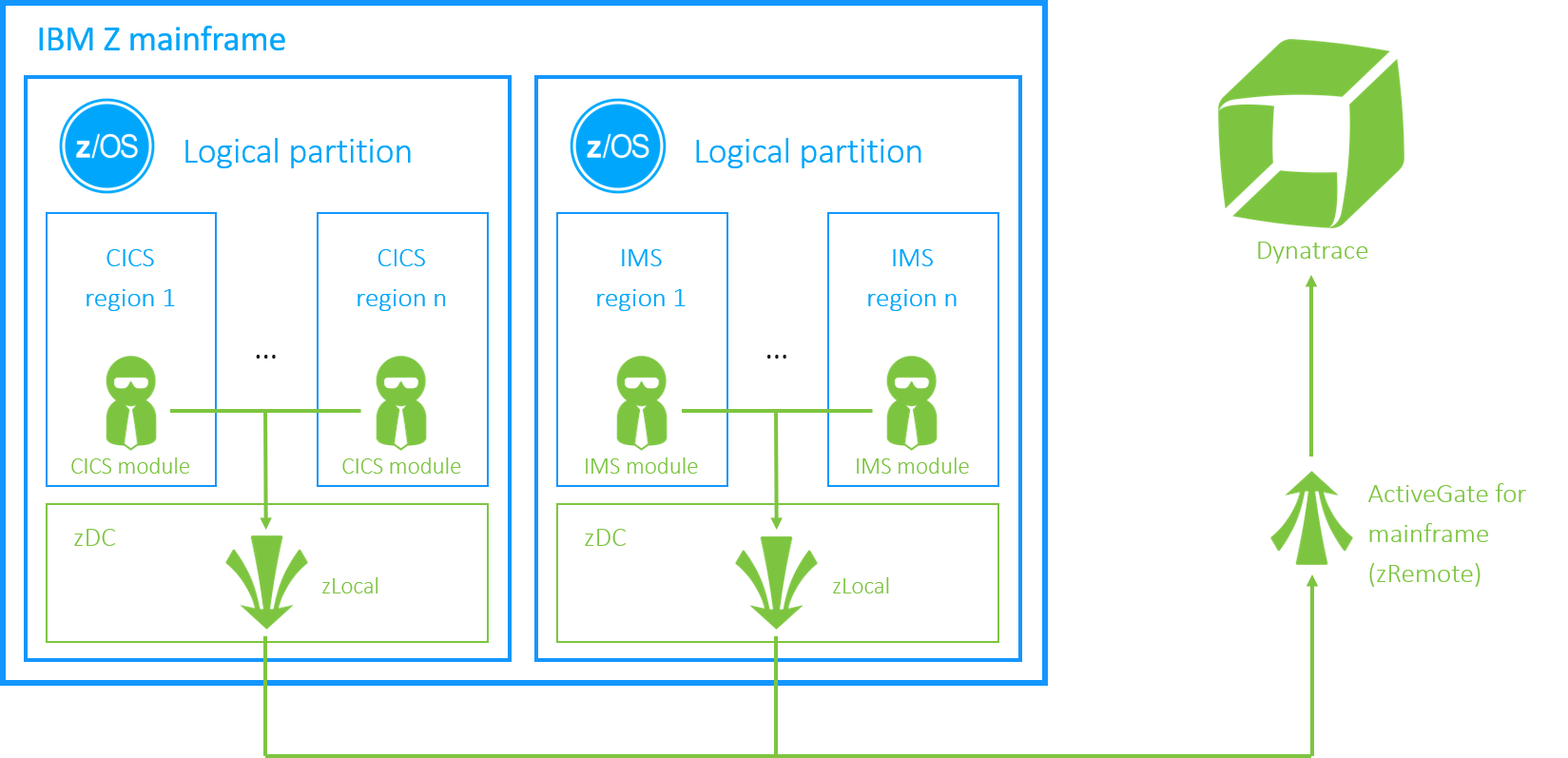 Limitations
IBM Integration Bus support is available for Windows, Linux, and AIX.
IBM Integration Bus for zLinux is planned for late CY 2019 Q2.
IBM mainframe agents don't provide host metrics.
What's next?
IBM Integration Bus for zLinux is planned for Mar 2019 (EAP).
CPU times for CICS and IMS is planned for version 1.165.