At a time when workplace satisfaction and company culture play a key role in employee satisfaction, and work ethic has reached new heights of importance, we are pleased to say that Dynatrace has won an award for being one of the Best Places to Work in the United States.
Comparably released their annual Best Company Culture Report for 2018 outlining the Top 50 Best Places to Work in the US – divided into large, medium and small businesses – and Dynatrace has not only been named in the Top 50, but the Top 20 for the large business category, as voted for by employees.
Recognized amongst the big names of the business, including Google, Delta and LinkedIn for our Company Culture, Dynatrace ranked just one place behind Facebook, proudly sitting in 17th position – outshining tech giant Microsoft, despite Satya Nadella being voted 'Best CEO' for the year.
As a company that is continually pushing boundaries and innovating above and beyond what our customers want, receiving this award – and recognition – is a testament to the hard work we do here at Dynatrace and to our culture as an organization.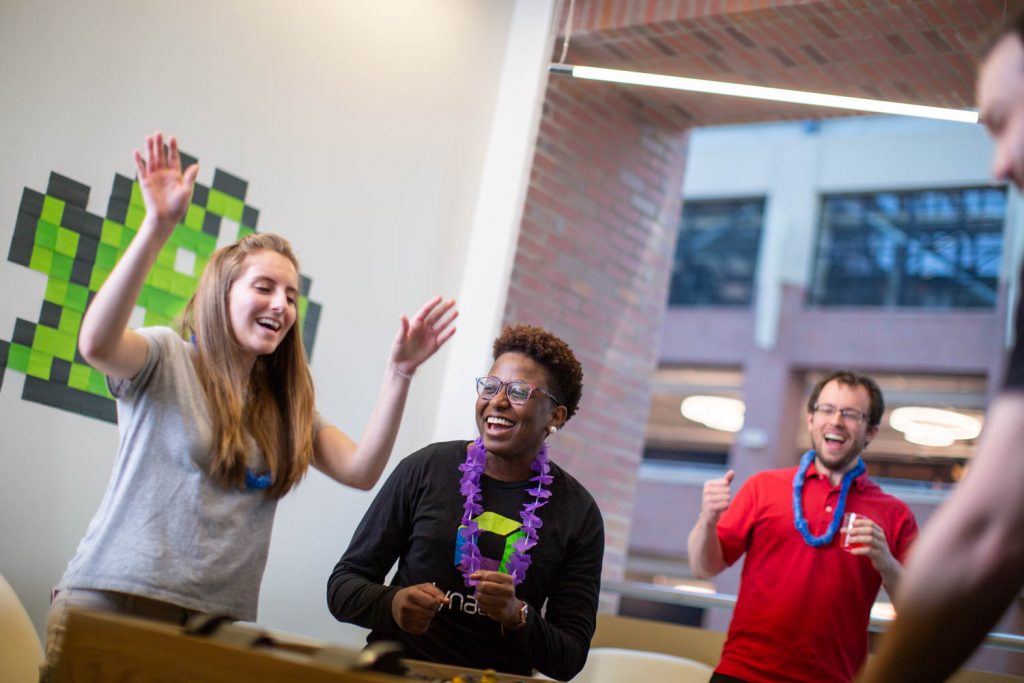 Transforming our company through our recent reinvention – across brand, product and internally – has echoed within our culture, and this award is a chance to celebrate our company success and employees alike, in what is an increasingly busy space.
"I'm proud to lead a team of people so passionate and skilled," said John Van Siclen said. "As a company, we thrive on problem solving and doing things smarter, in order to better serve our customers, and this award is testament to the culture here at Dynatrace, where every team member plays a crucial part in driving innovation – both internally, and for our customers. Our culture has been an important factor in our success and the continued reinvention of the company and it takes a team to succeed like we have, and I thank everyone at Dynatrace for their commitment and hard work."
Of course, we couldn't have received this award without our dedicated employees taking time to show how Dynatrace shines; from leadership to the ground staff at Dynatrace, our employees ooze admiration for our company.
"I always feel part of the team – there's no difference between leadership, or 'just' an employee at Dynatrace."

"Everyone is focused on making Dynatrace and each other successful. Even though my team is global and spread out around the world, we continue to effectively collaborate to drive success."
Thank you to all our employees who participated, providing almost 20,000 collective ratings overall to give Dynatrace this status alongside some of the biggest companies in the world.
But that's not all.
Further to our achievement as a company, Dynatrace received an additional award and one that we're proud of and which extends to our CEO John Van Siclen, who has been named in the Best CEOs of 2018.
Van Siclen was named in the Top 20 Best CEO's for 2018 – placing 17th ahead of Elon Musk (Tesla) and Punit Renjen (Deloitte). Honorees in this list consist of those CEOs that had the highest scores, as rated by their employees, for inspiring and engaging leadership.
Over the last few years our CEO has led Dynatrace through a huge reinvention, not only from an external company perspective from our product, to our brand, our services and the way we do business, but internally as well.
"Dynatrace was ranked among the best overall companies in 2018, as rated by their employees on Comparably, being named on our awards list for Best Place to Work and Best CEO for John Van Siclen," said Jason Nazar, Comparably CEO.  "Dynatrace has built an amazing reputation as one of the best employers with exceptional leadership across the board.  This is a company attracting and retaining great talent not only for their business results but also because of the amazing company culture their leadership has fostered."
With this leadership and personability, both awards signify the hard work every employee – from CEO to developer – at Dynatrace has put in over the last few years, and will continue to do so in the future, so Dynatrace can make it into the Top 10 for 2019!